Mendon May Day— 1997
Pioneer Sesquicentennial May Day Publicity— May 2–3, 1997: Mendon, 133rd annual May Day. Oldest city-specific celebration in Utah.

Ward Bulletin Announcement: May Day— This year May Day will be held on Saturday, May 3rd. Practices for the Maypole dance will be held on Mondays, Wednesdays, and Thursdays off the bus at the church. Girls who are in the first through fifth grade and live in Mendon, Petersboro or Cobblestone are eligible to dance. An information meeting for all moms will be Sunday, March 23rd, at 5:00 p.m. in the Relief Society room of the church. For more information call Kim Willie.

Selection Of The May Queen— Half of the dozen girls eligible to be May queen were in attendance at the 6:30 p.m., April 8th, meeting held in the city building. Mayor Earl Doolittle, reached in and selected Andrea Clemensen to be the 1997 Queen of the May. April Kirk was drawn in succession from the bowl, to be the alternate if required. Lonn and Sharon Kirk, have accepted the charge to lead this years queen's court and conducted the evenings topics. Discussion were held on the theme song, style of dress, flowers and dinner arrangements for the queens court. Practices, with only three weeks lead-time, were scheduled for Thursday nights, 8:00 p.m. at the church. It was noted that the queen would need to be available to ride on Mendon's float in the other Cache Valley city celebrations throughout the spring and summer. Previous May queens will also assist in this duty during this special, pioneer sesquicentennial year. Tradition dictates that Andrea Clemensen will have first selection of the high school aged junior boys from the greater Mendon area for her consort. Following her selection, the other girls or maids of honor, will begin what is bound to be a interesting week of phone calls to select their potential escorts. The queen will also select her flower girl and crown bearer from among the young children of town.

Mendon City Council Meeting— May Day queen for this year will be Andrea Clemensen. Paul Taylor brought up a concern about selecting May Day queens. He suggested that we consider only allowing those girls who had danced in the maypole to participate in the drawing of [the] May Day queen. He felt that being queen meant more to them than other girls who may move into town as tenagers. All girls would still be allowed to be in the court, but would not be included in the selection of [the] queen. There were some mixed views about this from those in attendance and on the council. No action will be taken this year.
Lisa Helms presented the T-shirts to be sold for May Day and Pioneer Day. Money will be used for the city float. Lisa also reported on the city clean up. More needs to [be] done. The three LDS wards are donating 400 man hours each.
Ward Bulletin Announcement: Mendon City May Day Celebration Schedule of Events: Friday, May 2nd, 8:00–11:00 p.m., Community dance, adults and youth 14 years old and up. Cultural Hall, $2.00 admission, semi-formal dress, no jeans. 9:00 p.m., Presentation of the May Queen and her court at the dance. Saturday, May 3rd, 10:00 a.m., Crowning of the May Queen, braiding of the maypoles, program in the LDS Chapel. 12:00–5:00 p.m., May Day historical display in the Mendon City building. 12:00–5:00 p.m. Food Stand will be open. 2:00–4:00 p.m., Children's games on the square, for children 12 and under.

May Day, May Day!— Mendon Tradition Has Ancient Roots. Verdant carpets proclaim new life on the fields and mountainsides as cool sunny days replace the gloom of winter. Birds sing again and buds promise brilliant blooms. It is time once more for Mendon's May Day Celebration. The ancient tradition evokes images from history: virginal Roman maidens frolicking during Floralia, their flower festival, or sun-worshipping Celts celebrating Beltane, Baal's Fire. In France, it was Fete de Dieu. Christianity co-opted the custom, adding its own flourishes to what had been an agricultural invocation. Spanish explorers carried "Flores de Mayo" to distant colonies, from the Americas to the Philippines, where it is still observed today. European villages crowned their local beauties "Queen of the May." In medieval England, the most conspicuous feature was the maypole. On the ends of brightly colored ribbons, comely little maidens danced around a pole as tall as the mast of an ocean-going vessel, their movements braiding the ribbons. Transplanted to the New World by the Europeans, May Day was briefly suspended by Puritan prohibition, then restored by later settlers with less rigid moral stances as a diversion from the hardships of the wilderness. Spread with Western expansion, the maypole became a fixture in parks all over North America, but as more sophisticated entertainment proliferated, it became confined to regions with a strong commitment to ancestral heritage. Mendon is such a town. There is no precise record as to when it first celebrated the festival, but it is generally accepted that it has been held for more than a century. Residents here prize their ancestral traditions, and May Day attracts the participation of nearly everybody in town. Although modern maypoles are not as tall as the originals, the dance survives intact. Wearing pristine, filmy white garments symbolizing innocence, the little girls glide around the poles clinging to brightly colored streamers exactly as their ancestors did for untold centuries. As they merge in graceful choreography, they lose all self-consciousness and surrender to the joy of spring. The Queen of May, selected by lottery from nominations, can be slightly older. This year it is seventeen year old Andrea Clemensen, daughter of Kim and Mercedes Clemensen of Mendon. Girls from Cobblestone and Petersboro are also eligible. Inclement weather sometimes forces the event indoors, once, very recently, into the church auditorium. In the past, large barns might have been used. For nothing must interrupt this spring ritual, part of the tapestry of pioneer life. Event Listing: Friday, May 2, 8:00–11:30 p.m. May Day dance, Mendon LDS church, ages 14 and up. Saturday, May 3, 10:00 a.m. Crowning of the queen on the city spuare, followed by braiding of the maypoles. Indoor program will follow at the Mendon LDS Church. Noon to 5:00 p.m. the food stand will be open. 2:00–4:00 p.m. Children's games on the square. All day— Photos of past May queens on display in the city building. Picture Caption: Mendon Maidens dance around the maypole in a previous celebration. The town has been celebrating May Day for at least a century. Picture Caption: The poles are shorter than in ancient times, but the joyous dance of young maidens has survived intact from pre-Christian spring rites in parts of Europe. Ancient spring celebrations were ways to petition the forces of nature for fertile fields; modern Mendonites simply revel in the joys of spring time. Picture Caption: Mendon's May Day tradition has ancient roots.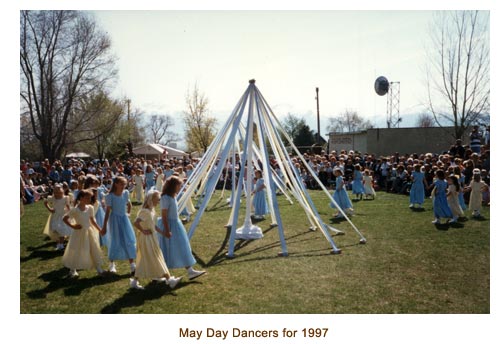 May Queen Andrea Clemensen— Mendon City traditionally ushers in May with "May Day" festivities, and this year is no exception. Friday, a dance at the LDS Church runs from 8:00–11:30 p.m. for ages 14 and up. Tickets are $2 with dresses for women, ties for men. Saturday's events include crowning of "Queen" Andrea Clemensen at 10:00 a.m. followed by the braiding of the maypoles with a May Day program following. Food stands run from noon–5:00 p.m. and children's games 2–4:00 p.m. A historical display of past May Queens will be displayed in the city building.

Mendon May Day— The Mendon May Day is Saturday. The public is invited. Events kick off Friday with a dance from 8:00 to 11:30 p.m. at the Mendon LDS Church for ages 14 and up. The May Queen will be crowned at 10:00 a.m. Saturday in the city square, followed by braiding of the maypoles. an indoor program will follow at the church. There will also be food booths open from noon to 5:00 p.m. and games for children from 2 to 4 p.m.

The Mendon May Day— Is Saturday. The public is invited.

Printed May Day Program: Mendon May Day, May 3th, 1997, 10:00 a.m. Queen's Court: May Queen, Andrea Clemensen; Consort, Jordan Lyle; Flower Girl, Michelle Cheal; Crown Bearer, Jeremy Shelton. Maids of Honor with their Escorts: April Kirk with O'Ryan Smith; Lorinda Wilcox with Michael DeGasser; Katherine Willie with Trevor Spence; Holly Thompson with Joshua Anderson; Charity Pollak with Bryce Larsen; Emily Groll Trevor Erickson; Jami Olsen with Ryan Bradshaw; Kathryn Fryer with David Hansen; Jennifer Jones with Kendell Buxton; Rebekah Olsen with Joseph Krebs; Elizabeth Bowen with Scott Taylor; Heather Ruggles with Clayten Nelson; Ashley Mathews with Andrew Watkins. Assistants to the Queen's Court: Lonn and Sharon Kirk. Maypole Dance Instructors: Kim Willie, Karine Cressall, Claudia Larsen, Norma Myers, Patty Taylor. Maypole Dance Dresses: Karen Zobell. May Day Chorister: June Bowen. Maypole Dance Accompanist: Norma Myers. The 48 Maypole Dancers for 1997—

| | | | |
| --- | --- | --- | --- |
| Ayrowyn Tanner | Cali Wilcox | Holly Morgan | Janna Willie |
| Shalissa Hepner | Jodilyn Gordon | Kori Kaufman | Kori Meservy |
| Shaundi Neal | Meleece Cheal | Megan Zobell | Nicole Gordon |
| Brittany Morgan | Kami Cressall | Kristine Lindbloom | Michelle Brandley |
| Katie Spence | Darci Larsen | Heather Nelson | Heidi Nelson |
| Alexis Maughan | Emily Taylor | Avenlea Harris | Kristin Olsen |
| Kristen Muir | Alyssa Shelton | Mindy Whiting | Sara Moser |
| Haley Jones | Alana Pollak | Sadie-Anne Christiansen | Cathy Spring |
| DeLayne Locke | Laila Samhouri | McKenzie King | Claire Gibbons |
| Annie Samhouri | Melissa Yonk | Lindsey Cressall | Mara Miller |
| Lyssa Bevan | Jessica Wood | Brieanne Cartee | Carrie Hardman |
| Anna Baker | Latisha Moosman | Ashley Bird | Rachel Baker |
Morning Activities: The grand entry and seating of our May Queen, Andrea Clemensen; welcome by Mayor Earl Doolittle; congregational song, "Straying and Maying;" crowning of our May Queen, Andrea Clemensen, by her consort Jordan Lyle on the lawn by the gazebo; congregational song, "Come to the Woodland:" maypole dance, two poles tied simultaneously. Program in the Chapel: Master of ceremonies, Max Baker; chorister, June Bowen; accompanist, Norma Myers; introduction of the queen's court, Max and Carolyn Baker; song by the maypole dancers, "Oh May Queen" and "Apple Blossoms;" opening prayer, Kristine Groll; congregational song, "Come to the Woodland;" presentation of the queen's award, Mayor Earl Doolittle; remarks by our May Queen, Andrea Clemensen; song, "Someday," queen's court; reading, Don Wilcox; May Day Memories, honoring past Queens and their courts, June Bowen; Musical Numbers, "Lollipop" and "Mr. Sandman" Elizabeth Bowen, Jennifer Jones, Tara Sant and Andrea Kyriopoulos; May Day speaker, Rulen C. Ladle; closing prayer, Sidney P. Groll. Afternoon Activities: Historical May Day display at the city building (old U.I.C. railroad station) from noon–5:00 p.m., June Bowen; Children's games, 2:00–4:00 p.m.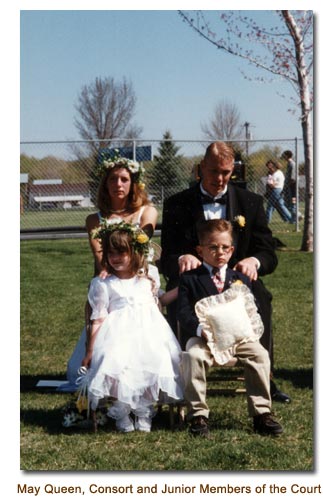 May Queen's Speech— As I read this poem, I think of Mendon. There are people who have lived here all of their lives. There are people who's ancestors have lived here all of their lives. Then there are the people that are new to this town; that came from far away distant places. All of us together is what makes Mendon. Mendon is a town of variety and unique personalities. Each one of us are a part of a big family tree.
— Family Tree I —
In our village stands an old, old tree, its branches sheltering the spirit of our people, offering shade and comfort, the whisper of leaves, the sacredness of twenty generations alive in mystery.
Long ago the grandfather buried himself in the roots of our family tree and there his wisdom found a home. He drew strength from rain and sun and company. And he grew.
The father expanded within the sacred circle of the trunk of our family tree and there his knowledge began. A look of endurance formed upon his layer of bark. And so he grew.
The children arrived as branches growing in all directions, some strong, some weak, but each attached to the sacred energy of our ancestors. And so they grew.
The grandchildren appeared as fresh, green leaves, hanging on with nothing more than tenacity, letting go whenever it was time to fall. And so they grew.
A long time passed. Then the grandfather spoke to his grandchildren from his home beneath the earth. He said: What have you learned about the wind ripping you from your branches every autumn? The grandchildren answered: The importance of not expecting too much.
Then the grandfather called out to the children who were branches, bare in winter, full in summer. He said: What have you learned, my children, out there in the rain, with everything against you? The children answered: The importance of waiting for next year.
Then the grandfather spoke to the father expanding so slowly that no one noticed his growth. He said: What have you learned, my son, about standing in the same spot for years on end? The father answered: The importance of patience.
When all these lessons were learned, the tree in our village grew ever taller and more beautiful. People came from miles around just to look at it and listen to its many voices. They said: Without this tree, the landscape would be silent.
Those strangers began to notice shadows and dust and pollen. They spoke a language that had not been heard for generations. Those strangers became like family to us. And so we grew.
I have good memories of Mendon that will be a part of me forever. I'll especially treasure the memories of summer. I'll never forget watching the ball games, the smell of the hamburger stand and Larry Olsen's voice announcing the plays. I remember the 24 th of July Mendon Day Breaker. Which is a Combination of two running races. One from Wellsville, and one from Valley View, both finishing at the town square. I remember decorating my bike to be in Mendon's 24th of July parade. I always looked forward to laying on the soccer fields at night, looking up at the fireworks once a year. And of course, there's May Day, a tradition one could never forget.
Some traditions have gone on and are but good memories. But the tradition of May Day has stayed alive from year to year and I hope will continue on. I am honored to be this years Mendon May day Queen and truly feel that it takes a village to raise a child. I am what I am today because of all the good people here in this community of Mendon. I love you all and thank you.

May Day Speaker— I want to start out today by saying that the lovely art work for the cover for todays program was created by Janet Sorensen, she is the daughter of Madall Hancock Sorensen, and I was her consort the year she was queen, in 1935.
May Day was introduced by Isaac Sorensen along with band leader Frank Williams, Bishop Henry Hughes and Sunday school superintendent, Ralph Forster. Ingeborg Kirstine Larsine Sorensen, (Seny Sorensen) was the first queen in 1863. May Day was celebrated in the old country and the first settlers in Mendon were from England, Denmark, and Scotland. So it became a tradition for Mendon to have May Day. Mendon was founded May 2nd, 1859. Interesting, Mendon was settled in May, so May Day is to celebrate the beginning of Mendon as well. It used to be that the Sunday school superintendent was in charge of May Day and the choosing of the queen. Then the mother of the queen would have a big dinner for the queens court.. Now Mendon has grown so much and still growing that the City Council and Mayor puts the names of the girls queen age, in a hat and draws the name of the queen out. Then the city takes the queens court out for dinner.
Mozelle Barrett Sorensen is the oldest queen living in Mendon. The queens that have married their escort are Mary Ann (Mamie) Hughes Bird, to Mormon D. Bird; Ethel Ladle Taylor to Oliver Taylor; Mozelle Barrett Sorensen to Owen Sorensen. Up until 1924 the Maypole dancers wore starched white dresses with each wearing a corsage of apple blossoms. In 1925 crape paper dresses were started for the Maypole dancers. After several years paper dresser were not used and we have the pretty dresses like today and different each year.
In 1912 my dad, William C. Ladle went up and got a sapling poll for the maypole. My mother, Ellen Ladle played for May Day for many years. For a few years both boys and girls danced the maypole. Mendon is the only community in Northern Utah which has sponsored a May Day celebration continually since 1863. 1959 was a big May Day celebration for Mendon, 100 years. There was a big parade, Linden K. Wood and his steam organ and many other floats, and the band from South Cache High School. Linden K. Wood used to wake everybody up every May Day and other holidays with his steam engine organ. There use to be children's dance with Mendon Orchestra, children's races, five and ten cents for the winners, tug-of-war, nail driving contest, orange ducking, Amos Hardman, egg throwing contest, he would put his head through a canvas and the kids would throw eggs at him. Rodeo use to be held on the square. Orval Larsen and Conrad Peterson were the clowns, there were greased pig chase, ball games and the big May Day dance at night.

Personal Reflections, May Day 1997: On Thursday morning, May 1st, there was a skiff of snow on the ground to greet all of Cache Valley's residents. This was followed by a hard frost on Friday and much concern over potential bad weather, however the predictions for May Day on Saturday are good with clear bright skies being forecast. The dress rehearsal was held on Thursday afternoon, for the maypole dancers and the queen's court to practice their joint parts together, one time prior to Saturdays performance. It always turns out better on Saturday. Preparations are under way to decorate the cultural hall in the church for the adult dance on Friday night and the presentation of the soon to be, queen and her court. Friday: Among the props and decorations in the church cultural hall, Kim Willie, Norma Myers, Karine Cressall and Claudia Larsen spent their morning ironing an reattaching the maypole streamers, carefully preparing them for their intended use on Saturday. Plans are being made as they are every year, in case of bad weather, to move the whole ceremony indoors if required. June Bowen spent the day setting up tables and laying out her scrapbook style historical display. In such a quiet town, there is a flurry of activity in the days leading up to May Day. Although almost unnoticed by the crowd on Saturday and always unthanked, these women who take and make these preparations are the heart and soul of the celebration. Some of the members of the queen's court will be to tonight's dance and activities at the church, but will miss tomorrow's events and perhaps some will make Friday and miss then Saturday, due to commitments to the Mountain Crest High School track team and the band. Lately, other outside activities have interfered with some of those young adults eligible for May Day. Kaye Taylor made a blue dress for June Bowen, the May Day chorister, which matched the dresses worn by the "bigger" girls this year. Saturday: May Day morning dawned beautifuly once again with clear blue skies and not a trace of cloud nor wind to detract from the day. The tempeture was warm enough that very light jackest were more than enough. The snow was on the upper part of the "Hogs Back's" this year and well down on the Mendon Mountains, and the apple blossoms and crab apple blosoms are at least a week away form even begining to blossom. The maypole dancers wore very nice blue and yellow dresses with the larger girls in blue. The program ran until 12:30 p.m. again, however this year the power stayed on. A special treat was in store for all who attended to program in the chruch. June Bowen had all of the prior May Queen's stand and come to the front of the chapel, then the consorts were asked to come forward. Both of these groups had their queen for the consorts or their consort for the queens read off and aknowledged. Following this all of the flower girls were asked to stand, then crown bearer, maypole dancer, member of a queen's court and so on until only a few people were left in their seats. Everyone had a wonderful time. Rulen C. Ladle, Consort to Madall Hancock in 1935, was the featured speaker. He gave a very nice talk on May Day traditions and a historical backround. The musical number "Mr. Sandman" was canceled due to sickness of one of the four girls involved.

Ward Bulletin Announcement: May Day— A very special thank you, to all those who helped make May Day a great success. We appreciate you.