Mendon May Day— 1996
Ward Bulletin Announcement: Spring Must Be Near— Practices for the maypole dance will begin on Monday, April 1st, off the bus at the church. A meeting for the mothers of the maypole dancers will be held Sunday, March 24th at 5:15 p.m. in the Relief Society room at the church. For more information please contact Kim Willie. Ward Bulletin Insert— Plans are underway for an 1890's May Day celebration in connection with the Utah Centennial. It will be held Saturday, May 4th, on the town square. Practices for the Maypole dance will begin Monday, April 1st off the bus at the church. All girls from Mendon, Petersboro and Cobblestone who are in first through fifth grade are eligible to dance. Practices will be every Monday, Wednesday and Thursday and will last until approximately 4:30 p.m. A meeting for all the mothers of maypole dancers will be Sunday, March 24th, at 5:15 p.m. in the Relief Society room at the church. For more information call Kim Willie.

Ward Bulletin Announcement: May Day— Please don't forget the meeting for the mothers of all maypole dancers next Sunday, March 24th, 1996, at 5:15 p.m. in the Relief Society room at the church. For more information or if you have questions, please contact Kim Willie.
May Queen Selection— A meeting for all of the girls, with their mothers, who are juniors in high school this year, and want to participate in the Mendon May Day celebration, will be held this coming Thursday, March 21st, at 7:00 p.m. at the Brandley's residence, 200 North 200 West, Mendon. The 1996 May queen will be selected, and other information for the upcoming celebration will be given out during this meeting.

Selection Of The 1996 May Queen— Michael Morgan, our new city councilman assigned to town celebrations, opened the meeting held March 21st, 1996 at the home of Steve and RoseAnn Brandley, 200 North 200 West, Mendon, to select this years queen of the May. Mayor Earl Doolittle had the honor of drawing the name of Melanie Seamons as 1996's Mendon May Day queen and that of Natashia Schroeder as alternate. Twelve of the approximately seventeen girls eligible were in attendance for the drawing. As is the custom, the queen was accorded the first selection from the eligible boys of this age. Michael Hofler was selected as this years consort by the queen and promptly telephoned to confirm his acceptance. Following Michael's acceptance, the queen's attendants then started to call and select their escorts. It was decided and accepted, that "1896" style dresses would be used this year, in conjunction with the state centennial celebration. It was also agreed that this years crowning speech should be memorized and would be the "1964" version of the crowning speech.
Ward Bulletin Announcement: May Day— Remember today's meeting for all of the mothers of the maypole dancers. It will be held at 5:15 p.m. in the Relief Society room at the church.

Ward Bulletin Announcements: Maypole Dancers— Don't forget that practices for the maypole dance begin tomorrow off the bus at the church. You will be assigned your permanent partner by Thursday of this week. May Day Queen— Mendon City has chosen Melanie Seamons to be the May Day queen for 1996. She will be crowned on May Day, May 4th.

Mendon City Council Meeting— Michael Morgan reported that May Day is "under control." The program for inside the church is ready to go. A plaque will be purchased for the May Day queen. Michael will also have a write up in the Herald Journal which will include a historical background of May Day. A dance will be held Friday night on May 3rd, from 7:30–11:00 p.m. at the church house. The floor show will be at 8:30 p.m. Michael also said that Brandon Burham will do the food stand for May Day.

May Queen Reigns Again In Mendon— Spring tradition has endured test of time— Melanie Seamons will reign as this year's Queen of the May, carrying on a celebrated town tradition that has lasted more than 130 years. The daughter of Sherwin and Jane Seamons, Melanie will be crowned May 4th at the annual Mendon May Day celebration. The celebration has many traditions that have endured for years. According to Mary Jean Campbell, some traditions have been changed while others remain the same. Campbell who still lives in Mendon, was the May Day queen in 1964. "I was born and raised in Mendon," she said. "I danced the maypole ever since I was in first grade all the way through to sixth grade. So I've been a part of May Day for a long, long time." Part of the May Day celebration includes young girls dancing around a maypole, braiding strands of ribbon attached to the pole as they dance. While dancing, they sing songs in honor of spring and the new May queen. The songs the girls sing haven't ever changed, Campbell said. Campbell remembers being thrilled when she was chosen May queen. "I had always looked up to May Day queens for my entire life, never dreaming that I would get that opportunity." May Day is a "celebration of the coming of spring and that the people honor youth, remembering they're in the springtime of their youth too," Campbell said. "Mendon's only community celebration was May Day," Campbell said. "It was a time that if you were a farmer, you just set aside that Saturday to go have fun." There is no longer only one maypole, but three— because Mendon has grown. There is no longer a dance in the afternoon for all the children. There have been adjustments made to the May Day schedule since the tradition began. But May Day is still a celebration for families in the community to look forward to and enjoy.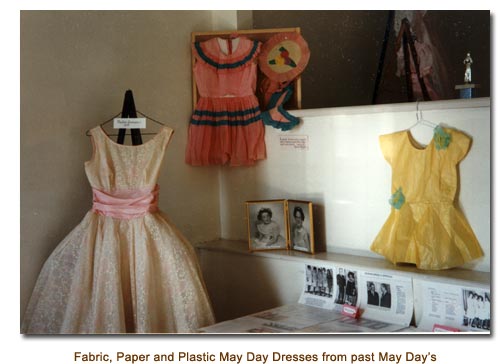 Looking Forward To The Past— Dedicated residents document Mendon's May Day history. On a transplanted picnic table in her front room, June Bowen is busy chronicling her treasure hunt. Her quest is to gather all the mementos she can about each Mendon May Day celebration ever held, and if the stacks of papers and photographs strewn on the table are any indication, she's made a good start. Bowen's energies have now turned from treasure-hunting to treasure-making. "I just get so excited about this," she says when talking about her project to format all of the tidbits into a giant community scrapbook. "In here I'm having a picnic— literally." Which is a good thing, Bowen cheerfully admits, because if she weren't so enthused about preserving Mendon's May Day history, she likely wouldn't put up with the, well, mayhem the endeavor has wrought in her living room. This project is consuming, no doubt about it. Amidst glue sticks, pens and a magnifying glass are colorful folders Bowen has designated to hold the keepsakes she retrieved from friends and neighbors, one folder for each of Mendon's 131 past celebrations. Slips of paper backing off of hundreds of scrapbook adhesive tabs congregate all over the thick carpet, more of them falling there as pages are completed. "I've already vacuumed today," Bowen laughed. But she doesn't mind. This is a project no one asked her to do; it is something she has gladly taken on herself. Just as jubilant is Rodney Sorensen, who has scoured newspaper microfilm and family histories to compile written information about May Day. Eventually the two would like to combine their efforts for a book about the celebration and its importance to their town. And it is important. "We are the single oldest community celebration not just in Utah, but in the entire Inter-mountain West excluding the 4th and 24th of July," Sorensen said, pointing out that a celebration doesn't endure unless people are endeared to it. "The whole town has May Day fever." Mendon council member Michael Morgan agrees. "It's something that brings the whole town together once a year. It's as much a family celebration as a town celebration for some people," he said. When Mendon celebrates the dawning of May this weekend, much will be the same as festivities from years past: A queen and her attendants will be honored, and townspeople will don their finest to join the revelry. Singing age-old songs is an important element of the celebration, and has been for as long as anyone can remember. "You can tell the new people by the part in their hair," Bowen laughed, looking down to read an imaginary song book. "Every one else already knows the words." The "traditional" dancing and braiding of the maypole (done by girls in matching dresses) will be featured, too, although Sorensen said that aspect of the celebration was not added until 15–20 years after Mendon's May Day began. May Day has evolved in many ways throughout the years, as Bowen and Sorensen discovered in their research. The LDS Sunday school superintendency used to coordinate the event; now the city oversees it. Once held on May 1st, no matter what the day, [except Sunday] the celebration now takes place the first weekend in May to allow for travelers and residents' work schedules. "The thing I've learned is there is no tradition. It's been as flexible as necessary to accommodate needs," Sorensen said. Sometimes maypole dresses were made out of paper, if times were hard. Queens used to be elected from whatever aged girls lived in the town at the time; now the city council draws names from a list of high school juniors. "The city just draws lots because they don't want to be sued," Bowen joked. Perhaps with good reason, because as Bowen and Sorensen have learned, being queen of the May was a source of fierce pride for early Mendon residents. Part of the pair's research has aimed to gently set the record straight about May Day royalty. "It wrinkles a few eyebrows and stuff" when people learn a woman was a queen for a year different that she had contended, Sorensen said with a smile. "He's made some older, some younger," Bowen chimed. Documenting the royalty is an impressive task. On the scrapbook pages Bowen forms, she lists not only the queen and attendants for each year, but also the parents of those people. Bowen also seeks to identify all the subjects in photos, as well as what year the pictures were taken. All this requires a bit of detective work. If her neighbors saved any of the old dresses worn to braid the maypole, Bowen took pictures. If they knew what year the dress was worn, even better. Then, armed with this information, Bowen tries to match these clothing styles with what she sees in old photographs. Sometimes the background's a clue. "Now that's the yellow church," she said, "And it was torn down in 1964, so it has to be taken before then." But there's still a lot of gaps to be filled, and Bowen and Sorensen invite input from anyone who has it. At this year's May Day, Bowen will display parts of the scrapbook that have missing pieces to inspire people to share what they know. "The more we'll show, the more we'll dig out. it's self-perpetuating," Sorensen said. Despite all the research Bowen and Sorensen have done, the why of having a May Day celebration at all is still a mystery. "We don't really know," Sorensen said, "But the answers are out there, It just means I haven't looked long enough."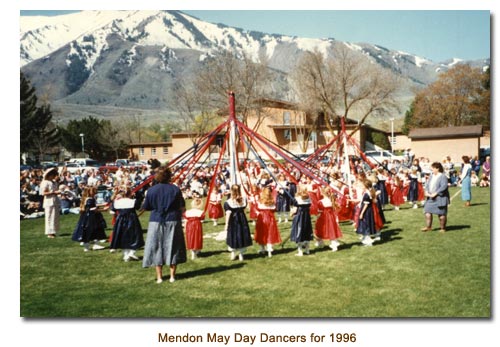 May Day Celebrated— Mendon City's May Day celebration kicks off with a dance from 7:30–11:00 p.m., Friday in the Mendon LDS cultural hall. Presentation of the queen of the May and her court is at 8:30 p.m. Dress is semi-formal (dresses for women and ties for men: no jeans). Admission is $2.00 per person. No one is admitted without proper attire. Live music will be provided by "Crestmark Combo." Saturday's events include the crowning of the queen of the May, followed by braiding of the maypole, at 10:00 a.m. on Mendon city square. A May Day program will follow the braiding in the Mendon LDS chapel, and a historical display is open from noon to 5:00 p.m. in the Mendon city building. A children's dance (for children twelve and younger) is from 2:00–2:45 p.m. in the cultural hall; children's games follow until 4:00 p.m. on the city square.

Printed May Day Program: Mendon May Day, May 4th, 1996, 10:00 a.m. Queen's Court: May Queen, Melanie Seamons; Consort, Michael Hofler; Flower Girl, Briana Bowen; Crown Bearer, Dylan Jones. Maids of Honor with their Escorts: Katie Willie with Jared Kidman; Amber Brandley with Kevin Woodbrey; Jaynann Chandler with Timothy Bowen; Kelly Larsen with Casey Doolittle; Lorinda Wilcox with Ryan Bohm; Julie Buist with Paul Myers; Natasha Schroeder with Tyler Erickson; Amber Taylor with Dustin Miller; Heather Ruggles with Ryan Jackson; Sarah Clemensen with Bretrand Tanner; Amy Hardman with Paul Ludwig; Robyn Larsen with Travis Nye; Amber Eck with Curt Hatch; Amber Coon with Benjamin Walbridge. Assistants to the Queen's Court: Stephen and RoseAnn Brandley, Susan Chandler. Maypole Dance Instructors: Kim Willie, Karine Cressall, Claudia Larsen, Norma Myers, Patty Taylor, Laura Morgan, Elva Maughan. Maypole Dance Dresses: Karen Zobell. May Day Chorister: June Bowen. Maypole Dance Accompanist: Norma Myers. The 50 Maypole Dancers for 1996—

| | | | |
| --- | --- | --- | --- |
| Chelsey Moore | Crystel Carriedo | Sara Jane Cooper | Brittany Morgan |
| Ehren Berret | Alana Pollak | Laila Samhouri | Alexis Maughan |
| Meleece Cheal | Heidi Nelson | Alyssa Shelton | Kristen Muir |
| Latisha Coon | Ayrowyn Tanner | Janna Willie | Rachel Baker |
| Cali Wilcox | Cathy Spring | Emiliy Taylor | Annie Samhouri |
| Jodilyn Gordon | Nicole Gordon | Shelbi Carriedo | Lyssa Bevan |
| Kami Cressall | Claire Gibbons | Jessica Wood | Haley Jones |
| Darci Larsen | Mara Miller | Melissa Yonk | Apryl Petersen |
| Lisa Ferrara | Carrie Hardman | Latisha Moosman | Anna Baker |
| Hailey Ferrara | Shalissa Hepner | Michelle Brandley | Selicia Austin |
| Kristi Woodbrey | Caitlin Jones | Kristin Olsen | Holly Morgan |
| Daysha Lindsay | Shaundi Neal | Sara Moser | Kristine Lindbloom |
| Lisa Zobell | Megan Zobell | | |
The rest of the program goes here!

Personal Reflections, May Day 1996: This year the dawn broke bright, clear and calm, unlike last years May Day. The weather was a major concern for all involved, looking very much like it would be a repeat of last years rain. Although not as warm as we would have liked, Mendon's, Utah Centennial May Day went off very well. The maypole dancers looked wonderful in their contrasting red and blue dresses. The queen's court was very stately in their long "1896" style dresses, and the consort and escorts all wore black western style bow ties with matching vests. The program at the church was created to resemble the old-time programs. This was more the case than intended, at 11:30 a.m., in the middle of Vicky Doolittle's poem, the power went off and stayed off for some 4–5 hours. The program went on, without the aid of a microphone, and lasted until 12:30 p.m. The crowd in attendance for the day was one of the largest in recent memory. In prior years I have made only 400 programs, and had some left over. This year I had 500 made and they were all distributed. The cover for this years program, created by Christian and William "Bill" Hill, was very well received. A large number of people attended the historical display at the city building (the old U.I.C. train station) and enjoyed the old dresses and May Day memorabilia.

Ward Bulletin Announcement: The Mendon May Day Committee would like to thank all of those who participated, assisted, attended and or in any other way supported yesterdays wonderful May Day. Your help and kind support are truly appreciated!
May Day Queen Receives Crown— Melanie Seamons, daughter of Sherwin and Jane Seamons, was crowned as the Mendon May Day queen Saturday, May 4th. Consort to the queen was Michael Hofler, son of Ron and Gloria Hofler. Their maids of honor and their escorts were: Katie Willie and Jared Kidman, Amber Brandley and Kevin Woodbrey, Jaynann Chandler and Timothy Bowen, Kelly Larsen and Casey Doolittle, Lorinda Wilcox and Ryan Bohm, Julie Buist and Paul Myers, Natasha Schroeder and Tyler Erickson, Amber Taylor and Dustin Miller, Heather Ruggles and Ryan Jackson, Sarah Clemensen and Bertrand Tanner, Amy Hardman and Paul Ludwig, Robyn Larsen and Kevin Randal, Amber Eck and Curt Hatch, Amber Coon and Benjamin Walbridge, Amber Leikis and Travis Nye. Flower girl was Briana Bowen, and crown bearer was Dylan Jones.