Mendon May Day— 1984
Mendon City Council Meeting— Max Baker, May Day co-chairman, asked the council for approval to update and order some of the materials needed for the May Day celebration. The council agreed to let Max go ahead with the purchase of materials needed for May Day.

Mendon City Council Meeting— Max Baker and Tony Buist, representing the May Day committee voiced their concern about selecting a May Day queen. The names of Lynn Grover, Gay Lynn Hopkins, Joan Johnson and Heidi Whoolery were placed in a box and Mayor Ross Shelton drew the name of Joan Johnson to be May Day queen. Her parents are Rulon and Margaret Johnson. Mayor Shelton read a letter sent to Max Baker requesting that Mendon's May Day be documented on video tape as part of five communities in Utah being chosen. The letter was from Carol Edison— Acting Folk Arts Coordinator. In documenting May Day the folk department would be interested in any old black and white photos of previous May Days. A video tape crew would come and shoot the festivities of the entire day. The council approved the request. Tony and Max will continue to organize and prepare for the May Day celebration.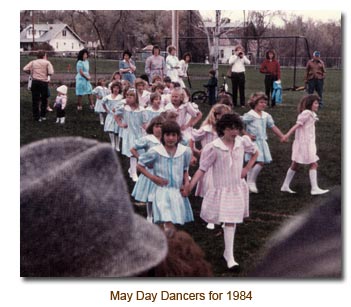 Mendon Gears Up For Spring Holiday— Mendon residents have not made reservations for Hollywood yet, but they will have a change to be stars during the community's annual May Day celebration. City Recorder Paul Cressall said the city council was informed Thursday that the Utah Arts Council will videotape festivities during the May 5th weekend as part of a documentary the agency is putting together on community celebrations. Mendon is one of five communities picked throughout the state, Cressall said. The council also picked a May Day queen for the celebration. She is Joan Johnson, daughter of Rulon and Margaret Johnson. Plans for the celebration include a May 4th dance and a full day of activities on Saturday May 5th. The council was also informed that Terry Thurston Construction had submitted the low bid for the second phase of construction on the city's culinary water system. That bid will now be reviewed before it is officially accepted. The council also passed a resolution raising monthly water rates from $7.00–$10.00 to pay the bond for that construction. Excess water usage was raised from ten to thirty cents per 1,000 gallons. The council met with Sheriff Doug Bodrero and discussed the city's contract for law enforcement services. A full house attended a discussion of problems with three-wheelers in the community, Cressall said, adding there is a good deal of concern over very young children riding the motorcycles and tearing up private property. The council also discussed hiring an animal control officer to help with increasing dog problems, set May 15th as the date for the Mendon Softball Tournament, and set April 21st as the date for the community Easter egg hunt. Cressall said the city is also planning a variety of other activities for children that day. The council also voted to sponsor a Girl Scout troop and set April 26th as the date for a budget workshop.

Mendon Celebrates May Day— The city of Mendon will once again comply with an age-old world and century-old local tradition as part of its annual May Day celebration held Friday and Saturday this week. Tony Buist, this year's chairman reports sixty-two dancers of first through fifth grade age will braid the maypole at 10:00 a.m. on the city square. "Actually, because of the number of responses, we will braid three maypoles." said Buist. "The tradition dates back to Britain when people would go up in the hills and make crowns. Many communities commemorated the tradition, but Mendon is [the] only one that does it locally that has observed it since pioneer days." The festival scheduled the Saturday after May 1st is known to bring back many a former Mendon resident to the festivities that include the braiding, and evening dance and the crowning of a queen. "We have scheduled a dance for 8:30 p.m. Friday night," said Buist. "Music will [be] by the group, Freelance and it will be a best dress evening with everyone in the general public invited." Immediately following the braiding, officials will crown a May Day queen. This year's queen is Joan Johnson, a junior at Mountain Crest High School. Her attendants are Gay Lynn Hopkins, Lynn Grover and Heidi Whoolery. The male consort includes Brandon Banham, Brian Myers, Shawn Earl and Eric Taylor. The flower girl is Julie Lindbloom and the crown bearer is Kade Longhurst. Softball game, family games and other activities are scheduled throughout Saturday.

Printed May Day Program: Mendon May Day, May 5th, 1984, 10:00 a.m. Queen's Court: May Queen, Joan Johnson; Consort Brandon Banham; Flower Girl, Julie Lindbloom; Crown Bearer, Kade Longhurst. Maids of Honor with Escorts: Gay Lynn Hopkins with Brian Myers, Lynn Grover with Shawn Earl, Heidi Whoolery with Eric Taylor. The 62 Maypole Dancers for 1984—

| | | | |
| --- | --- | --- | --- |
| Kamilynne Hart | Kristalou Hart | Tami Erickson | Jackie Larsen |
| Shara Doolittle | Trudy Quinlan | Donelle Shelton | Amber Locke |
| Amy Helpingstine | Andrea Hansen | Suzanne Hansen | Stephanie Bowen |
| Wendy Fryer | Shannon Robbins | Michelle Egelund | Sharese Hatch |
| Loni Bird | Amy Croshaw | Jeannie Poulsen | Megan Croshaw |
| Jennifer Hofler | Jolene Myers | Trisha Chadwick | Anna Watkins |
| Michelle Bradshaw | Melissa Bradshaw | Jennifer Balls | Shanlee Miskin |
| Shannon Barker | Jenny Krebs | Misty Dalton | Keri Dalton |
| Nina Grover | Maradean Moon | Lisa Hopkins | Amanda DeGasser |
| Heather Walbridge | Hannah Walbridge | Kimberly Olsen | Michelle Olsen |
| Katie Krebs | Deneil Murray | Mandy Fryer | Carrie Thompson |
| Camille Campbell | Lori Olsen | Rachael Owens | Jill Lindbloom |
| Alison Clemensen | Holly Hyer | Jennifer Kidman | Lenie Woodbrey |
| Sarah Walbridge | Amanda Peterson | Codi Ann Reynolds | Brenda Chadwick |
| Kristi Olsen | Laurie Obray | Stefanie Kraus | Jennifer Jensen |
| Janell Nelson | Carrieanne Nye | | |
May Day Program: We welcome you to our May Day festivities and especially welcome our former queens. We hope that you will enjoy the day with us and have a good time. Introduction of Queen's Court, T. Kay Sorensen; May Day songs, T. Kay Sorensen; opening prayer, Afton Quinlan; vocal duet, Sherri Bird and Holly Buist; piano solo, Doug Kidman; speaker, Maxine Sorensen; vocal duet, Art and Steve Flandro; vocal group, queens court; reading, Janet Larsen; double trio, Rhyll Croshaw, Flora May Cheney, Jacqueline Redd, Kathy Lindbloom, Linda Taylor and Julie Kidman; closing prayer, Richard Cheney. Afternoon Events: Races tug-of-war, etc., 1:00 p.m.; junior. softball game, 2:00 p.m.; softball game, Design Analysis vs. Paul Taylor Construction, 3:00 p.m.; anything goes softball game, 4:00 p.m. Lunch and refreshments served continually from noon to 5:00 p.m. at the food stand. Thanks to all of you for making this a success: Mendon First and Second Ward Sunday school presidencies and activities committee.

Mendon City Council Meeting— Claudia Larsen asked the council to consider some rules for dresses in order to keep the tradition of May Day the same as it has been. Rules for participation were also mentioned. It was suggested by the council that the May Day chairman's make a list of guidelines consistent to the traditions of previous years.
Mendon City Council Meeting—
The Mayor handed out a list of May Day guidelines which the council will look over this month.