Mendon May Day— 1985
Mendon City Council Meeting— Claudia Larsen presented a list of guidelines to be followed by those participating in the May Day celebration. Paul Taylor moved to accept the guidelines as presented for the May Day celebration, bill seconded, motion carried. (A copy of the guidelines is included below.)

MENDON MAY DAY GUIDELINES

1- Traditional Mendon May Day is under the direction of the city council. The city council appoints a May Day chairman or chairmen. The May Day chairman will then select those who help with various events including: Maypole dance, children's games, hamburger stand, dance, program, and publicity.
2- The May Day Queen is chosen from eleventh grade girls who wish to participate. The city council selects the queen through a random drawing. Escorts are selected by girls from boys of the corresponding age group from the community. It is customary for the family of the queen to have a dinner for the court on May Day. The young men should escort the young ladies to the dance and enjoy the evening as a court.
3- A traditional program is held in the church house following the maypole dance with a speaker of the day, various entertainment and musical numbers. The members of the queen's court are introduced.
4- Established Guidelines for Maypole Dance:
(1) Voluntary participation for girls in grades one through five.
(2) Participants will need to buy the selected maypole dance dresses, white shoes, and white stockings.
(3) The dance dress will be selected by the maypole dance committee. Two pastel colors are selected each year for the dresses.
(4) The dress will be made according to specifications established by the committee.
(5) Maypole dance practices are usually held after school during the month of April.
(6) Participants are expected to have courteous behavior during practice time.
One of the things that has made Mendon special is our May Day celebration. Let's all participate and welcome spring together.
Mendon City Council Meeting— David Buist gave a report on the May Day activities being planned. Leisa Thompson was picked as May Day queen. Leisa was contacted and accepted. Ross Shelton then proceeded to cover the necessary items which need to be taken care of for May Day.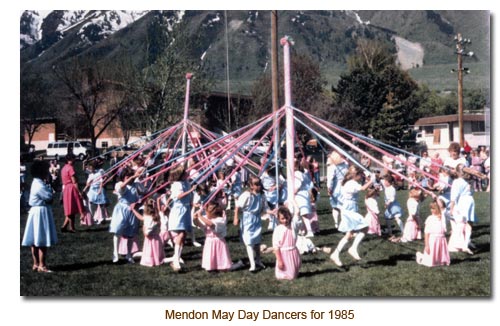 Mendon's May Day Celebration— A Friday night dance will kick off Mendon's annual May Day celebration, followed by a day-long schedule of activities Saturday. The dance will be best-dress and will be held from 8:30 p.m. to 11:30 p.m. in the cultural hall of the Mendon first and second LDS ward, 20 North 100 West. There will be live music. The traditional braiding of the maypole begins at 10:00 a.m. Saturday in the town square. This year seventy dancers, ages six to eleven, will braid three maypoles in this traditional celebration. Immediately following the braiding, officials will crown a May Day queen. This year's queen is Leisa Thompson, a junior at Mountain Crest High School. Her attendants are Kristine Myers, Kelli James, Heidi Doolittle, Traci Ericksen, Katie Banham, Jennifer Lewis, Monika Muir and Heather Barrett. A program will begin at 11:00 a.m. in the church chapel. Children's games and races and softball games begin at 1:30 p.m. on the town square. A trap shoot also will be held at 1:30 p.m., east of town of the old Mendon Road. At 2:30 p.m., a creative dance program and children's dance will be held in the cultural hall. A food booth will be in operation on the town square Saturday from 11:00 a.m. to 6:00 p.m.
Printed May Day Program: Mendon May Day, May 4th, 1985, 10:00 a.m. Queen's Court: May Queen, Leisa Thompson; Consort, Brian Clawson; Flower Girl, Holly Thompson; Crown Bearer, Paul Myers. Maids of Honor with Escorts: Heather Barrett with Brian Myers, Kelli James with Kelly Barrett, Kristine Myers with Peter Watkins, Jennifer Lewis with Eugene Bodrero, Traci Ericksen with Jon Owens, Monika Muir with Douglas Godfrey, Heidi Doolittle with Kent Baker, Katie Banham with Clark Hill. Maypole Dance Instructors: Claudia Larsen, Barbara Obray, Janet Larsen, Pat Krebs, Dixie Miskin and Lori Bartholomew. Maypole Dance Accompanist: Norma Myers. The 70 Maypole Dancers for 1985—

| | | | |
| --- | --- | --- | --- |
| Kamilynne Hart | Andrea Hansen | Tami Erickson | Deneil Murray |
| Amy Helpingstine | Maradean Moon | Wendy Fryer | Lindsay Larson |
| Suzanne Hansen | Carrie Thompson | Michelle Bradshaw | Christina Kirk |
| Jennifer Balls | Amber Locke | Trisha Chadwick | Heather Reynolds |
| Lauralee Petersen | Amanda DeGasser | Nina Grover | Lori Olsen |
| Katie Krebs | Jentry Hudson | Mandi Fryer | Angela Hofler |
| Krista Hart | Missy Bradshaw | Jackie Larsen | Shayna Buxton |
| Trudy Quinlan | Brenda Chadwick | Kimberly Olsen | Michelle Olsen |
| Camille Campbell | Mandi Bartholomew | Rachael Owens | Krista Hart |
| Jennifer Kidman | Sharlyn Miskin | Alison Clemensen | Sarah Clemensen |
| Cody Ann Reynolds | Lennie Woodbrey | Sharese Hatch | Amber Taylor |
| Sarah Walbridge | Hannah Walbridge | Jolene Myers | Emilee Petersen |
| Stefanie Kraus | Holly Buist | Stephanie Bowen | Anna Groll |
| Shanlie Misken | Kandie Woodbrey | Jenny Krebs | Jill Tolman |
| Anna Watkins | Mandy Whoolery | Kristi Olsen | Kelly Larsen |
| Jill Lindbloom | Julie Lindbloom | Janell Nelsen | Carrieanne Nye |
| Jami Larson | Jennifer Jensen | Holly Hyer | Melece Hudson |
| Laurie Obray | Shari Bird | | |
May Day Program: We welcome you to our May Day festivities and especially welcome our former queens. We hope that you will enjoy the day with us and have a good time. Introduction of Queen's Court, T. Kay Sorensen; May Day songs, T. Kay Sorensen; opening prayer, Julie Kraus; presentation of queen's trophy, Max Baker; vocal solo, Sherri Bird; vocal trio, David, Kevin and Brian Randall; vocal duel, Mary Ann Shelton and Clayton Cheney; speaker, Lee Bodily; fiddling group, Shaunna and Austin Dean, Matthew Owens, Amy, Tim, Anna, Paula and Jonathan Watkins, Mike Morgan and Anjanette Hart; vocal solo Harold Heap; closing prayer, Steven Krebs. Afternoon Activities: Trap shoot on the old Mendon-Logan road, 1:30 p.m.; children's games and races, on the square, 1:30 p.m.; creative dance program and children dance in the church cultural hall, 2:30 p.m.; softball game, juniors, both wards, 1:30 p.m.; softball game, girls, both wards, 3:00 p.m.; softball game, seniors. both wards, 4:30 p.m.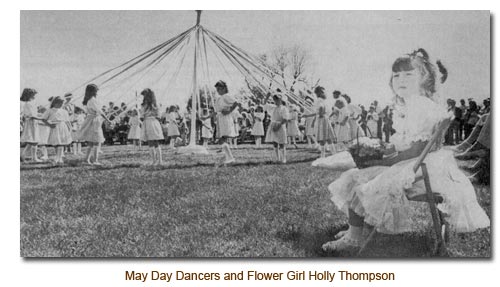 Picture Caption: May Flowers— Five-year-old Holly Thompson watches dancers braid one of three maypoles used in Saturday's annual celebration of Mendon May Day. More that 200 spectators watched as seventy dancers participated in the traditional Spring event as May-like weather prevailed.
'May Day Man' Recalls Years Of Fun— Thomas Kay (T. Kay) Sorensen can remember fifty years of May queens, and all but one of the festivals which go along with them. At seventy-five, Sorensen, knows affectionately in Mendon as "The May Day Man," has had something to do with the town's annual festival, and integral part of the rite of spring in Cache Valley since he took the responsibilities over from his father (William Isaac Sorensen) in 1935. His father had, in turn, taken it over from his father (Isaac Sorensen) before him. The Mendon May Day celebrations, held annually each first weekend in May, have been as much a Sorensen tradition as a Mendon tradition. "May Day celebrations came to us from European customs," Sorensen explained. "They are traditional rites and are basically very romantic. They present a very romantic setting for young ladies and gentlemen to get together. It is a way to welcome spring with music, song, dance and games." The romantic setting is the maypole, with its many-colored ribbons. The music is light and airy, and the young girls daintily dressed. One of a number of older girls is chosen the May queen, and with her consort, reigns over the day's festivities as well as an evening meal and dance for the members of her court. "The spring festival gets in your blood," Sorensen said. "There are wives who were queens who then have daughters who are queens. There is something special about each one who is chosen." According to Sorensen, a May queen serves as an example to her peers. Now chosen by members of the Mendon City Council, the queen was once chosen by a special committee, on which Sorensen has sat many times. "I would look for the stars in their eyes," he said, "that special quality that set them apart from the others. Each year we would look for the ideal girl." In 1966, Sorensen's own daughter, Kristine (Groll) was chosen May queen. But the festival isn't just beautiful girls. There are trap shots and games for the boys and younger children. The afternoons are taken up solely with softball games. The 1985 festival also included a creative dance program. Mendon has been presenting May Day celebrations since 1872, and there hasn't been a year in Sorensen's memory when there wasn't one. The event draws huge crowds every year, many from out of town. Sorensen himself has missed only one in the last fifty years, in 1977, when he and his wife were serving an LDS Mission in Missouri. But over the years there have been some changes. "Years ago both boys and girls danced around the maypole," Sorensen said. "In fact, my father danced the maypole dance, and I bet I could do it too." "When it's rained, we've just moved into a convenient building," Sorensen said. "I can remember one year that we moved it indoors and could hear the snow beating against the windows. Now that it is so big, there are usually three maypoles. And any building we could use would only accommodate about a quarter of the crowd." "It takes about five weeks to put a May Day festival together," Sorensen said. "It's a lot of work, but it's the high point of the year for us."