Mendon May Day— 1938
May Day Fete Set At Mendon— A May Day festival will be held by the Mendon Sunday school Saturday, May 21st, the presidency announced today. Commencing the day's activities will be a parade at 9:00 a.m., to be followed by crowning as May Queen, Miss Clara Larsen, daughter of Mr. and Mrs. Theo Larsen and a maypole dance staged by twenty small girls. A program will be held in the ward hall at 10:30 a.m. and a band concert will be given at 1:00 p.m. by the South Cache High School Band, directed by William H. Terry. In the afternoon games, races and track events will be staged. A dance at night will conclude the entertainment. Visitors will be welcome.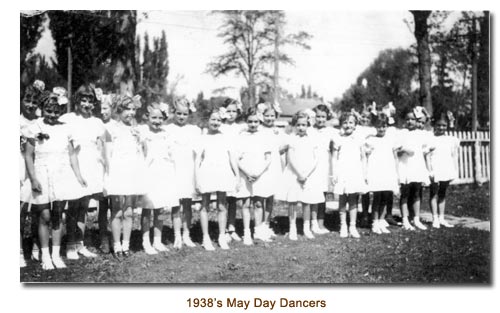 Mendon May Day Fete Is Observed, Large Throng Attends Annual Community Celebration— The annual Mendon May Day celebration, observed as a community festivity each year since 1885, was held today in most pretentious fashion to eclipse all previous May Day fetes. The largest crowd in the history of the community jammed the public square at the grand opening to witness the crowning of the queen, Clara Larsen by her partner and Escort, "King" [Joseph] Barrett Richards. The maids to the Queen of the May, were Mary Lamont, Shirley Hughes, Edna Willie, Darlene Bird and Barbara Larsen, and they, with their escorts, surrounded Queen Clara Larsen during the coronation. An interesting parade, very complimentary in its participation and spectacle to a community the size of Mendon, began the day's activities at 9:30 a.m. this morning. Some outstanding representations were the ward MIA float, the Farm Bureau and Relief Society entrants which added color to the event. The South Cache Band, directed by William H. Terry headed the line of march. Mrs. Sarah L. [Walker] Hughes, pioneer of Mendon and one of the first May Day Queens of the community celebration, rode in the parade. It was in 1887 [1876] that she was crowned Queen of May. After the May Queen ceremonies, which followed the parade, the maypole dance was staged by twenty charming youthful misses, dressed attractively in pink. This also took place on the community square. An overflow crowd, representing many visitors from other Cache communities besides nearly the entire populace of Mendon, jammed the meetinghouse at eleven o'clock for the program meeting. With Claud A. Sorensen, superintendent of the ward Sunday school, in charge it featured selections from the South Cache Band and the May Day address by Bishop Henry C. Sorensen. Other numbers of the program included a reading by Irene Barrett; tap dance, Kitty Colleen Carr; vocal duet, Eldon Sorensen and Leo Ross Ladle: trombone sole, Wayne James; vocal solo, LaDonna Hardman; selection from a hillbilly band, led by T. Kay Sorensen; reading by Helen Walker; remarks by Edgar J. Hancock, and community singing. The afternoon's program began with a band concert by the South Cache Band, beginning at one o'clock; a children's dance at two o'clock, and track meet and children's races at three o'clock. A ball game at four o'clock and a grand finale dance this evening climax the day's festivities.
Crowning Speech— When the meadows are bright with blossoms and the whole world is young and gay. Fragrant flowers breathe out a message clear, May Day is here. Long may you remember this happy day. As I crown you Clara. The Queen of May.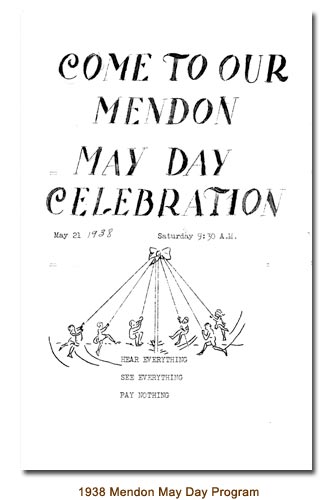 Printed May Day Program: Mendon May Day, May 21st, 1938, 9:30 a.m. Queen's Court: May Queen, Clara Larsen; Consort, Joseph B. Richards. Grand parade, 9:30 a.m.; grand opening and crowning of the Queen, Clara Larsen, 10:00 a.m.; maypole dance, 10:30 a.m.; program in the church house, 11:00 a.m.; band concert by the South Cache Band, 1:00 p.m.; children's dance, 2:00 p.m.; track meet and children's races, 3:00 p.m.; ball game, 4:00 p.m.; picture show, 7:30 p.m.; grand finale dance with Mendon Orchestra, 9:30 p.m. We want to make this celebration bigger and better, than ever before. Won't you help us make it a day of carnival? General Committee: Claud A. Sorensen, Alonzo K. Wood and Fred Taylor. Advertisements Placed In The 1938 May Day Program: (1) Patronize home industry by purchasing thoroughbred White Leghorn chickens from Willie Chicken Farm. Allen Willie, Owner. (2) To do well with your money in the purchase of chicken feed, patronize your friend, Ree Stauffer, A–1 Globe Distributor. (3) We suggest with the spring farm work now in full swing, you check your horse's shoes. If repairs are needed go to A. W. Richards, Blacksmith. (4) For speedy service call in your local trucker; Duaine Baker, William Longstroth, Joseph Larsen, Charles Ladle or Verland Shelton. (5) Paint up for spring, make your home more livable by calling in your nearest Decorator. O. J. Barrett or Gwen Smith. Come on— those winter-worn walls are crying for a little paint. (6) General mechanic, manufacturing of milk carts, fanning mills. If you want your grain chopped or cleaned call Linden K. Wood. (7) Stauffer's Store. Visit the store where you get quality merchandise at reasonable prices. Henry Stauffer, Proprietor. (8) Go to Anderson's Store. Smiling service awaits each customer. John H. Anderson, Mendon. We specialize in quality. (9) "Fire Is No Respector of Person." Insure your house now. Don't wait until tomorrow, it may be too late. Call your local fire agent. Joseph C. Sorensen. (10) The best in the West. Try them once and you will have them always. Dance to the music of the Mendon Jazzers. Theo Whitney, Manger. (11) W. I. Sorensen. Distributes better coal at lower prices. (12) We have a complete line of cut flowers. Ellen Bird. (13) Go to Verland Shelton for auto repair work. (14) Come to Sunday School Sunday morning at 10:00 a.m., we guarantee you the best time you'll ever have.