Mendon May Day— 1990
Ward Bulletin Announcement: All girls grades first through fifth are invited to participate in the maypole dance, for May Day. Practices will be held on Monday, Tuesday, and Thursday, starting April 2nd, off the bus at the church. A meeting for moms' to see the dress for this year will be today, Sunday, March 25th, at the end of church.

Mendon City Council Meeting— Steve Hatch presented the names of the girls to be drawn from for May Day queen this year. Councilman Ross Bartlett drew out the name of Loni Bird to be May Day queen this year. Jennifer Hofler was drawn as an alternate. Steve Hatch reported on May Day plans for this year. Karen Zobell will serve as May Day chairman this year.

Ward Bulletin Announcement: Remember the upcoming May Day activities this coming weekend, May 5th.

Weaving Memories— A Fragment of Fabric: Spanning more than a century of handiwork, the vivid mosaic of quilts draped all four walls of the cultural hall, each one suspended in air by invisible pins and thread. I too was suspended in time.
The handwritten notes attached to each one told a story, and I was compelled to read all fifty of them. I traveled with the great-great-grandmother who hid her mustard-dyed quilt blocking in the bottom of her trunk while crossing the plains. I mourned with the daughter whose only keepsake from her mother was the baby quilt she made just weeks before dying in childbirth. I giggled with the grand-kids who made "Happy 50th Anniversary" blocks to surprise their grandparents.
But one quilt triggered my memory. Its age was obvious; at least one generation back in time. No pre-planned, perfectly matched patterns and colors here. This was genuinely pieced from variegated scarps of leftover fabric, and odd assemblage of spots, checks, stripes, speckles and plaids. In the kaleidoscope of mottled colors and patterns, two triangular-shaped scraps of flowered cloth triggered my memory.
In the tens of thousands of fabric pieces displayed that day, what were the chances of finding a scrap from my childhood? I rubbed my fingers across the soft pink, then blue cotton surfaces. Unmistakable! This same cloth was sewn into thirty-two dresses for the girls who braided the maypole for Mendon's May Day celebration. My mother made me a dress out of the pink fabric when I was in the third grade. And my oldest sister, Dixie, had one like it in the blue. I didn't know the maker or the owner. But she had stitched in a piece of someone's past that was also a fragment of mine. A togetherness of strangers.
I remembered the dress, the skipping steps, the rippling piano, the lilting lyrics of the maypole songs. I floated out of the crowd and over the quilts, skiffed the tops of tall pine trees outside, circled like a gliding hawk over the grass and landed serenely in position, only 100 yards and thirty years away to the town square. May Day in Mendon.
Anticipation: We stand in pairs, shuffling our stiff white shoes already damp from the dew. We are the maypole dancers, waiting for our cue. The desire to dance races through our whispers and giggles. Like well-trained horses, our muscles flinch a little. We are frisky, anxious to strut into our maypole ring.
The fragrance of newly cut grass and bittersweet dandelions lingers in the clear air. The blue-dressed girl in front pulls up her white anklets and says, "I wanted to wear nylons today, but Mom wouldn't let me. She said I had to wear short, white socks, just like everybody else. Tradition, she said. I hate it."
I don't know what tradition is, but if she wears the kind of nylons my older sister wears, the kind you hold up with garter belt straps, she'll look awful silly doing the fancy toe-to-knee footwork for "My Aunt Sally" and showing off those white suspenders to everybody.
The curly-haired girls in front of us move. I hold my partner's hand tightly. She strides forward at a brisk pace, and I stretch my legs to keep up with her. We walk in a long train and stop just outside the wide-circled audience of neighbors, relatives and cameras. The maypole towers in the center, its turquoise and rose-colored ribbons gently billowing in the breeze. It too is waiting for the moment to be transformed into something magical. Something pretty.
I hear T. Kay Sorensen's high tenor voice as he leads the audience in singing, "Come to the woodland, away, away. Gathering flowers for the Queen of May." A clean-cut teenage boy blushes as he recites a poem, then places the crown of flowers on the May Queen's head. Adrenaline races through me as I hear our cue: the majestic cords from the piano boldly floating through the clear blue sky. A robin flies overhead. As we parade by, I hear June Bowen, dressed like all thirty-two of us girls from first through sixth grades, whisper, "Sing loud now." Her dress is the same azure blue as my partner's. The sky has spilled onto them.
We walk through the opening in the crowd, singing in our high-pitched voices, "Oh May Queen, Oh May Queen, we're coming. Right gladly we greet you today. The bird and the bees now are humming to welcome you Queen of May." In the wave of girls' glad voices, I hear my cousins yell, "Janet!" I'm not supposed to look, but as I turn my head to smile, I hear dad's camera click. It's a wonderful moment. I'm pretty. The maypole is pretty. The sky is pretty. The song is pretty. Even the dandelions are pretty. And the dance has just begun.
The Web Is Woven: It is 1984, ten years since I graduated from college and twenty-three years since I danced the maypole as a third grader.
Each year I come back to Mendon's May Day celebration with a renewed anticipation and delight. Like the homing instinct in pigeons, I have a compulsion to return. And I don't know why.
I watch the maypole dancers, tracing every step with them. "Step point, step point, turn-two-three-four. Step point, step point, turn-two-three-four." I am like a mother mouthing the words of her child's first talk, as if they can't do it without me coaching them. This is a ridiculous notion. Most of them have never seen me before. And they aren't watching me for cues.
No, it is I who need them. My heart flutters with every lilting rhythm. In my mind, my feet skip with the same light-footed gracefulness of those flouncing dancers. The girls bounce as they weave, like rhythmic waves of the sea, their strings the arms of an octopus undulating up and down, up and down.
The air rings with a potpourri of strains from the girls' melodious singing to Mozelle's bouncing bass notes on the piano. Her fingers flutter, then hover, as if spinning a web, a web of music spilling into the bright sunlight. The ribbons extend beyond each girl's hand; they curl around and through all of us in the audience, intertwining us with invisible magic and unifying us with memories.
The girls, the ribbons, the music— all together they weave the moments of cooperation our small town has lived through. The sandbagging for the floods in 1961. The repeat when the dam almost burst two springs ago. The digging out together of the six-foot snow drifts of 1949 and 1984. Our Primary's round-the-block parades and the Centennial Parade in 1956 when dad grew a beard and rode on a horse with a fancy saddle. The Mendon Jazz Orchestra tooting and honking to children's giggles and twirls. Santa's white-gloved hand passing out paper bag treats of peanuts, hardtack and oranges. The cheering for the Mendon Eagles basketball team and the hundreds of softball teams whose flies grazed the dusty air under bright new lights. The tearing down of the hallowed old rock church and the erecting of the salmon-bricked new one. The mourning of farmers who die in the fields and widows who wipe tears away each Sunday, exposing their freckled arms and callous-pricked fingertips.
All this I remember as I am moved by the maypole magic. Now they prance to the Highland fling. I smile as they silently mouth the repetitive rhyme: "My Aunt Sally, just as good as anybody. My Aunt Sally," "one-two-three." Who is "My Aunt Sally?" No one knows and it doesn't matter. Some of the girls jump clumsily from the right foot to the left. A few chuckles escape from the audience. Together we enjoy this childlike awkwardness suddenly revealed.
And now the braiding. Their ruffled dresses swoosh as they skip around and through each other. The girls sing, "Apple blossoms swing and sway. 'Tis the merry month of May." They are blossoms bobbing in the wind. We breath in their sweet fragrance.
The maypole is now dressed. The braided pink and blue ribbons, once billowing in the wind, now embrace its center, like a checkered corset cinched to its tightest degree. Crowned with May flowers on top, the maypole towers over its remaining three-feet-long ribbons that hang loosely at its feet. The web is spun. The memories folded intact. The magic complete.
The dramatic chords signal the girls' final bows. They giggle and roll their eyes with relief. The dance is done. They grab hands and form a sixty-foot chain. The tallest one skips through the parting of the crowd while pink and blue dresses ripple in line behind her. Like the game crack-the-whip on ice, the littlest girl on the end picks up speed. She flies out of the arena, her eyes bulging with delight, the motion tossing her hair and churning out giggles. The chain is unbroken.
The ritual is complete. We smile and applaud. My eyes scan the horizon where the Mendon Mountains tower over all, a symbol of strength in community. They will always frame this celebration of spring. And I will always return to witness this merging of memories, this braiding of togetherness and tradition.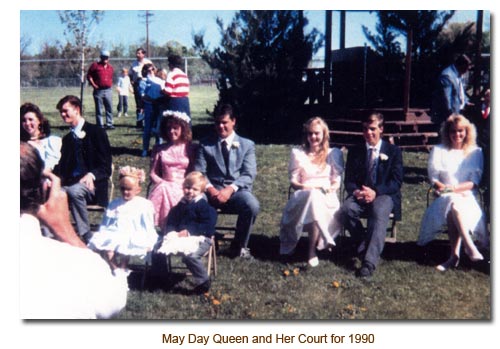 Mendon To Celebrate May Day— The traditional Mendon May Day festivities will be Friday and Saturday. Mendon was settled in 1859 and the celebration has been continuous since 1864. A dance will be at 8:00 p.m. Friday in the Mendon LDS Ward, 20 North 100 West, Mendon, with music furnished by "Boycott." A floor show provided by the Utah State University Ballroom Dance Team will begin at 9:30 p.m. Cost is $1.00, and refreshments will be served. The crowning of the May Day queen, will begin at 10:00 a.m. Saturday on the city square. This year's queen is Loni Bird, seventeen, daughter of Nolan and Barbara Bird of Mendon. The traditional braiding of the maypole by fifty-six girls will follow the crowning, followed by a program in the church. An art show and bake sale, sponsored by the Mendon Arts Council, will be from noon to 4:00 p.m. in the city building. Afternoon activities on [the] town square include Cache Valley Soccer League games at 2:00 and 3:00 p.m., races and games for people of all ages at 1:00 p.m., tug-of-war, volleyball, horseshoes and official water-fights at 1:30 p.m., basketball at 3:00 p.m., and softball from 4:00 to 6:00 p.m. Food will be available at the food stand on Saturday from noon to 7:00 p.m. The public is welcome to all events.

Printed May Day Program: Mendon May Day, May 5th, 1990, 10:00 a.m. Queen's Court: May queen, Loni Bird; Consort, Greg Taylor; Flower Girl, Melissa Yonk; Crown Bearer, Kevin Muir. Maids of Honor with Escorts: Shara Doolittle with Edward Quinlan, Jennifer Hofler with Zan Murray, Lisa Hopkins with Wayne Myers, Kori Leavitt with Brett Hadfield, Jeannie Poulsen with Kirk Schroeder, Donelle Shelton with Chris Cameron, Emily Smith with Joshua Hatch, Heather Walbridge with Chad Olsen, Krecia Banham with Jonathan Yonk, Jennifer Fryer with Jim Buist Maypole Dance Instructors: Barbara Obray, Carolyn Kerbs, Dixie Miskin, Patricia Taylor and Doreen Taylor. Maypole Dance Accompaniment: Norms Myers. The 56 Maypole Dancers for 1990—

| | | | |
| --- | --- | --- | --- |
| Lorinda Wilcox | Sarah Eck | Katie Willie | Tara Croshaw |
| Robyn Larsen | KaDee Larsen | Sara Kerbs | Laura Kerbs |
| Natasha Schroeder | Leslie Willie | Sharlyn Miskin | Skye Longhurst |
| Deanna Thompson | Marci Bradshaw | Abigail Leonhardt | Rachel Kidman |
| Andrea Clemensen | Devon Nye | Amber Eck | Carolyn Cheal |
| Jami Olsen | Mikinze Bott | Rebekah Olsen | Tonya Mills |
| Heather Ruggles | Kara Hopkins | Katie Fryer | Jennifer Taylor |
| April Kirk | Amanda Anderson | Lisa Larsen | Cindy Larsen |
| Holly Thompson | Joylyn Tanner | Traci Woodbrey | Amber Hyer |
| Maria Taylor | Melissa Taylor | Emily Groll | Jennifer Lindbloom |
| Shanda Hart | Erin Hofler | Betsy Bowen | Amanda Hardman |
| Kristine Willie | Areel Nye | Amanda Hyer | Jennifer Miller |
| Nicole Hardman | Jessica Miller | Bessie Walbridge | Eliza Walbridge |
| Jenny Bowen | Shalice Groll | Beth Holladay | Arianne Holladay |
May Day Program: Introduction of Queen's Court, T. Kay Sorensen; song, maypole dancers; master of ceremonies, Max Baker; opening prayer, June Bowen; May Day songs, T. Kay Sorensen; queen's award, Mayor Earl Doolittle; musical number, "Wind Beneath My Wings," queens court, accompanied by Paula Watkins; reading, Robert Campbell; musical number, "In The Leafy Treetops," Lisa Zobell and Heather Sorensen, accompanied by Karen Zobell; piano solo, "Fluttering Leaves," Betsy Bowen; musical number "Follow His Ways," Jenny Krebs, Shanlie Miskin and Amy Croshaw, accompanied by Carla Randall; reading, Winifred Harris; musical number "Ole Joe Clark And June Apple," Richard, Paula, Anna, Andrew and Benjamin Watkins; May Day speaker, Mary Jean Campbell; musical number "A Dream Is A Wish Your Heart Makes," Lisa Larsen, accompanied by Valerie Larsen; closing prayer, Mike Markey. Afternoon Activities: Mendon Arts Council, art show and bake sale, noon to 4:00 p.m.; races 1:00 p.m., Larry and Vicki Olsen; tug-o-war, north end vs. south end, Ray Olsen; volleyball, 1:30 p.m., Nancy Myers and Jennilyn Quinlan; horseshoes, 1:30 p.m., Fred Bowen and Gilbert Peterson; official water fight, 1:30 p.m., water balloons and squirt guns will be for sale; Cache Valley Soccer League Soccer, 2:00 and 3:00 p.m., Sheri and Leon Lemon; basketball, 3:00 p.m., Kent Baker; family softball 4:00 p.m., Ed Buist; Mendon First Ward Explorers vs. Mendon Second Ward Explorers, 5:00 p.m., Ed Buist; commercially softball, 6:00 p.m., Ed Buist. The food stand will be open from noon to 7:00 p.m. May Day Committee: Karen Zobell, chairperson; Melanie Hatch, assistant chairperson; Paula Watkins, Friday dance; Barbara Bird, queen's court; Claudia Larsen and Norma Myers, maypole dance; Jenae Jepsen, afternoon activities; Valerie Larsen, program; Melanie Hatch and Karen Zobell, publicity; Kyle Yonk and Tammy Olsen, food stand. And thanks to many more who helped on each committee. Thanks to Judy Shelton for the queen's court certificates and to Rulon Johnson for the sound system. A special thanks to T. Kay Sorensen for his efforts in keeping the Mendon May Day alive.