Mendon May Day— 1987
Mendon City Council Meeting— Flora Mae Cheney will be the chairman for May Day. Paula discussed a number of ideas for the park area. The 24th of July celebration will be held on July 25th this year.
Mendon City Council Meeting— Paula Watkins gave a report on May Day activities and guidelines that should be followed. Carla Randall will accept chairmanship of the 24th celebration.
Mendon City Council Meeting— Mayor Ross Shelton drew the name of Amy Watkins to be May Day queen and Anjanette Hart as alternate. Some of the May Day plans were discussed. Carla Randall resigned as the 24th chairman. Some ideas of doing away with the 24th celebration next year was brought up with more interest being placed on May Day.

Mendon 'Operates' On Several City Ordinances— Amy Watkins was chosen as the May Day queen for the upcoming celebration. Watkins, a daughter of Richard and Paula Watkins, is a junior at Mountain Crest High School. Her name was picked in a random drawing.

Mendon Celebration Begins Monday— The annual May Day celebration will kick off Monday with a family night and culminate with the crowning of the May Queen Saturday. The traditional family night will begin at 7:00 p.m. in the town square and include activities, songs a video from May Day 1986, and refreshments. Each family is asked to bring one dozen cookies. Friday, is the day for the May Day dance, beginning at 8:30 p.m. in the Mendon LDS church building. The dance is for the whole family and cost will be $5.00 per family or $1.50 per person, a spokesman said. The music will be furnished by TRAX. The theme for this year's dance is "Young at Heart," and a 1950's-style floor show will begin at 10:00 p.m. Videos will be shown in the priesthood rooms for the younger children, with supervision provided. There will be ice cream sodas for everyone, the spokesman said. May Queen, Amy Watkins will be crowned at 10:00 a.m. Saturday, May 2nd, in the square. The maypole dance will also be performed at that time, followed by a program in the chapel. Activities on the square will begin at 1:00 p.m., including soccer, softball, races, volleyball, horseshoes, marbles, jump-rope, hopscotch, fishing, and whistle carving, along with music from the Mountain Crest Band. A heritage fireside will take place in the church at 2:00 p.m., and a food stand will be open from noon to 6:00 p.m. Softball will begin at 3:00 p.m., with mothers and sons challenging fathers and daughters, followed by a challenge of generations, with those ten to twenty-five years old taking on the twenty-six and over set.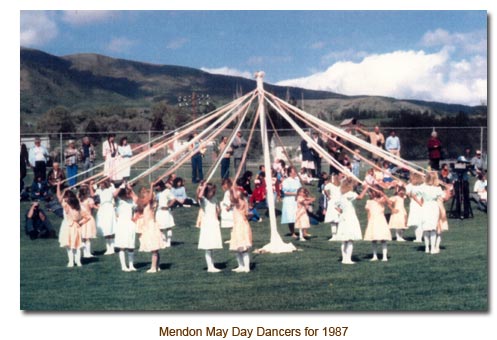 Mendon's May Day— Activities will continue Friday with a family dance beginning at 8:30 p.m. in the Mendon LDS church building. Music will be furnished by TRAX. A floor show will begin at 10:00 p.m., and videos will be shown in the priesthood room for the younger children. Ice cream sodas will be served. The public is invited. There will be an admission charge.
Mendon To Celebrate May Day— The annual May Day celebration in Mendon will include a May Day dance Friday at 8:30 p.m. in the Mendon LDS ward cultural hall. A floor show with a '50s theme will be at 10:00 p.m. Music is furnished by TRAX. Admission is $5.00 per family or $1.50 per person. Events Saturday will begin at 10:00 a.m. with the crowning of the queen and braiding of the maypole. This year's May Day queen is Amy Watkins, daughter of Mr. and Mrs. Richard Watkins. Consort is David Poulsen, son of Mr. and Mr. Hal Poulsen. Attendants are Allison Autry, Kristi Bird, Rebekah Cheney, Jill Fonnesbeck, Jennifer Hansen, Anjanette Hart, Stacie Kaye, Keri Leavitt, Nanette Murray, Nancy Myers, Jennilyn Quinlan, Tammy Thompson, Kelly Woodbrey, Terri Stenquist, Kirk Taylor, Craig Smith, Braydy Nelson, Bert McIntire, Shane Larsen, Kurt Kotter, Mark Hopkins, Erie Hatch, Buckly Banham and Greg Speth. Leslie Willie is the flower girl. Benjamin Watkins is the crown bearer. Other activities include a program with the past May Day dress display at 11:00 p.m. in the Mendon LDS ward chapel. Soccer and races are at 1:00 p.m. Volleyball, horseshoes, fishing, marble, whistle carving, jump rope, hopscotch begin at 2:00 p.m. A heritage fireside— will be in the Mendon LDS ward chapel. Former residents are especially invited. Softball will be at 3:00 and 5:30 p.m. Mendon, Mountain Crest Band members will play at 5:00 p.m. A food stand will be open from noon to 6:00 p.m.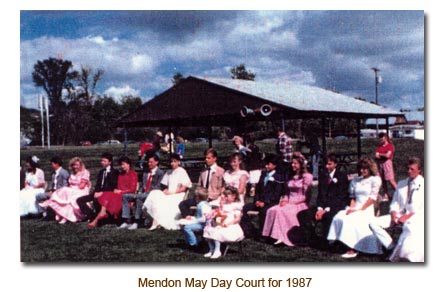 Mr. May Day— Early each spring in our valley, a royal court, complete with queen, consort and company, can be seen walking towards a crowded town square. The spry, elderly gentleman leading the procession has been the spark behind this celebration for almost half a century. A stranger may ask, "Why has one man held this exalted position for so many years?" The children of May Days past know why. The one-time maypole dancers and royalty in the queen's court also know. They and the whole town love him and expect him there. He is king of the tradition, Mr. May Day himself. In 1872 a man named Williams organized a band in Mendon. As they marched down the street playing their instruments, the townspeople followed. From this small beginning evolved May Day in Mendon: Isaac Sorensen, the wards Sunday school chorister, composed the music with the following lyrics:
Come to the woodland away away!
Gathering flow'rs for the Queen of May.
Ev'rything lovely and bright and rare,
Weaving a garland for one so fair.
A queen was selected, a crown woven from flowers gathered in the hills. A maypole, bright with colored streamers dressed the town square. The maypole dance hasn't changed through the years. The girls still tap their toes to "My Aunt Sally." In time, Issac's son William I., waved the baton and bequeathed the tradition to his young son, Thomas Kay Sorensen. Mendon has swelled through the years. New homes dot every side, but the Alps-like snow capped mountains still look down on— not one, but two maypoles. The people have built a gazebo, on the square, a place more suitable for their leader to stand. There he raises his baton, nods to the piano player and brings forth the words buried deep in each heart all winter long. A his hand is held high, his head thrown back, the song reaches its climax.
Heaven is wearing a smile today!
____ , our ____ , is Queen of May,
Oh! ____ , our ____ , is Queen of May!
The ritual moves on without a flaw, each royal person alert for his cue. A wave of his hand, a nod of his head are the only directions given. Blessed are the girl and boy who have May Day sealed in their heart. When life is bitter cold and trails come their way, each can return home one day in May to fill their cup with good feelings of family and home as reunions of friends and family gather together in celebration of summer.

Picture Caption: The people of Mendon and Petersboro gather around the maypole in the earliest known photograph of that community's traditional May Day celebration, taken by Mendon photographer Matthew A. Forster sometime in the 1880's or 1890's. This year, the annual celebration will be held once again May 2nd, the first Saturday in May, on the town square. It will feature three maypoles this year, with little girls in the first through fifth grades participating in the traditional May Day dance. The old rock church pictured in the background of Forster's photograph no longer stands, but community leaders say the celebration will in the same town square and will be much the same as it was when first held in the 1860's in Cache Valley's earliest settlements. This year's celebration will begin with a "Community Family Night" Monday, April 27th, continued with a dance Friday night in the Mendon chapel cultural hall and conclude with the maypole braiding Saturday at 10:00 a.m., crowning of the May Day queen and a variety of games on the town square in the afternoon. This year's queen is Amy Watkins, daughter of Richard and Paula Watkins of Mendon.

Picture Caption: The traditional Maypole dance is part of Mendon's May Day festivities.

May Day Dresses From Years Gone By— Does anyone still have their children's dresses from the maypole dancers? We would like one from each year as far back as we can go. It would be interesting to see them all together. Even if you only have one or two. If you remember the year all the better. They will be used as part of a display. We need these for May Day, please help.

Year Name Color & Style Year Name Color & Style
1923 Grace Ladle Miles Cream 1980 Beth Muir Green check
1947-48 Norma Myers Yellow plastic 1980 Marsha Hudson Green check
1949-50 Norma Myers Pink paper 1980 Flora May Cheney Green check
1956 Joyce Hiibner Long print 1980 Tawna Fonnesbeck Green check
1970 Beth Muir Aqua sailor 1981 Karen Hansen Yellow
1976 Marsha Hudson Printed with apron 1981 Barbara Bird Green
1976 Carol Thompson Printed no apron 1981 Flora May Cheney Yellow
1977 Flora May Cheney Red 1981 Tawna Fonnesbeck Yellow
1977 Marsha Hudson Red 1981 Marsha Hudson Yellow
1977 Tawna Fonnesbeck Red 1982 Karen Hansen White with birds
1977 Carol Thompson Red 1982 Barbara Bird White with birds
1977 Carol Thompson Turquoise 1982 Carol Thompson White with birds
1978 Beth Muir Red 1982 Flora May Cheney White with birds
1978 Karen Hansen Red 1982 Tawna Fonnesbeck White with birds
1978 Carol Thompson Blue 1983 Barbara Bird Yellow
1978 Carol Thompson Red 1984 Karen Hansen Blue stripe
1978 Marsha Hudson Blue 1984 Karen Hansen Pink stripe
1978 Flora May Cheney Blue 1984 Carol Thompson Blue stripe
1978 Tawna Fonnesbeck Blue 1985 Marsha Hudson Pink knit
1979 Marsha Hudson Red dotted 1985 Carol Thompson Pink knit
1979 Beth Muir Blue dotted 1986 Karen Hansen Pearl
1979 Karen Hansen Blue dotted 1986 Karen Hansen Peach
1979 Flora May Cheney Red dotted 1986 Karen Hansen Green

Printed May Day Program: Mendon May Day, May 2nd, 1987, 10:00 a.m. Queens Court: May Queen Amy Watkins; Consort David Poulsen; Flower Girl, Leslie Willie; Crown Bearer, Benjamin Watkins. Maids of Honor and Escorts: Allison Autry, Kristi Bird, Rebekah Cheney, Jill Fonnesbeck, Jennifer Hansen, Anjanette Hart, Stacie Kaye, Keri Leavitt, Nanette Murray, Nancy Myers, Jennilyn Quinlan, Terri Stenquist, Tammy Thompson, Buckly Banham, Erle Hatch, Mark Hopkins, Kurt Kotter, Shane Larsen, Bret McIntire, Braydy Nelson, Craig Smith, Kirk Taylor, Kelly Woodbrey. Maypole Dance Instructors: Pat Krebs, Barbara Obray, Dixie Miskin, Carolyn Baker, Karen Hansen and Claudia Larsen. Maypole Dance Accompanist: Norma Myers. The 62 Maypole Dancers for 1987—

| | | | |
| --- | --- | --- | --- |
| Jackie Larsen | Katie Willie | Trudy Quinlan | Larinda Wilcox |
| Sharese Hatch | Emilee Petersen | Andrea Hansen | Amber Taylor |
| Jenny Krebs | Robyn Larsen | Jolene Myers | Amy Hardman |
| Deneil Murray | Holly Buist | Amy Croshaw | Megan Croshaw |
| Shanlie Misken | Anna Groll | Carrie Thompson | Holly Thompson |
| Jill Lindbloom | Julie Lindbloom | Amanda DeGasser | Mandy Whoolery |
| Stephanie Bowen | Jennifer Bowen | Shannon Lyle | Krista Hopkins |
| Anna Watkins | Deanna Thompson | Missy Bradshaw | Jill Tolman |
| Lori Olsen | Rebekah Olsen | Jentry Hudson | Melece Hudson |
| Mandi Bartholmew | Melanie Bartholomew | Holly Hyer | Mandy Hyer |
| Christina Kirk | April Kirk | Michelle Olsen | Jamie Olsen |
| Angela Hofler | Sharilyn Miskin | Sarah Clemensen | Andrea Clemensen |
| Shayna Buxton | Hyden Hanford | Hannah Walbridge | Katie Fryer |
| Kandie Woodbrey | Jennifer Tolman | Kelly Larsen | Lisa Larsen |
| Laurie Obray | Shari Bird | Jennifer Jensen | Emily Groll |
| Carrieanne Nye | Jamie Pierce | | |
May Day Program: Introduction of Queen's Court, T. Kay Sorensen; May Day songs, T. Kay Sorensen; accompanist, Norma Myers; conducting, Mayor Ross Shelton; prayer, Stanton Barrett; announcements, Ross Shelton; Mendon beautification presentation, Robert (Bob) DeGasser; reader's theater, "I Like You," Tim Watkins, Terri Erickson, Krecia Banham, Jesse Heers, Edward Quinlan; theme song, "Young At Heart," queen's court, Rhyll Croshaw accompanist; vocal duet, Jessa Watkins and Bryan Earl, Paula Watkins, accompanist; reading, "Excerpt's From Erma Bombeck," Tresa Quinlan Hansen; barbershop quartet, "My Wild Irish Rose," Steve Croshaw, Richard Cheney, Ed Banham and Larry Olsen; flute trio, "Flutation," Kelleen Hansen, Monika Muir and Stacie Wanner, Beth Muir accompanist; vocal trio, "The Greatest Love of All," Kathy, Jill and Julie Lindbloom, Paula Watkins accompanist; reader's theater, "The Ballad of Johnny O'Dell," same as above; prayer, Merlin Yonk. Afternoon Activities: soccer and races, 1:00 p.m.; heritage fireside, volleyball, horseshoes, marbles, jump-rope, hopscotch and whistles, 2:00 p.m.; softball, mothers and sons against fathers and daughters, 3:00 p.m.; softball, ten to twenty-five years old against twenty-six and older, 4:00 p.m.; band performance, 5:00 p.m.; final softball game, Mendon first ward against Mendon second ward, 5:30 p.m. The food stand will be opened from noon to 6:00 p.m. May Day Committee: Paula Watkins, city council: Flora May Cheney and Barbara Bird, co-chairman; Craig and Janet Petersen, queen's court; Pat Krebs, maypole dancers; Marvin and Karen Hansen, food stand; Carol Thompson, family night; Steve Whoolery and Kim Clemensen, photography and Video; Flora May Cheney, program; Kathryn Shelton, dance; Paul and Mary Ann Hanney, afternoon activities; Paula Watkins, floor show; June Bowen and Delone Larsen, dress display.
Mendon Welcomes May— Back around 1860, when Mendon was first settled, the acting LDS Bishop, Ralph Forester, suggested to the young girls in the pioneer settlement that they go to the meadows east of town, gather wild flowers, make a crown and then choose one of their number to be the May Day queen. A few years later, as the annual celebration of the spring season grew, a maypole was added. At the maypole, the young girls sang while they danced and braided the pole with brightly colored strips of paper. Cache Valley visitors who happened upon Mendon last Saturday would have found not much has changed since the pioneers settled the small town. There are still May Day queens, wild flower crowns, and maypole dancers. In face, about the only thing that's changed is the whole celebration is much bigger. When the maypole was first used, the people of Mendon needed only one maypole. This year, there were sixty-four girls in the dance, requiring the addition of two more poles. Strong Sense of Togetherness— In today's rapid paced world of split second communications and the international threat of nuclear holocaust, Mendon's May Day celebration might at first appear to be a little outdated. However, May Day is much more than a meaningless ritual. According to T. Kay Sorensen, a descendant of one of those original settlers, it is something that provides a strong sense of togetherness for the whole community. Mayor Ross Shelton agrees. "It brings out the community spirit," he says. "Prior to May Day we have our city clean up. and just about everyone gets involved." Shelton says it starts with private citizens, who clean up their own yards and then turn their focus to the community. "The Boy Scouts and the other youth organizations are very active in the clean up," Shelton adds. Making Willow Whistles— May Day is also a time when the children can find out about their heritage. Their parents suddenly slow down long enough for them to ask questions. It's a time when a child can learn things like how to make a willow whistle or how to throw a horseshoe with just the right amount of English to make a ringer. These are the kind of things that are usually lost in a culture as it matures. And it's days like May Day that pass on the history. Mendon has always been a deeply religious town and this is reflected in the May Day celebration. Many of the activities are held in the LDS chapel which sits on the corner of the town square, where it has always sat since pioneer times. And up until three years ago May Day was sponsored by the Mormon, Mendon ward. However, because of growth pressures, the city now sponsors the annual event. Throughout the course of the day, there were many things a person could do. There were games of soccer, volleyball, horseshoes, marbles, basketball, and the list goes on. One of the highlights of the day was the mothers-sons vs. fathers-daughters softball game, in which about sixty people participated all at once. A batter could not possibly hit the ball without sending it directly to at least one of the thirty opposing players in the playing field. A Big Family Reunion— May Day in Mendon is like one big family reunion. And there appeared to be some kind of a family relationship almost everywhere one looked. Mrs. [Maxine] Sorensen, wife of T. Kay, one of the town's native sons, best summed it up when she said, "It brings people of all ages closer together. I think this tradition is wonderful in that sense." And perhaps even more than that, May Day 1987 was a delightful bridge to Mendon's past, to its historical roots and to its proud traditions as one of Cache Valley's first pioneer settlements. Picture Caption: Mothers and sons teamed up against fathers and daughters in the traditional softball game; here Craig Petersen shows Emilee the fine points of batting. Picture Caption: After a long day of celebrating, May Day celebrators head for home. Picture Caption: The maypole dance is the centerpiece of Mendon's favorite town celebration. Picture Caption: Everybody kicked up their heels at the Friday night dance.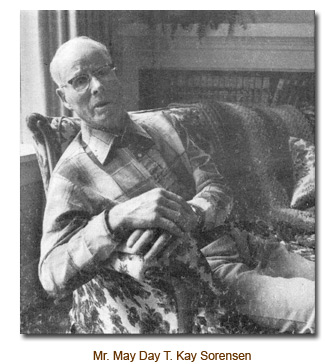 Mr. May Day— "I've been involved with the May Day celebration ever since I can remember," says Thomas Kay Sorensen, who is known throughout Mendon as "Mr. May Day." He says Don Shelton was the first person to jokingly refer to him as Mr. May Day five years ago, and the nickname has persisted. May Day originated in Denmark and England. T. Kay's grandfather, Isaac Sorensen, came from Denmark, and when he helped settle Mendon, he brought the tradition with him. "Actually, he spearheaded the celebration," Sorensen says. "Many other people helped, but he was the founder and driving force behind the whole thing." From Father to Son— T. Kay's father William I. Sorensen, took over the celebration when his father could no longer handle it, and when William died in 1938, T. Kay was given the responsibilities. At this year's celebration, during the Friday night May Day dance, T. Kay and his wife were honored at the climax of the floor show in the LDS ward cultural hall. The crowd gave them an emotional ovation during the opening event of the 1987 celebration. Over the years, T. Kay has been involved with many aspects of May Day. Currently he is serving as the song director. He helps with the queens court, and also introduces the court to the crowd while presiding over the ceremony. "All in all, it has been quite an experience and an opportunity," Sorensen says. Some of T. Kay's earliest childhood memories are of May Day. "I remember dunking for oranges and running races to win prizes. I thought it was just marvelous and all the other kids did to. We were just so happy to have May Day!" A Fantastic Time— Sorensen says the one May Day that stands out above all others in his mind was the 1922 celebration. He was consort to the queen that year. She [Melba Sorensen] was his second cousin and T. Kay says they "had a fantastic time." Sorensen says the weather hasn't always cooperated. "One year I was directing the May Day singing in the chapel and the wind was drifting the snow up against the west windows, and there we were, singing about the beauty of spring." Because of the Sorensen family's involvement with May Day, people in the community have decided to publish the Isaac Sorensen chronicles. The chronicles are a year by year account, from 1856 to 1922, of the history of Mendon. These writings are among the best sources of early Cache Valley history. The publication will include original words by Isaac, historic photographs, and commentary by three local authors.
Mendon City Council Meeting—
Rex Bradshaw praised Dave Buist for the fine job he did getting the city park ready for May Day.