Mendon May Day— 1974
Picture Caption: Mendon's May Queen— Crown bearer Shane Larsen holds the crown Queen Debbie Porath will wear at Mendon's May Day celebration on May 4th. At left is flower girl Carrie Freeman. Their parents are Mr. and Mrs. Dal Freeman, Mr. and Mrs. Tom Jones, Mr. and Mrs. Douglas Larsen. Other girls in the court are Linda Sorensen, daughter of Mr. and Mrs. Allan Sorensen; Rhonda Eldredge; daughter of Mr. and Mrs. James Eldredge; Kathy Maurer, daughter of Mr. and Mrs. Dean Maurer; Barbara DeBruin, daughter of Mr. and Mrs. Adrain DeBruin; LuAnn Baker, daughter of Mr. and Mrs. Max Baker.

Picture Caption: Mendon Celebration— Mendon maypole dancers Marciea Barrett, daughter of Mr. and Mrs. Stanton Barrett; Mary Eldredge, daughter of Mr. and Mrs. James Eldredge, and Suzette Quinlan, daughter of Mr. and Mrs. Wade Quinlan, rehearse for the annual celebration which will be held Saturday on the town square. The May queen will be crowned at 10:30 a.m. and the winding of the maypole will follow. In the afternoon at 2:30 a.m. there will be sports and games and at 8:30 p.m. there will be a dance in the ward cultural hall. The Toolson Orchestra will play.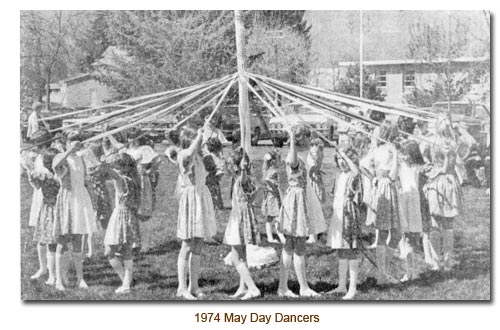 Printed May Day Program: Mendon May Day, May 4th, 1974, 10:30 a.m. Queen's Court: May Queen, Debbie Porath; Consort, Paul Taylor; Flower Girl, Carrie Freeman; Crown Bearer, Shane Larsen. Maids of Honor with Partners: Kathy Maurer with Mike Bird; LuAnn Baker with Michael Barrett; Rhonda Eldredge with Verdell Kidman; Barbara DeBruin with Eric Bowen; Linda Sorensen with Rick Shelton. Dance Directors: Carolyn Baker, June Bowen and Julie Kidman. Maypole Dance Accompaniment: Beth Muir. May Day Dresses: Blanche Yonk. Singing of the May Day songs will be led by T. Kay Sorensen. The 26 Maypole Dancers for 1974—

| | | | |
| --- | --- | --- | --- |
| RaNae Anderson | Michelle Taylor | Suzette Quinlan | Kimberly Kidman |
| Kimberly Earl | Jessa Watkins | Stephanie Muir | Kathryn Eldredge |
| Michelle Bird | LaNa Bodily | Teri Larsen | Kamille Hardman |
| Marciea Barrett | Lisa Jackson | Marnie Freeman | Rachelle Kirby |
| Mary Eldredge | Claire Johnson | Cindy Kidman | Jody Helms |
| Paula Anderson | Anita Cheney | Peggy Reid | Debbie Reid |
| JoAnn Brown | Heidi Whoolery | | |
May Day Program: A program will be held in the chapel following the dancing of the maypole and the crowning of the queen. Schedule of Events: Games and races, 2:00 p.m.; a Walt Disney movie will be shown in the chapel, 3:00 p.m., no food please; adult dance in the cultural hall, 9:00 p.m. Delicious home cooked food will be sold all during the afternoon at the food stand on the square. Many thanks to all the good cooks who contributed. We sincerely thank everyone who has helped make this a successful day. Sunday school presidency, Merlin Yonk, Max Baker and Paul Murray. Oh, what a nice way to celebrate a day, in the lovely month of May!

Picture Caption: Brawn and Grace in Traditional Mendon May Day Celebration— The boys from the north side of town show the form which made them victors in a tug o' war with the boys from the south side Saturday while girls in their Sunday best dance around the maypole in Mendon's annual celebration of spring. Saturday's events in Mendon also included crowning of the May Queen, dancing, singing, sports and games. Mendon's May Day is one of Cache Valley's oldest traditions.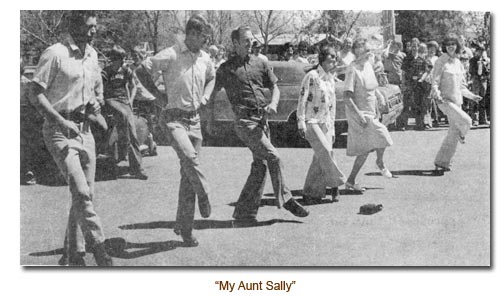 Picture Caption: A Queen, A Dance, A Beautiful Day— Mendon's annual May Day celebration Saturday saw Paul Taylor crown May Queen Debbie Porath with a wreath of flowers and several "old timers" competing in a dancing contest. Kicking up their heels to the tune of "My Aunt Sally" are Wade Quinlan, L. R. Earl, contest winner Max Baker, Coy Andersen, Clella Ladle and Glenna Markey. May Queen Debbie is the daughter of Mr. and Mrs. Tom Jones. Her consort was Paul Taylor, son of Mr. and Mrs. Fred Taylor. Merlin Yonk, Sunday school president, was in charge of the day's activities, highlighted by braiding of the maypole, which was taught to schoolgirls by June Bowen, Carolyn Baker and Julie Kidman. Children's races, a softball game and a special May Day program with singing led by T. Kay Sorensen added variety to the traditional Mendon festivities.