Mendon May Day— 1959
Combined With Centennial Observance, Mendon May Festival Saturday— Mendon's Centennial will be celebrated Saturday, May 2nd, at its traditional May Day observance on the town square. The parade will start at 9:30 a.m. Verna Larsen will be crowned Queen of May at 10:30 a.m. and the maypole dance and program will follow. Queen Verna's parents are Mr. and Mrs. Joseph Larsen. Bruce Kidman, son of Mr. and Mrs. Kenneth Kidman will be her consort, and in her court will be May Von Wiser, daughter of Mr. and Mrs. DeVon Wiser, and David Sorensen, son of Mr. and Mrs. T. Kay Sorensen; Glenna Buist, daughter of Mr. and Mrs. Earl Buist, and Melvin Stockett son of Mr. and Mrs. Turner Stockett; Marilyn Kidman, daughter of Mr. and Mrs. Leland Kidman and Carl Baker, son of Mr. and Mrs. Asa Baker; and Alice Anderson, daughter of Mr. and Mrs. Elmer Anderson and Jerry Stockett, son of Mr. and Mrs. Turner Stockett. At 1:00 p.m. the riding club contest will be held. The children's dance is at 2:00 p.m. During the afternoon three ball games will be played, Mendon Little League vs. North Logan Little League at 2:00 p.m.; Mendon vs. Wellsville Amvets at 3:30 p.m.; and Mendon Girls Softball team vs. Hyde Park Girls at 5:00 p.m. At 9:00 p.m. the dance will begin. Concessions and rides will be in town for three days. Heading the committee for the day are Sunday school superintendent Zeno Andersen, Mayor Wayne Hiibner, Lee Larsen and Ross Bartlett. Officers and teachers of the Sunday school are assisting.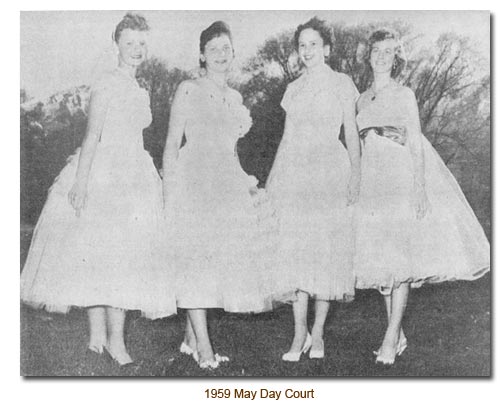 Picture Caption: Pretty as spring blossoms in their pastel party dresses are Mendon's May Queen and her maids from the left, May Von Wiser, Queen Verna Larsen, Glenna Buist and Marilyn Kidman. The queen will be crowned Saturday, May 2nd, at 10:00 a.m.
Mendon Queen Has Pioneer As Forefather— Memories of one of the oldest pioneers of Cache Valley, Hans Peter Larsen, are reawakened in the selection of Miss Verna Larsen as Mendon's 1959 centennial queen. Miss Larsen, daughter of Mr. and Mrs. Joseph A. Larsen, is a great-granddaughter of this man who was one of Mendon's first settlers, according to information obtained from Linden K. Wood, community historian. History records that Hans Peter Larsen was born in Denmark, September 24th, 1835. He joined the LDS church at an early age and crossed the Atlantic in a sailing vessel. He arrived in America in 1854 after a six-weeks voyage. The record indicates that he came to Cache Valley with Isaac Sorensen and James Hill in May of 1859 and helped settle Mendon, the second settlement in the valley. Some of the older folks of the valley, remember him as a great lover of flowers, commented, "It is most fitting that one of Mr. Larsen's descendants will be the 'flower of Mendon' reigning over the centennial festivities Saturday, May 2nd."
Mendon Fete Has Games— One of the many activities and events of Mendon Centennial and May Day, May 2nd, will be the ball games. There will be three games in the afternoon. Men's, Girls', and Little League. The first game will start at 2:00 p.m. and will feature Mendon and North Logan Little League teams. This is the second season that Mendon has had a Little League team and coach Ned J. Bodily is very happy over the improvements made during the past year. Players include boys from first through seventh grades. At 3:30 p.m. the Men's team will play the Wellsville Amvets. The girls' softball team will play Hyde Park girls at 5:00 p.m. Mendon girls were Logan stake winners last summer and Hyde Park beat them out for division A championship. The public is invited.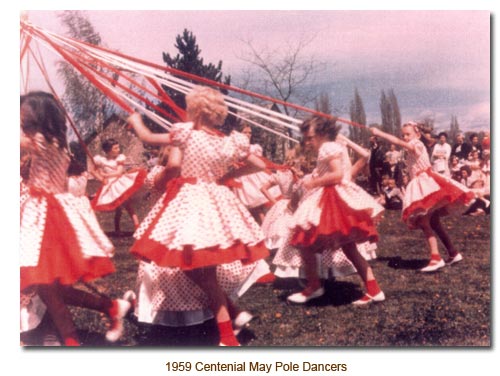 Cache Families Invited To Mendon May Fete— Highlight of Mendon's centennial year will be its May Day celebration Saturday, May 2nd. The parade will begin at 9:30 a.m. All civic, church and social groups are building floats. Many communities in Cache Valley are entering floats in the parade, and South Cache band and Sparta Pep club will march. At 10:00 a.m. on the town square, Verna Larsen will be crowned queen by her consort, Bruce Kidman. In her court are May Von Wiser, Glenna Buist, Marilyn Kidman, Alice Anderson, David Sorensen, Melvin Stockett, Carl Baker and Jerry Stockett Thirty little girls dressed in pink and white will dance the maypole under the direction of Mrs. Mozelle Sorensen, Mrs. Mellree Andersen, and Mrs. Margaret Rae Leishman. A program in the ward chapel will follow with Professor Ivan J. Barrett of the Brigham Young University as speaker. At 1:00 p.m. a riding demonstration will be presented under the sponsorship of the Mendon Skyline Riders. Three baseball games will be played during the afternoon, Mendon Little League vs. North Logan Little League at 2:00 p.m.; Mendon vs. Amvets at 3:30 p.m., and Mendon girls softball vs. Hyde Park girls at 5:00 p.m. The children's dance will begin at 2:00 p.m. and at 9:00 p.m. the annual May Day dance will begin. A big attraction of the celebration will be the concessions. The Leeright Company of Phoenix, Arizona is stopping at Mendon Friday and Saturday and will set up on the public square. There will be pony rides, a Ferris wheel, side show and other attractions. Sunday school officers and teachers are putting up a stand on the square to sell hot dogs, drinks, barbecues, cake, pie and popcorn balls. On the general committee are Zeno Andersen, Sunday school superintendent; Mayor Wayne Hiibner, Lee Larsen and Ross Bartlett. Picture Caption: Such a scene will be recreated Saturday when Mendon celebrates May Day, and observes the Centennial of its settlement. The maypole dance has been performed for most of Mendon's years. This Herald Journal photo was taken last May Festival from an upper window of the ward chapel. Cache citizens are invited to join the celebration, beginning with a parade at 9:30 a.m.
Mendon's May Day, Despite Rain, A Festival— Descendants of Mendon pioneers showed the true spirit of their forefathers, when the Centennial May Day was celebrated in spite of a cold rain. Chester Kidman on a white horse was marshal of the day and led the parade which circled the town square. On the two queen floats were Verna Larsen, 1959 queen, and two attendants, Glenna Buist and May Von Wiser, and on the second, Mrs. Mormon Delbert Bird, 1859 queen, and attendants, Alice Anderson and Marilyn Kidman. Cache Valley's Dairy princesses were in the parade. Linden K. Wood had his model threshing machine fired up for the day and Fred Sorensen was riding shotgun for the wagon train of settlers. The Mendon Skyline Riders were in full kit for the procession. Pretty Queen Verna, on the arm of her consort Bruce Kidman, let her court around the maypole which was set up east of the church. Preceding her were little flower girl Shelley Maurer, daughter of Mr. and Mrs. Dean Maurer, and crown bearer, Steven Hardman, son of Mr. and Mrs. Fred Hardman. Thirty little girls dressed in pink and blue were maypole dancers. Conrad Peterson was a jolly clown and kept up the spirits of the spectators In spite of the cold. Ivan Barrett was main speaker on the morning program and T. Kay Sorensen was there to lead the well-remembered May Day songs. The children's dance and the dance in the evening were well attended. The afternoon sports proceeded as the weather permitted and there were concessions and rides on the square. May Day is traditionally a homecoming time for Mendon and many families gathered for dinner and visiting. Picture Caption: Among outstanding floats in Mendon's Centennial May Day parade yesterday was the Cache Dairy Princes creation, shown as it rounded the town square. Picture Caption: Queen Verna Larsen is crowned by her consort, Bruce Kidman, just as rain began.
Salute To Mendon— Mendon is 100 years old this year and its May Day celebration has been part of each spring for almost that long. Old-timers recall that Ralph Foster was superintendent of the Sunday school in 1866 when the celebration was first organized. Before that the young people would go to the foothills early in May to gather wild flowers. With a wreath they would crown one of the girls "Queen of May" and the whole company wearing garlands would march around the town square led by the fife and drum band. Mr. Foster enlarged upon this activity and since that time the Sunday school superintendency has taken charge of the day. Andrew Adams was the first to teach the maypole dance which was then danced by both boys and girls. Now twenty-four little girls perform the dance each May Day morning. Among the first May Queens were Susan Hancock, Lizzie [Elizabeth H.] Walker and Seny Sorensen. The girls were chosen when they were eighteen for this honor. Today's queens are chosen from the ninth grade girls of the town. The years have brought some changes to the festivities but the old songs, the winding of the maypole and the crowning of a pretty queen still greet the coming of summer in Mendon town.
Picture Caption: Having himself a ball at Mendon May Day festival was the celebration clown (in real life, Conrad Peterson of Petersboro). He "consented" to pose with May Queen Verna Larsen and some members of the royal court: Marilyn Kidman, May Von Wiser, Alice Anderson, Shelley Maurer and Steven Hardman. Con contributed some "spirit" to the occasion.
Picture Caption: Mendon's May Queen Verna Larsen and members of court during her brief reign Saturday at which time the town's centennial was celebrated with a wide variety of activities.
Picture Caption: Mrs. Mormon D. Bird appeared in the May Day parade as the queen of 1859. [She was the May Queen in 1895.] Her attendants are Alice Anderson and May Von Wiser. The parade began the day long celebration.
Mendon, Record Crowd Attends May Day— An all record crowd filled the ward chapel to overflowing on May Day program, Saturday when superintendent Zeno Andersen was in charge. Following the crowning of the queen, Verna Larsen, by consort, Bruce Kidman and the maypole dance in the recreation hall on account of the rain, the crowd enjoyed the following program. May Day songs led by T. Kay Sorensen and organist Ellen Ladle and piano accompaniment by Mozelle Sorensen, the opening prayer was given by Gilbert Wood. Song, by five year old Steven Hardman, accompanied by Mrs. Margene Willie on the piano. Young boys sang "Springtime in the Rockies" and then Martin Peterson, Wayne Anderson and Bobbie Richards played a harmonica selection, accompanied by Mrs. Ellen Ladle. "I Shall be Queen Of The May, Mother" was recited by LaVerna Taylor. Mrs. Shirley Olsen sang two vocal solos accompanied by Vickey Dalaaz. Two selections were given by Norma Baker on her electric guitar, accompanied by Mrs. Joyce Richards. A comic reading in costume was by Stanley M. Barrett. Solovox selections, Mrs. Clyde Muir. The May Day speaker, Professor Ivan J. Barrett of Brigham Young University, gave an inspiring talk. Vocal solo Shirley Bingham, accompanied by Sandra Kidman. Remarks were by Bishop Rulen C. Ladle. Carl Ashby of Utah State University sang two solos, accompanied by Mrs. Mozelle Sorensen. Benediction, Roy Smith. Out of Town Guests— Coming from Henefer to attend the May Day centennial were Mr. and Mrs. Harold Richens and children and were guests of her parents, the Afton Birds; from Salt Lake City, Mr. and Mrs. Carl Bird; Mr. and Mrs. Dee Crockett and family of Smithfield, Mr. and Mrs. Travis Johnson of Logan, Mr. and Mrs. Ray Jensen of Brigham, Deon Bird and missionary companion Maxine Beautifoer from Salt Lake City; Mr. and Mrs. Dale Bird and sons, Allen, Scott and Mike of Ogden, Raedell, Clare and Ray Richens of Henefer. Mr. and Mrs. William Charles Ladle's family came for the May Day celebration; from Salt Lake City came Mr. and Mrs. Richard Miles and sons, Bill, Douglas, John and Jim, from Deweyville, their daughter and family, Mr. and Mrs. Lewis Spackman, Linda, Orlene, Paul, Shirley and Marjean. Dinner Guests— Mr. and Mrs. Theo Larsen's dinner guests on May Day were Mr. and Mrs. Lee Maughan and children Pamela, Donald, Janice, Cheryl and Linda of Wellsville; Mr. and Mrs. Glenn Buist and sons, Michael, Kenneth and Tony, also Dean Larsen. The O. J Barrett's May Day dinner guests were Professor and Mr. Ivan J. Barrett and daughters, Iva June, Annette and Janice; Mr. and Mrs. Ken A. Olsen and family, Cheryl, Shauna, Kathy, Dee Ann, Lani, Douglas and Dennis, all of Orem; Mr. and Mrs. Roy Thackeray and children, Lynn, Janene and Lyle of Croydon; from Deweyville were Mr. and Mrs. James Barnard and Nolan; Mr. and Mr. Owen Sorensen, Norman, Pauline and Doreen Sorensen; Mr. and Mrs. Ned J. Bodily and sons, Jimmie, Larry and Lee and Isabell Stumpf who assisted with the dinner.