Joseph Turner Wood
Joseph Turner Wood, son of Edward Wood and Elizabeth Turner Wood was born June 24, 1854 in Salt Lake City, Utah.
His father was born in Yorkshire, England, coming to Utah in 1848. His mother was born in England and she and sister arrived in Salt Lake City in the year of 1850. She drove a yoke of oxen from Saint Louis, Missouri, coming with Levi Nickelson, his wife, Mary Anne and their four children. They came independent of the church train, but traveled right back of it for protection from the Indians.
Joseph's parents were married in Salt Lake City in 1852 When he was three or four years old, his parents moved to Cottonwood, intending to settle near Brigham City, but as the Indians were so hostile, the decided to come to Cache Valley They arrived in Mendon, Utah the first week in March 1860.
As a young boy, Joseph herded sheep and cows. He and his chum, Fred Gardner, were herding cattle up near the willow patch on a knoll west of Amenzo Baker's farm one day, and were playing mumble peg Suddenly Fred looked up and started to run. "Joe," he said, "The Indians are coming!" In the distance they could see fourteen warriors riding fast toward the fort. The boys ran to the fort and right to the Bishop and told him. The Bishop soon called a few brethren together and they met those Indians who were gaily dressed and painted they demanded ten sacks of flower which would amount to 1500 pounds and two beef oxen. If they were not willing to give these, they would take them. A treaty was made with these Indians and the fort was searched and these provisions were given them.
About the age of ten, Joseph's father died and his mother was left to take care of the farm and her two children, Joseph and his sister Anne.
In his early teens he took much responsibility of the farm. He went to school in the winters Amenzo Baker being his first teacher. They had no books but learned orally. Geography was taught in the form of a song. Later on the school became much better. Adam Smyth and later John Donaldson being very capable teachers.
Between the ages of eighteen and twenty years, he worked part time helping to build the railroad track from Mendon, Utah, to Butte City Montana.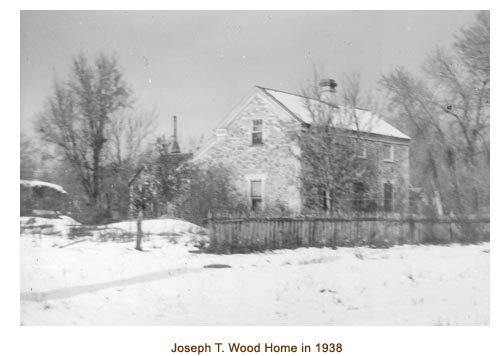 At the age of twenty-one he was married to Julia Alline Kimball in the endowment house in Salt lake City, Utah. They were the first couple to ride on the train out of Mendon to be married. Returning to Mendon, he took up farming. Helping his step-father and later building a home for his family.
The summer the Logan Temple annex was being built he worked on it helping tend masons. In the winter he spent two weeks time with his team hauling lumber from the Temple (Fork) saw mill to the Temple. This was a long distance and very dangerous hauling in the canyon in the winter.
A number of years he helped out with the dramatical work in the Mendon Ward. He enjoyed that kind of recreation.
At the age of twenty-five he was called on a mission for the Latter-day Saint Church. He spent two years in the North Western States Mission, and fulfilled an honorable mission.
His good wife Julia Died on January 29, 1935, at the age of 76 years, three children having passed on before, a daughter and two sons.
On June 24, 1935, he will be eighty one years of age. He is feeling quite well and had the following living children and their families to comfort him: Mille Ballard of Declo, Idaho; Heber Wood of Arbon, Idaho; Alonzo Wood of Mendon, Utah; Linden Wood of Mendon, Utah. Linden spent two years in the Western States Mission and nearly two years in the recent World War (I).
He has twenty-two living grand children, and two great grandchildren.