Samuel Roskelley— Portrait of a Pioneer
Samuel Roskelley came to Cache Valley in the early summer of 1855, one year before Cache Valley was settled, in company with a number of other men who brought cattle from Salt Lake. Other than for a few years when he was on foreign missions, all of his (adult) life was spent in Cache Valley.
Samuel Roskelley was a builder of institutions. Developing religious institutions was one of the primary objectives of his life. He helped build wards, stakes and priesthood quorums. He helped build and service churches, temples and missions. He was a leader of immigrant colonies.
Samuel Roskelley was also a builder of economic institutions. He owned and with others operated saw mills. He owned and operated farms, a store and a nursery. He was director and builder of railroads. He was the president and manager of cooperative societies. He was a director and builder of canals.
Samuel Roskelley was a builder of educational institutions. During a period of his life he was called by President John Taylor to go through the entire Utah Territory and encourage people to develop schools. He was the second superintendent of the Cache County schools, and held the position for seven years. He helped build protective institutions, institutions that were necessary to guard the lives of people living in isolated areas.
For a time he served as captain of the Cache County Militia and as major in the Smithfield Battalion, later as chaplain of a brigade.
Samuel Roskelley helped build governmental institutions. For ten years he was mayor of Smithfield. President U. S. Grant sent him, as mayor of Smithfield, the charter for the town. During his administration, the streets were named, roads and bridges were built, and the cemetery was started.
He was a builder of family institutions. In that capacity he was husband of six wives and the father of thirty children. As a convert to the church, Samuel Roskelley sacrificed and suffered much for it. Yet, as one reads his personal diary in which he wrote so beautifully about so many things in his life, one does not find any evidence of bitterness, remorse, or regret for the things that the church and the community required of him. On the contrary, he repeatedly reports that he was indebted to the church and the community for the opportunities of service, which they gave him. He reflected in his life the pioneer spirit of the day. His pioneer spirit was the kind that helped make history, build and maintain commonwealths, kingdoms and empires.
Samuel Roskelley was born at Devonport, Devon, England, January 1st, 1837. He heard the gospel when he was thirteen years of age, and was baptized one year later. His feeling and early experiences about becoming a Mormon as a boy of fourteen years are given in the following excerpt from his dairy. (These quotations are presented because they undoubtedly reflect the experiences of so many other pioneers to Cache Valley.)
"I felt, on coming out of the water, an inward satisfaction that I had done right for I realized God's approval was upon me and much enjoyed the society and company of my newly made friends in the Gospel— for in their fellowship I felt a contentment and satisfaction I could feel no where else. Little did I dream, while with the Saints on that memorable occasion and feeling that I had eventually entered into a new life, that such a storm was gathering and would break upon me in such a short time, for after bidding the Saints goodnight and going to my home I found my father and some of the other members of the family eating supper, which though so late in the evening, was customary."
"My father, looking up, asked me where I had been till so late an hour? Although it was not unusually late for me to be out, I answered I had been with some friends, but my mother taking up the subject answered, I know where he has been! He's been to Barn Pool and been baptized by the Mormons. I know he has."
"When my mother's imagination had been aroused by seeing my hair glistening in the light of the candle, through being wet with the sea water, or whether an inspiration from an evil source caused her to know where I had been I do not know, but her statement had an effect I never saw produced in the family before. There was no more supper eaten that night and it was the only time in my life I ever saw my father give way to passion without restraint, that I remember of, but on this occasion, his voice together with my mothers, sister and brothers mingled and co-mingled till it was hard to tell which was loudest in denouncing the Mormons and their youngest son and brother, who Mother said she knew had been baptized. Father walked the floor, white as a sheet and shaking his clenched fist in my face said, if I had known you were going to Barns Pool to be baptized by these Mormons, I would have sunk the boat if I had been drowned myself."
"This was poor encouragement for a young convert to Mormonism and especially one so young in years. Notwithstanding all the threats and abuse I kept still and said nothing, considering it unwise to retaliate."
"I shortly went to bed but not to sleep, for the circumstances of the previous day and evening were of such a nature that sleep had fled from my eyelids for I rejoiced that the Lord had led me to the truth. No better outward evidences could I ask for than to see the manifestations of anger on the part of my parents and the family, under the influence of the power of the evil one. But I had resolved to serve the Lord at all costs, hence the more consistent I tried to live to the spirit of my religion the more embittered the family seemed to be toward me."
"I attended the Baptist Sabbath school as usual on the following Sabbath but excused myself early in the afternoon and went to the Saints meeting at Hyden's rooms, Devonport and was confirmed a member of the church by Elder William G. Mills, 7th December 1851. I rejoiced to hear the testimonies of the Saints and the teaching of the Elders from this time forth and I gradually withdrew from the Baptist Sunday school and meetings and became more fervently attached to the Saints and took comfort in their meetings. God strengthening my faith and adding testimony to testimony of the divinity of His work until my heart was fully satisfied of its divine character."
Even though he had reached this firm resolve in his own life, his problems did not stop. His parents, brothers and sisters collected and picked up the sweet morsels of bad stories about the Mormons and were very vindictive in pronouncing them upon his head. He was looked upon as the black sheep of the family and continually told how he had brought disgrace upon them. The situation became so bad that ultimately he decided to leave home, and went over to Plymouth— a town about three miles away. There he found employment as an apprentice in a bakery shop He worked in this capacity for a time, and then was appointed schoolteacher for the children of the Saints. There is no mention in his diary as to why he should teach the children of the Saints.
In the spring of 1853, two years and a few months after his baptism into the LDS Church, Samuel Roskelley was given an opportunity to go to Zion financed by the perpetual immigration fund. This chance made him extremely happy. He was then about sixteen, and felt that out of deference and respect for his parents, he should tell them about this good fortune that had come to him.
He had presumed that they would be happy with his good lot. However, he writes in his diary: "I had carefully selected the time and place to tell my parents and family the —to me— good news. When I had done so, my father passionately said, You shall not go, and if you succeed in leaving this town (Devonport) and get to Liverpool I will follow you and put you in prison, for you are a minor and under my control according to law."
"I replied coolly, I know I am a minor and under your control, and you can put me in prison, but you can't hinder me so you might as well save all the trouble and let me go now seeing it will cost you nothing." My bold answer rather cooled my father's anger for the time."
"My troubles were not yet over although I had little time to prepare for the journey awaiting me. The evil one had set his eye upon me and made calculations to stop me from enjoying my anticipation, for I was taken violently sick with fevers. Going home to my parents I took to my bed and my mother seemed to think she would have the privilege to carry out her threat made at the time I told the family I had an opportunity of going to Zion— viz: That she would rather bury me than I should go off to America with these Mormons."
"The family doctor was called, pronouncing it very violent attack of fever and left directions I must be watched constantly and medicine given me regularly, kept perfectly quiet. No one to see me but the persons attending me —I heard it all— low as I was, but I thought, old fellow, God is the greatest and I am going to Zion and you might as well keep your medicine in the drug store, for notwithstanding all inducements I would not take a particle of medicine although the doctor called regularly and so did I call upon my people to send for the Elders of the Church but there I lay for several days and nights helpless, exhausted, burning up with fever, pleading to have the Elders sent for."
"After several days and seeing no improvement, but rather getting worse, my people consented for the elders to come and see me one evening. I was so thankful: they seemed line angels. I hadn't seen Latter day saint for some time, some of the Elders had called at the home but were informed that the doctor said it was dangerous for anyone but my nurses to see me and were consequently denied. They brought oil and in the presence of my mother, who remained to see the administration as she said I could get no worse by being administered to They anointed me profusely and then laid their hands on my head and rebuked the fever and promised me I should live and go to Zion, and realized my hopes, but my mother having a sigh and shaking her head said, "That will never be." Thanks to my Heavenly Father, the disease left me and I went to sleep quietly and sleep all night, the first sleep for many nights."
"I awoke in the morning feeling better and heard my attendants whispering to each other, He's better. He's slept all night— he's taken none of the medicine the doctor left. There must be something with these Mormons after all for there is such a change in him."
"I took nourishment for the first time in many days, asked for my clothing as I began to feel it was time to move and get ready to go to Zion as I expected each mail would bring my notification to be in Liverpool at a stated period. My clothing were refused me, but were promised if I continued to mend and get stronger, I might sit up in a few days. I watched my chance when my attendant left the room and I crawled to the wardrobe and got my pants and after several trials and several rests, I succeeded in getting them on and was part way downstairs when I met the nurse coming up with some refreshments. She screamed— I sat down, took my time and after a while succeeded in getting to the room downstairs to the utter astonishment of mother and the family, who the night previous had been expecting to carry me before long to the bone yard. I was there, a living monument of God's mercy and the power of faith through the ordinance of the Gospel for no medicine had passed my lips and they could not but acknowledge some superior power had saved my life and raised me up from the very verge of death."
The quotations from the life of Samuel Roskelley are indications of the motivating forces of his life.
In his diary Samuel Roskelley writes that to the credit of his parents, their opposition was broken and they helped him collect some things to go to America. The ship Falcon on which he traveled to America set sail on Saturday, March 26th, 1853. He reports that at an age of sixteen years two months and twenty-six days old, he left his home, his friends, his kindred and everything that was near and dear to him on the earth to follow the Lord and obey his commandments. A voyage of seven weeks and two days brought them to New Orleans. There they changed boats and sailed up the Mississippi River to Keokuk, Iowa, which was the outfitting point for Mormon immigrants.
At that time he and a number of other Mormons about his age went across the river to visit the city of Nauvoo. In his diary he says: "I crossed the river and spent several hours in looking among the ruins left by the mob who sacked the city and drove the Saints out, also destroying the once magnificent temple built by the hands of God's chosen people. There was but little of the walls standing of that once blessed edifice and but few houses inhabited. It seemed to be a "deserted city" where once the feet of Holy Men and Women had trod and evidences of thrift and industry were seen on every hand. Now all was silent as the grave and all I saw that gave evidence of life was a few women passing in and out of the houses and curling smoke from a few of the chimneys."
Samuel Roskelley was included in a company to travel to Utah that was organized under the leadership of Appleton M. Harmon. In his diary he writes very interestingly of the problems of a group of people learning to function as a traveling company. He sheds much light upon the problems of crossing the plains. "Thirteen or fourteen of the teams were composed of young wild steers with perhaps one yoke of partly-broke cattle to each wagon. Teamsters composed of men fresh from cotton factories and workshops— many of whom had never seen two animals with a yoke on their nicks before arriving at the camp ground at Keokuk. They knew as much about Gee and Haw as the unbroken steers in the team."
"In using a whip, such teamsters would frequently strike themselves as well as the animals they were aiming at. Plank roads were frequent and sometimes of considerable length, bridging large and deep sloughs and ponds of stagnant water. While passing over these roads, herders would be placed each side of the teams. This in many instances would do more to frighten than keep the team straight; consequently, many of the teams made a wild run for the sloughs to gain freedom, running over their herders and into water and mud halfway un their sides, tipping over wagons, breaking bows, boxes, tongues and ruining the contents of the wagons with mud and water while the united yelling of Woa from the teamsters and herders frightened the cattle until they would get so badly tangled up with turned yokes and the chains around their legs and horns that an axe in the hand of an experienced man would have to be used to cut the bows and free the cattle from death by drowning."
"The accusations from teamsters or herders, or both, would follow in quick succession and while wading from knee deep to half way up to the armpits in mud and slough would be forgotten for the time being and war or words unbecoming Saints— indulged in. Thus on our road to Zion we had the privilege of learning the art of self-government if we would improve it. As night came on, camp was formed on as dry a place as could be found near a creek and the cattle unchained from each other would be turned out to feed after a colored string of some sort had been tied around the horses or the yoke by a green teamsters so he might know his cattle when driven up in the morning. Wood and water brought to camp and the skill of a green factory girl, as also the English housewife would be tested in frying bacon and flapjacks for the mess. (Usually of ten persons.) Burnt fingers, scorched hair, tired limbs and more tired throats of the men who lay around the fire stretched upon the ground to get a little ease for their aching limbs or drying their clothes after wading through the sloughs and mud, closed the day's labors after prayer and the settling of the guard for the night. Matters improved day by day as the teamsters and cattle knew each other better."
Samuel Roskelley reports in his diary that his company arrived at Council Bluffs on the fourth of July 1853. They crossed the Mississippi River in a ferryboat and wended their way towards the setting sun. About two weeks before they reached Fort Laramie they over took a freight train that was being taken to Utah under the direction of captain Andrew Jackson Stewart of Springville. Captain Stewart was lacking of teamsters and inquired of Appleton M. Harmon about some young that might help him get his freight train to Utah. The wages he promised were quite liberal, and Samuel Roskelley was one of the men that agreed to leave the company of Harmon and go to Utah with Captain Stewart.
In a few days, however, the situation became quite intolerable. Samuel Roskelley was one of the greenhorns and green hands in the freight train. From his writing, he thought that he being an Englishman became an object of ridicule by the men who said they were Americans. After a short time with Captain Stewart's company he decided that he could not and would not stand the abuse any longer. He decided to leave the freight company and attempt to catch up with the Harmon Company, whom he knew were someplace ahead. Captain Stewart tried to discourage him because of the dangers, but he had make up his mind. Early one morning he lift the freight company with a pack over his shoulder and a few crusts of bread in his pockets.
He was alone in the wilds of western America. His diary gives a detailed account of the two days and one night that he was alone. Of the first day he wrote: "Night drew nigh apace, I was tired, very tired, footsore and my poor shoulders ached beyond measure carrying my pack. What should I do? Travel as long as I could drag a foot, or lie down and take a rest till morning? Prudence suggested that I rest somewhere— I looked around. All seemed cheerless. I saw about one-half mile distant a ledge of rocks on a little rising bluff, and resolved to get there if possible, which I accomplished just as it became dark. I found a projecting ledge of rock and mechanically unrolled my bundle and laid down, not knowing whether I should ever rise again. Entirely alone— many miles from any human being that I knew of, I queried to myself, is this what I left parents, kindred and friends for to die alone on these almost trackless plains— and be eaten by wolves and wild beasts who may gather around my carcass and fight over the possession of a fragment of my remains? This thought was intensified by hearing the howling wolves not far from me. The picture of my once pleasant home and its inmates around the festive board gave my almost famished stomach and gnawing vitals but little comfort. The recollection of most of the acts of my life came before me in quick succession and I seemingly was in the presence of God."
"The last I knew I was praying to be preserved that I might go to Zion and live with the Saints of God. I must have slept an hour or two and when I awoke I felt much refreshed although my bed was a ledge of rock and not as comfortable as some beds. I turned over many times before morning— my cogitations and peculiar situations kept me awake but I had the satisfaction of hearing the howling of wolves farther away than when I lay down to rest. I resolved to proceed on my journey as soon as I could see my way in the morning, for I felt that the Lord would grant me my desires and the desires of the elders before leaving England would be realized— viz: I should go to the land of Zion."
His diary reveals the difficulties of the second day and how foot sore, tired and exhausted he arrived where Captain Harmon's company was camping just before dark of the second day. He went to bed, but found himself a very sick man the next day. Sick from exhaustion and overwork during the two days that he traveled alone on the plains. He was given a great deal of assistance from various people and found that within a short time he was able again to assume his responsibility in the company, move forward, and aid the others in their journey toward Salt Lake Valley. After rejoining his company everything went well, and they moved into the Salt Lake area with little difficulty. From his diary, however, Samuel Roskelley reports that they often traveled on "short rations."
The company arrived in Salt Lake City on Sunday, October 16th, 1853. It was a feast for his eyes to behold this city of his inspiration and aspiration. He writes in his diary, "I had come to Zion."
Everything was not well with Samuel Roskelley, as he reached Utah, because "Everyone was met by a friend except me." And then he proceeds in his diary to tell how he felt about being left all alone, and wondered if it was his sad looks that make him devoid of friends.
He reports then again what he had written earlier, that he had traveled nearly the whole trip across the plains in one suit of clothes. (The good clothes that he had started out with were stolen at Fort Laramie.)
Finally, on an evening of the second day one of the brethren in the camp that he had come with invited him to his place to spend the evening and indicated that he might be able to find employment as a carpenter the next day. However, on the next day a Brother Nelson Spafford from Springville inquired in Salt Lake of a young English boy who had arrived alone. Brother Spafford had received a call to go on a mission and needed someone to go to his place in Springville to do chores and wait on the family for board and lodging during the wintertime.
Samuel Roskelley went to Springville. He had some difficulty apparently as a city boy learning to do the chores, particularly handling the animals. In time he became very proficient and reports in his diary that he enjoyed the winter very much, Mrs. Spafford and her children being lovely people to live with.
On June 4th, 1854 he returns to Salt Lake determined to try to find employment so determined that he goes directly to the office of Brigham Young and requests work. He is assigned to work for Brother H. G. Parks, and the salary is to be $5 a month plus board and lodging. By this time his clothes were still more ragged than the fall before, and he used his first two months' wages to buy him a pair of buckskin pants. He reports that the buckskin pants were short when it was dry weather and very long when it was wet weather.
He wrote of his first meeting with Brigham Young as follows: "I was deeply impressed with the man— a Prophet of God! A Seer and Revelator. I looked upon him almost with awe, he was the man of all men I desired to become acquainted with and I suppose that was the reason I was so bold in going to ask him for work for my usual diffidence would have led me in any other direction."
Samuel Roskelley worked for Brother Parks all during the summer, but late in the fall he started to work for Brigham Young. That winter he did various and sundry jobs, including cutting wood, building roads up City Creek Canyon and other tasks. Late in the spring of 1855 he came to Cache Valley as a herder of some of Brigham young's cattle. He was very favorable impressed with Cache Valley and wrote about his first impression of the Valley.
Late in the fall of 1855 he returned to Salt Lake. He reports of his thankfulness for being employed by the prophet of God and particularly being blessed with having enough to eat. Apparently the famine that had developed as a result of the devastions of the grasshoppers for the previous two years was causing much difficulty for the Saints in the Salt Lake Valley. He tells about the wisdom of Brigham Young in buying some wheat earlier and having enough to feed his family.
During the fall of 1855 he helped finish the Lion's House, and in the late fall assisted four wives and the children of Brigham Young to move into the Lion's House. On the first of December 1855, Brigham Young left for Fillmore and charged Samuel Roskelley with the responsibility of staying at the Lion's House, taking care of the four wives and children and doing various tasks that would be expected of him incidental to caring for the families.
Shortly after Brigham young left, measles broke out. For five weeks Samuel Roskelley reports that he did not take off his clothes except to change his underclothes. During this time he fasted extensively in behalf of the sick and administered to those who were very ill. Apparently it was a very devastating time.
Spring of 1856 found him still in the employ of Brigham Young. One Sunday while he was attending church, Brigham Young made some comments and Samuel Roskelley recorded the following in his diary: "While preaching in the old tabernacle one Sunday afternoon, Brigham Young said that he had a set of men around him that were incompetent to make a living for themselves, and he could not drive them away so he had to provide for them. This expression struck me with such force, and I thought, President Young, you shall not have the opportunity of saying that much about me very long. For although I was but nineteen years old, I felt I could dig for myself, and I knew I could under ordinary circumstances make my own living."
Early in the spring of 1856 Samuel Roskelley met Rebecca Hendricks, the woman who later became his first wife. He lived in the Lion's House looking after four wives of Brigham Young, and he said in his diary that he observed and heard much. He treasured it up, and kept it to himself hoping that someday it may be of help to him; but in his own words, he said: "But, alas, all mortals err— for I have ever yet seen the place in my experience that one of these lessons fitted. It has all been new ground to me or I have been new to the ground."
Early in July Brigham Young invited a number of the Saints to go up Big Cottonwood Canyon and celebrate the twenty-fourth of July. He gave a special invitation to Samuel Roskelley to go as a portion of the family. Samuel was very happy and thankful for the opportunity to associate as a member of Brigham Young's family.
About a month after the celebration Samuel Roskelley was called on a mission. He wrote, "One evening I stood looking into the street from the porch over the Lion of the Lion's House when suddenly I felt someone's arm around my shoulders and neck. Turning my face I discovered it to be President Young. Said he— calling me by name— I think you had better go on a mission. As soon as I could recover from my surprise I answered— I don't know what you want to send me on a mission for I don't know anything. He answered— I'll risk you in that matter."
Samuel Roskelley accepted the call for a mission. With his accounts all settled he had twenty-five cents in his pocket for his mission. He and others walked and worked their way to New York. He worked in New York for a time in order to obtain money for a steamship fare to England.
Other missionaries and Samuel Roskelley gave a concert, and charged admission to raise funds. Each missionary finally raised $10 apiece— the price of the steamship ticket, and sailed from New York on November 21st, 1856. His diary is replete with comments of his mission. The trip across the waters apparently was very rough. He was extremely sick. The main topsail was blown to pieces; considerable damage was rendered to the ship because of the hurricanes. But the ship and occupants arrived in England safely.
It was a real pleasure for him to go back to Devonport to visit his father, mother, brothers, sister, and the Saints. They were all glad to see him. He sensed that part of the joy of his parents was a hope that he was coming home as a disappointed boy from what he had found in Utah. Apparently the parents and his brothers and sister did quite a number of things trying to encourage him to give up his idea of returning to Utah. They even offered him many opportunities for lucrative financial employment, but he turned them all down. He had a number of very interesting experiences while on a mission – baptized people, presided over conferences— but he had to return home all too soon because of the threats that then existed in Utah (Johnson's Army). One of the significant comments and experiences in his mission was his work in organizing a choir of Mormons that would sing, and be reports probably did more to remove misunderstanding and ill-will against the Mormons than anything else that was done.
On February 19th, 1858, he left England, his native land, to return to America, his adopted land. In his diary again he said, "Now I gladly embrace the privilege of going home to Zion to assist in her defense against a government that has taken up arms and sent a large force of soldiers to wipe out the Saints and destroy God's chosen people from the face of the earth. I feel that I have labored faithfully and my garments are clean."
He arrived in Salt Lake City June 21st, 18858, reported to Brigham Young spent a day or two there, and then went to Springville to meet his old sweetheart, Rebecca Hendricks. They were married about a month after their meeting.
Following the marriage, he spent the fall of 1858 in the Provo area running a threshing machine. In the early part of 1859 he bought a shingle mill with his brother-in-law. They operated it until the spring of the next year when he decided to move to Cache Valley.
He arrived in Richmond, Utah, April 18th, 1860, and acquired a considerable portion of property on High Creek. Before leaving the Provo area he consulted with President Brigham Young and his wife's relatives on the advisability of the move. Upon his arrival in Richmond he was successful in breaking up twelve acres of ground. He sewed it to wheat, but it was all eaten off by the grasshoppers. Early that fall of 1860 he worked with a brother-in-law, William T. Van Noy, and Andrew Walton in building and running a sawmill up Cub River Canyon.
In 1862 he planted another crop, but again the grasshoppers ate it, and he had the misfortune that summer of having his hand cut quite badly in the sawmill with the result that he was not able to work for about three months.
During the time that Samuel Roskelley was in Richmond he acted as chorister of the choir and as ward clerk. He was apparently able to develop a very excellent choir that gained some notoriety in Cache Valley and was spoken of as the most efficient choir in the territory outside of Salt Lake City.
On November 30th, 1862, Apostle Ezra Taft Benson and Bishop Peter Maughan held a meeting in Richmond. Before the meeting was over Apostle Benson requested that Samuel Roskelley accompany him to Smithfield and attend the meeting.
On the way to Smithfield Elder Benson reported to Brother Roskelley that Smithfield did not have a Bishop, and President Brigham young had suggested that there was a young man by the name of Samuel Roskelley living in Richmond that he thought might well be appointed the Bishop of Smithfield.
This set the stage. Samuel Roskelley was appointed Bishop of the Smithfield Ward on November 30th, 1862. When Samuel returned home he found his wife in tears. She had had the experience of being a bishop's daughter, and felt that it demanded too much time. Samuel Roskelley was concerned of his worthiness to be a bishop. He was then only twenty-four years of age, but after much prayer and deliberation, he said, "Lord, they will be done." He commuted to and from Smithfield for a short time, but moved to Smithfield with his family on January 21st, 1863. He had already purchased the property of Bishop John G. Smith, his predecessor.
His appointment as Bishop of Smithfield and his move to that community was the beginning of a life's devotion to community development. Samuel Roskelley was Bishop of Smithfield for eighteen years, from 1862 to 1880. Upon the completion of his term, he accepted a call to go on his second mission.
During his term as bishop, he stressed and helped build Sunday school, priesthood quorums, and Relief Society organizations. He encouraged a number of recreational programs and celebrations that are characterized today in the programs in the Mutual Improvement Association. He helped organize choirs, youth choruses, and bands. He was faced with the very serious problem of inadequate church building facilities. During the early part of his career as bishop (in 18864) they planned and started the construction of the church where the old Inter-urban station now stands, but before long the inadequacy of that proposed structure became apparent and the construction was stopped.
The lack of a meetinghouse was resolved for a time by the church cooperating with the school in erecting a structure, then both church and school services were held in it.
The United Order, as a part of the church program, was organized in Smithfield on May 3rd, 1874, with Samuel Roskelley as the president. The United Order only lasted a short time. It was discontinued upon receipt of instructions from headquarters in Salt Lake.
He soon interested himself in a multiplicity of community activities. For example, as early as March 1863, he was appointed as a major of the Smithfield Battalion. Later he was appointed captain of the Cache County Militia. In 1870 we read that he was appointed chaplain of a brigade.
On May 23rd, 1870, Samuel Roskelley was elected mayor of Smithfield. In 1872 as mayor, he received a land grant of eight hundred acres from the President of the United States, Ulysses S. Grant. This property was surveyed and lots were sold. In 1873 the Smithfield streets were named beginning Main and Center as they are still known. In 1874 the cemetery was located and plotted. The town was resurveyed in 1876.
During the term of office as mayor, Samuel Roskelley made improvements in traditional things that are associated with cities. However, he showed much foresight, and realized that a number of other developments must be made in the area in order to bring the advantages to Smithfield and the Cache County area that were necessary for growth and development.
Hence, he became interested in building railroads and was successful in helping the railroad through the Valley by furnishing men to work between Smithfield and Logan. In 1871 he was elected secretary of the Utah Northern Railroad Company. A little later in the same year he was elected a director. Later on he took a contract to build some culverts for this railroad line. He was reelected a director again in 1872.
With the assistance of James S. Cantwell, Sr., he was able to get a tri-weekly mail into Smithfield. Mr. Cantwell was then the postmaster. Samuel Roskelley did much toward the completion of a telegraph line through the northern part of the Valley and across the mountains into Bear Lake Valley. Under Mr. Roskelley's direction forty-four men were named to assist in the erection of telegraph poles from Logan over the area.
He took an active part in the local school program, cooperated with the city in developing housing programs for schools. During his term as mayor of Smithfield he appropriated money for band instruments, encouraged the development of a town band.
He worked for and succeeded in procuring the town charter for a third-class city Under his direction there was set up a complete recording system for the city, and all the city records and books were recopied and well written on good, tough paper with good pens and eternal ink. The early ordinances of the city were written in a similar type style ad well edited.
Attempts were made to build superior bridges over the creek, which crossed several streets in Smithfield. He initiated a first-class budget system in town affairs. He developed an efficient system of selling town lots. He chose most superior spots for community building, businesses, churches, schools, parks, cemeteries, etc.
He initiated a move to have a good bridge built across Bear River west of Smithfield. While it was not completed during his administration, yet his first move resulted in a reality within a few years after he gave up his job as mayor. As mayor of Smithfield for ten years, he promoted progressive programs; he was aggressive, positive in his manner, and master of many community situations.
Two years after Samuel Roskelley moved to Smithfield he decided to go into the merchandising business and purchased a supply of stock. In 1866 this store of stock was used as a foundation for the beginning of a cooperative store that was established. On February 8th, 1866, a group of citizens in Smithfield met and drew up the following resolution: "Whereas we the citizens of Smithfield, Cache County Utah Territory, deem it just and right that we should take measure to control the marketing and the exporting of our products, also the importing and sale of foreign merchandise with us. Therefore, resolve that we form ourselves into an association effective. Also resolve that this association be known by the name and style of The Smithfield Cooperative Mercantile Association."
Samuel Roskelley was appointed president of this co-op and remained as president or director of this organization for a period of more than ten years. This Smithfield Cooperative Mercantile Association was really a local branch of the Z.C.M.I operating out of Salt Lake.
In August 1870, he was appointed superintendent of the Cache County Schools, a position that he held for seven years In these days schools in Cache County went as far as Oxford on the north and Paradise on the south. During the terms that he served as superintendent he was called to preach in all of the counties of the territory in the interests of the common school. He was chosen to do this missionary work by President John Taylor.
An examination of the cross section of Samuel Roskelley's life in the early 1870's reveals what a busy man he must have been. He was bishop of Smithfield. He was mayor of Smithfield. He was superintendent of Cache County Schools. He was the owner and director of a mercantile association. He was the owner and operator of a farm. He was the secretary and director of a railroad company. He was a contractor for railroad construction. He was an overseer of the construction of telegraph lines. He was a holder of important positions in the military organizations in Smithfield and Cache County. In addition to all these, he already had more than one wife and a number of children.
In 1880 there was a great change in the life of Samuel Roskelley. He was called to go on a second mission to England in that year. This meant that he gave up all of the very active life in church and community affairs at home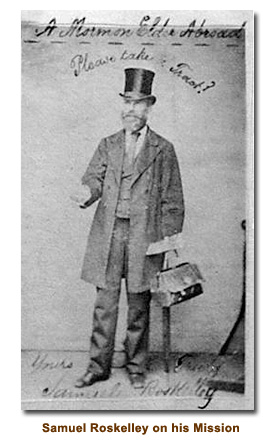 His mission in England was typical. He returned home from this mission in July 1881. Before leaving England, however, he was appointed leader of a company of immigrants numbering 750 persons. His diary is replete with many of the details and stories concerning this troupe of immigrants. The typical problems resulting from rough weather inadequate outfitting, etc., are reported therein. In general, however, the trip to Salt Lake was successful and without any serious tragedies.
Upon his return home, he soon found himself again very busy in church work. On August 6th, 1882, he was appointed president of the high priest quorum of the Cache Valley Stake. At the same time he was called to go to St. George on a seven-month mission to learn temple ordinances. This was his second mission to St. George, his first being in 1877.
An indication of how seriously he took his church work and his church responsibility in these days is shown in the following excerpt from his diary: "This is Sunday 9th December 1883. Through a misunderstanding Brother Smart was not able to take me to Logan to the monthly High Priest District meeting and as I did not learn it until very late, I walked to Logan as I could not get time to go to my farm to get a team."
Following his return from the St. George Temple in March 1883, there is an evident turn of interest in the direction of temple work. Notations form his diary make frequent references to activities in genealogical research, his visits to the Salt lake Temple, his meetings and discussions with Charles O. Card, contractor on temple construction in Logan. On another occasion he reports that he was requested to submit a list of name as possible temple workers.
He was also requested to visit the Logan Temple and assist in measuring and fitting carpets, fixing screens and making numerous arrangements on seating, etc. He assisted a great deal in the actual dedicatory services, and although he apparently worked night and day for some time prior to the dedication, he wrote in very applauding terms of the significance of these services.
On May 2st, 1884, he was appointed recorder of the Logan Temple, a position he held for nearly twenty-eight years, he traveled from his house in Smithfield to Logan and returned daily in a buggy.
He was appointed president of the Benson stake high priest quorum in 1901 when it was organized. His appointment as recorder of the Logan temple demanded a great deal of his time and energy. He withdrew pretty much after that from much of his former life in community activities.
The major community activity that Samuel Roskelley did identify himself with after his appointment as recorder of the Temple was one in which he had already become interested before this appointment. Samuel Roskelley in the late sixty's acquired a large tract of land east of Smithfield on the north and south side of the dry canyon Road. At the time he acquired the land there was only a small proportion of the land that had any water right. The water right that he did have came largely from floodwaters in Birch Canyon. Much of this property needed water in order to be productive. During the time that Samuel Roskelley was on his second mission, preliminary work on the organization of the Logan, Hyde Park and Smithfield Canal Company was developed. The idea was to take water through a ditch from Logan River to Summit Creek at a level near the foothills.
Actual work of digging the canal did not commence until 1882. Early in the year of 1883 very little work had been done toward digging the canal north of Green Canyon. The directors of the canal employed Brother E. Hanson to survey the line of the canal north of Hyde Park about the middle of May in 1883. A brother Sharp, apparently a member of the board of directors, expressed some doubt that the canal could be accomplished as far north as the deep hollow north of the Bensen home. The hollow was about one mile north of Hyde Park. However Brother sharp after some discussion and re-examination of the situation with Brother Roskelley concluded the he, Brother Sharp and his boys, could do most of the work getting the water that far if no one else did anything.
Samuel Roskelley was very concerned about the failure of the canal to be completed. In late 1881 and early 1882 he had mortgaged all of his land south of the dry Canyon Road to raise money to buy canal stock in the canal company. He assumed that the canal would be dug within a relatively short period and water would be available for his property, thus making it productive and easy for him to pay back the mortgage. The money that he and others paid to buy stock was all spent in the early canal construction south of Green Canyon.
By May 1883, two crop seasons had passed since he had mortgaged his place, and he was being pressed for payments. Hence, he felt he would press the Canal Company to dig the canal to Jensen's hollow, and he would assume the responsibility for the next two miles to get the water on his farm. In 1883 he writes, "The last few days of May and the early part of June, I took all my teams and boys and several hired hands and commenced work making a ditch from four to six feet wide from Jensen's hollow northward to my farm." The water did not get through however. He lost the property he had mortgaged. Even in 1886 he reports that on March 4th, "I cleaned it (the ditch) because I had reason to expect water in proportion to the stock I had paid for, and the company had spent in the side of the hill four years previous."
In 1895 Samuel Roskelley was elected the director of the canal company. He held that position for four years. In 1899 he was elected president Samuel Roskelley was among the early group of men that purchased land and broke it out of sagebrush in Blue Creek Valley. He was among the first to successfully control jackrabbits by the application of Paris Green to alfalfa hay and scattering the hay out around the fence lines very early in the spring. The jackrabbits would eat the hay and become poisoned. During the 1880's he developed a nursery in Smithfield. One of the early beautiful spots of his farm was his thirteen-acre tree patch. Most of the trees were poplars, planted relatively close together and in straight lines so that you could see straight lines in almost any direction if you wanted to look.
Samuel Roskelley had significant experiences as a family man. As was reported earlier, he was husband of six wives and the father of thirty children.
His first wife, Rebecca Hendricks, was married to him in 1858. His other wives in order of marriage were— Mary Roberts, Mary Florence Kelsey, Mary Jane Rigby, Margaret Rigby, Sarah Maud Burton. The latter he married in 1885 when he was forty-eight years of age.
As a provider Samuel Roskelley was a good man. Following the early years of pioneer conditions, one could say that his wives lived in excellent homes. There are many interesting notes in his diary and other sourced which tell of his encouragement that each family was to develop patters of self-sufficiency. They were encouraged, and he gave them property of handle as big a garden as they could take care of. They were given cows, and helped to get livestock for as many as they could handle and take care of to help provide for the family.
He made regular visits to his different families, and had a very effective pattern for counseling and working with them. He was a good organizer and manager. He kept track of many details in the lives of each child in all of his families.
For a number of years he used to work out each day daily assignments for each child to accomplish. He would send one of his children then to deliver all of these notes regarding tasks that the respective children were to accomplish on a given day. He also had an effective system of follow up to see if the work was completed. He was kind to his children yet he expected obedience. Family birthdays— especially Samuel Roskelley's and Christmas were occasions for celebrations.
It was with some degree of reluctance that he entered plural marriage. He did so, however, at the suggestion of his superiors in the church. From his early experience in the Lion House he had become aware of the many problems of plural marriage. His response, however, to the advice was like many other situations in the church. He did what he was told by those in authority.
In his diary he tells of his concern and apprehension for the problems of plural marriage. Also, of his conversion to the principle. He does not stop there, but writes a drama to explain his conversion to plural marriage. The names in the drama are not correct, but the setting and the characters are true to life. Probably Samuel Roskelley was the leading man. This leading man finds himself on a trip, stays with a friend overnight. He friends are concerned about the principle of plural marriage, because the man in the house has been advised not to adopt it and asked the lead man's advice on what to do! The explanation and the justification of plural marriage develops around the supper table, the washing of the dishes, and a very natural family discussion that follows. As technique of bearing his testimony for future generations and others, it was excellent and beautifully done.
Samuel Roskelley was a great record keeper. His diary included dates, places and people, but ore important still, what happened and how he felt about things. He died at his home in Smithfield, Utah, February 10th, 1914.
Samuel Roskelley as a boy of fourteen years made a firm decision about life's values. These values involved his God, himself, his loved ones and friends. With clarity of expanding vision and tenacious determination he sough to realize these values through a life of service dedicated to God and to his fellowmen.1
1. Samuel Roskelley, Portrait of a Pioneer. Adapted from the biography written by R. Weling Roskelley and Lula Roskelley Mortenson sometime around 1955 for the Roskelley Family Record and perhaps distributed along with the Roskelley Organ. This may have been published in the Herald Journal as well.