Utah Idaho Central Railroad Station
In 1918 the old Cache Valley Railroad was merged with the Ogden, Logan and Idaho to make or form the Utah Idaho Central Railroad or UIC as most people have come to know it. The company had street cars in Ogden, Logan and Brigham City. The main line went from Ogden, Utah to Preston Idaho, along the old Utah Northern grade as far as Mendon. There were passenger cars as well as a dedicated freight unit. Stretched along this route in Cache Valley were Mendon, Wellsville, Hyrum, Millville, Providence, Logan, Hyde Park, Smithfield, Richmond, Lewiston and on to Preston, in Idaho Long before the Cache County School District had its fleet of buses, it used school trains to move students to North Cache and South Cache high schools.
The Utah, Idaho Central or UIC was in Mendon from 1916-1917 until early 1947, when it stopped operations. The Station in Mendon has be refinished and a kitchen and modren rest rooms added to the west side, and makes a most wonderful community building. My thanks to Paul Willie and his crew for making this happen and saving the building. A nice first rate job all around.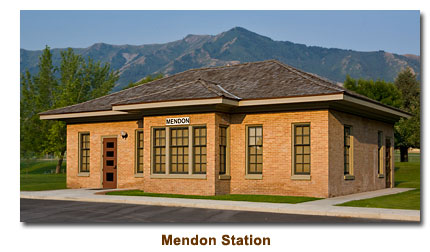 William, Isaac (W.I.) Sorensen had a coal business in back of the Mendon, Utah Idaho Central (UIC) station for many years. He would order in a car or more at a time and dispense it to the residences of Mendon. You could pick it up yourself, or for a charge, he would have it delivered to your home and put it in your coal bin. This was a great boon for the town, having coal available right here in town. He advertised in the local May Day program and other such fliers as the community would print or publish. The train was able to turn the direction of the lead or motorcar by way of the switch to the Y that you can see in the photo on the far right, the stub ran west, up a good portion of 100 North, toward the old James G. Willie and or Hardman home.
What has come to be called the Mendon Station, has had several names in its past. We are indeed lucky to have it with us still and in such wonderful restored condition. The crew, headed up by Paul Willie, has done just a marvelous job with private money and time donations to save this, the last of the older community structures left in Mendon. Thank you. At one time, after the trains stopped running through Mendon, Utah, in about 1947-1948, one half was used as the post office and the other was an apartment. I was luck enough to live in the north apartment side with my parents as a young child. This is one of my favorite buildings, and it is easy to see why. Thank you Mendon for your hard work and generosity in this effort.