Mendon May Day— 2010
Mendon May Day— Will be Celebrated this Year on Saturday, May 1, 2010.
Friday Night, April 30th there will be a community dance held at the Mountside Elementary School at 7:00 p.m.
Saturday Morning, May 1st at 10:00 a.m. will be the Maypole Dance and crowning of the Queen on the city square.
Program in the church following the Maypole Dance at about 11:00 a.m.
Food Stand will be open and there will be ball games throughout the day.
Free kids games from 1:30 to 3:30 p.m.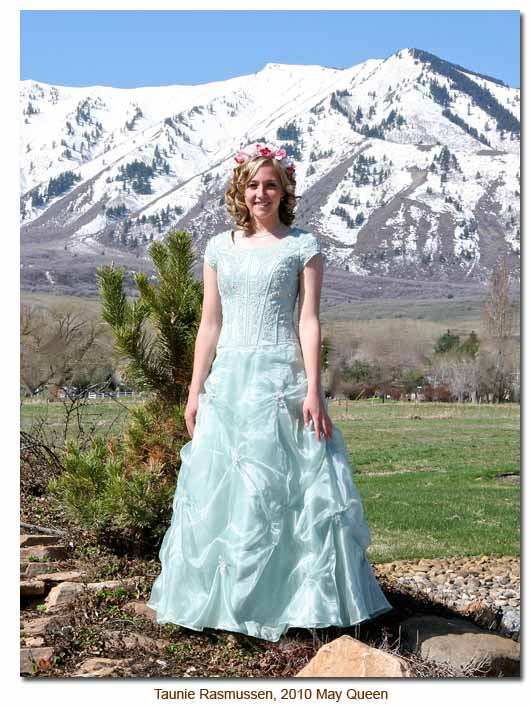 The photograph below is of our May Queen Taunie Rasmussen, her Consort Ty Duersch, Flower Girl Murphie Flippence and Crown Bearer Cameron Wood.

The 106 Maypole Dancers for 2010—
| | | | |
| --- | --- | --- | --- |
| Mikaya Esplin | Mariah Daines | Maggie Smith | Hannah Smith |
| Michaela Leishman | Hannah Daines | Talya Larsen | Brinley Larsen |
| Amy Jenkins | Anna Garbe | Breck Lund | Noelani Hadfield |
| AveRee Knowles | Saylor Funk | Amanda Shelton | Jaysha Ritchie |
| Katie Jenkins | Chantel Jarrett | Olivia Keller | Sarah Keller |
| Michelle Harker | Taya Peterson | Gabrielle Kingston | Marissa Kingston |
| Mallorry Hopkins | Reagan Hopkins | Maria Ana Uhl | Sophie Perkins |
| Brontae Carlson | Skye Davidson | McKaya Mckinnon | Shontay Price |
| Madison Jensen | Jenna Pack | Emma Beer | Ramzee Nessen |
| Taryn Taylor | Raegan Taylor | Emma Thunell | Taysia Lucero |
| Annabel Rojas | Emmy Nethercott | Lexie Myers | Elizabeth Gyllenskog |
| Samantha Perkins | Vivian Tremayne | Kaylee Lott | Ariadna Espinoza |
| Samantha Osborne | Jaycee Osborne | Olivia Schwab | Hannah Schwab |
| Sydney Swan | Catherine Daines | Breanna Jensen | Pachel Powell |
| Kyla Cheney | Mariah Harris | Kenna Andersen | Catherine Oscanoa |
| Katelyn Buist | Kaycee Peterson | Chantelle Cockett | Sierra Porter |
| Rebecca Odd | Hannah Welker | London Houghton | Aubrey Pierson |
| Madison Ferguson | Savannah Ferguson | Aspen Porter | Jacey Cheney |
| Cassidy Cook | Olivia Cook | Serena MacDonald | Alicia MacDonald |
| Megan Harker | McKenzie Kidman | Amelia Anderson | Kori Pearce |
| Katie Jenkins | Victoria Gorman | Sabrina Swasey | Abby Swasey |
| Karly Driessen | Neleha Merritt | Jessica Martin | Cassidy Martin |
| Megan Thunell | Alisabeth Apedaile | Ivory Hansen | Noelle Righetti |
| Hannah Shelton | Abigail Smith | Payton Baker | Kennedy Sloots |
| McKenizie Kirk | Kendra McKinnon | Savannah Coggins | Hailie Wiser |
| Gracie Jenkins | Makelle Young | Bethany Kruse | Hannah Smith |
| Kimalie Seamons | Maylie Seamons | | |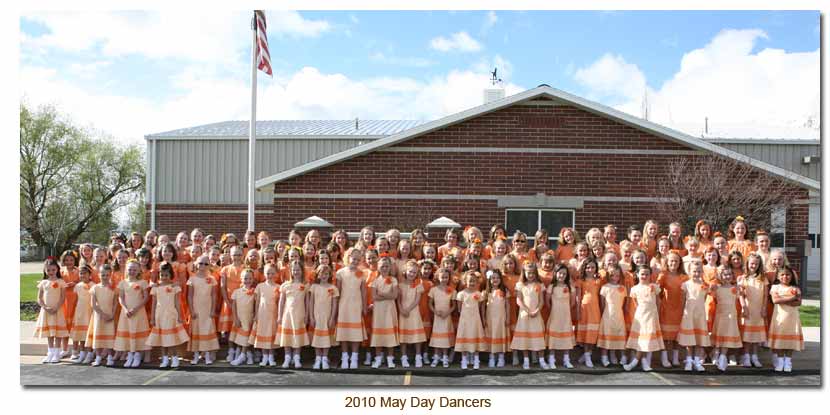 Maids of Honor and their Escorts for 2010—
| | | | |
| --- | --- | --- | --- |
| Abby Slade | Riley Hillyard | Kayla Barrett | Marshall DeBruin |
| Annie Maughan | Justin Jenkins | Kelly Gibbons | Mathew Brandley |
| Brianna Bishop | Raistlin Fonnesbeck | Malauri Uhl | Jake Olsen |
| Brittany Molen | Mauricio Colazo | Meaghann Wengreen | Tyson Oswald |
| Erin Bowen | Jaron Lott | Mikaela Durfey | Cody Jensen |
| Jesseca Scholle | Steven Kirk | Nicole Morgan | Jaison Hardman |
| Jessica Carlson | Franklin Pack | Whitney Johnson | Tyler Florence |
| Jessica Wiser | Brayden Franke | | |