Mendon May Day— 1980
May Day Celebration Continues In Mendon— Mendon will continue its tradition of over 100 years by celebrating its annual May Day Saturday. At 10:30 a.m. on the town square, Marciea Barrett will be crowned Queen of May by her consort Terrell Fletcher. Their parents are Mr. and Mrs. Stanton Barrett, Mr. and Mrs. William Fletcher. Maids of Honor and their escorts are Suzette Quinlan, daughter of Mr. and Mrs. Wade Quinlan, and Mike Shelton, son of Mr. and Mrs. Ross Shelton; Karen Lloyd, daughter of Mr. and Mrs. Howard Lloyd, and Daniel Cheney, son of Mr. and Mrs. Richard Cheney; Michelle Bird, daughter of Mr. and Mrs. Carl Bird, and Brian Locke, son of Mr. and Mrs. Thurman Locke. Others in the court are Kim Earl, daughter of Mr. and Mrs. L. R. Earl, and Scott Hill, son of Mr. and Mrs. Bill Hill; Cindy Kidman, daughter of Mr. and Mrs. Dennis Kidman, and Tony Johnson, son of Mr. and Mrs. Rulon Johnson; Sherry Clawson, daughter of Mr. and Mrs. M. K. Mower, and Robert Peterson, son of Mr. and Mrs. Gilbert Peterson; Becky Hilton, daughter on Mr. and Mrs. Phil Hilton, [and Manx Quayle, son of Mr. and Mrs. Nolan Yates]; Valeri Lewis, daughter of Mr. and Mrs. Dole Lewis, and Eddy Buist, son of Mr. and Mrs. Glenn Buist. The flower girl will be Kristi Olsen, daughter of Mr. and Mrs. Ray Olsen, and the crown bearer, Jon Barrett, son of Mr. and Mrs. Stanton Barrett. Following the crowning of the queen, girls aged six through twelve will dance the maypole. At 11:00 a.m. the queen and her court will be introduced and there will be a program. At 1:30 p.m. there will be races and activities for young people. At 4:00 p.m. there will be ball games. Throughout the day there will be a concession stand selling refreshments. At 8:30 p.m. there will be a dance to the music of the Catalyst. Don Shelton is general chairman for the day.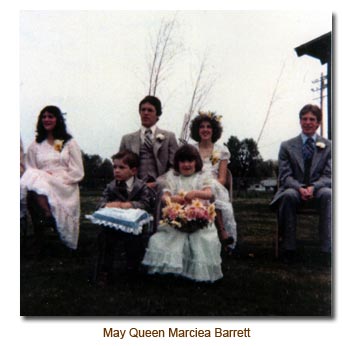 Mendon May Day— Saturday Calendar of Events: 10:30 a.m., crowning of the queen and dancing of the maypole. 11:00 a.m., introduction of the court and program. 1:30 p.m., races and other activities. 4:00 p.m., ball games. 8:30 p.m., dance to the music of the Catalyst.
Printed May Day Program: Mendon May Day, May 3rd, 1980, 10:00 a.m. Queen's Court: May Queen, Marciea Barrett; Consort, Terrell Fletcher; Flower Girl, Kristi Ann Olsen; Crown Bearer; Jon Tyler Barrett. Maids of Honor with Escorts: Suzette Quinlan with Mike Shelton, Karen Lloyd with Daniel Cheney, Michelle Bird with Brian Locke, Kim Earl with Scott Hill, Cindy Kidman with Tony Johnson, Sherry Clawson with Robert Peterson, Becky Hilton with Manx Quayle, Valeri Lewis with Eddy Buist. Song and Dance Directors: Vicky Doolittle, Claudia Larsen, Kathryn Shelton, Linda Nelson, Melinda Fryer and Becky Hadfield. Maypole Dance Accompanist: Norma Myers. Maypole dresses, Vicky Doolittle. The 38 Maypole Dancers for 1980—

| | | | |
| --- | --- | --- | --- |
| Monika Muir | Jennifer Cheney | Heather Barrett | Rosemarie Barrett |
| Jennifer Lewis | Jennilyn Quinlan | Heidi Doolittle | Karrie Lund |
| Kelli James | Angela Nelson | Kathleen Lauritzen | Tresa Lauritzen |
| Traci Erickson | Terilyn Erickson | Kristine Myers | Lisa Whoolery |
| Rabecca Whitney | Malissa Whitney | Sandra Baker | Camille Baker |
| Velva Bennett | Jennifer Fryer | Malayna Fryer | Paula Palmer |
| Gina Markey | Tarisa Whitney | Mickie Palmer | Krista Burlile |
| Shauna Bodrero | Trina Clemensen | Anjanette Hart | Kamilynne Hart |
| Jennifer Hansen | Lisa Larsen | Kristen Larsen | Melissa Larsen |
| Nancy Myers | Nancy Myers | | |
May Day Program: Mendon ward chapel, 11:00 a.m. We welcome you to our May Day festivities and especially welcome our former queens. We hope that you will enjoy the day with us and have a good time. Introduction of Queen's Court, T. Kay Sorensen; May Day songs, chorister T. Kay Sorensen, organist Norma Myers; prayer, Dennis Kidman; welcome and recognition of former queens by Don Shelton; presentation of trophy to 1980 queen; musical number, Jenae Baker accompanied by Paula Watkins; musical number, Heidi Whoolery, Kelleen Hansen and Jessa Watkins, accompanied by Paula Watkins; musical number, Steve Croshaw; musical number, Joan Johnson, Heidi Whoolery, Lynn Grover, Gay Lynn Hopkins, Jessa Watkins and Jill Grover accompanied by Michelle Bird; musical number, Becky Hilton, Cindy Kidman, Kim Kidman and Doug Kidman accompanied by Julie Kidman; musical number, Angela Nelson, Marcianne Hart, Terry Ericksen and Leisa Whoolery; talk, Bishop Paul Willie; prayer, Glen Kraus. Afternoon Schedule of Events: Races for children, 1:30 p.m., Fred Bowen; junior softball game, 3:00 p.m., Mendon First ward vs. Mendon Second Ward; commercial softball game, 4:30 p.m., Baker's Cabinet vs. Cache Country Carpets; May Day dance, 8:30 p.m., music by Catalyst. Lunch and refreshments served continually from noon to 6:30 p.m. at the food stand. Thanks to all of you for making this a successful day, First Ward Sunday school; Don Shelton, Rex Bradshaw, Steve Nelson; Second Ward Sunday school; Max Baker, Leland Larsen, Rulon Johnson.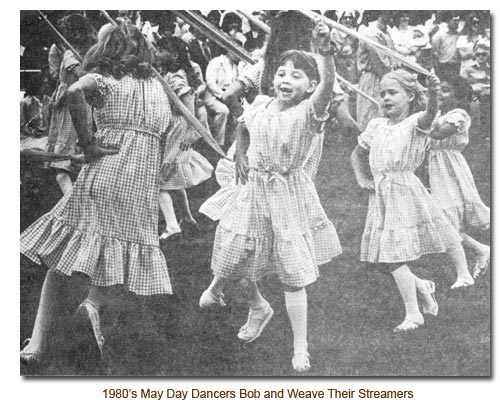 Some Traditions Survive, May Day Like It Used To Be— Who knows? In this crazy era of commercialism, where traditions are bought and sold and links with the past grow weaker, there may be hope for us yet. Mendon still celebrates May Day, this year on May 3rd. You don't see many May Day galas anymore. The one on top of this page was shot at the turn of the century —probably in Salt Lake City— and shows what a bash it used to be. Times have changed. Except —that is— in Mendon. The tiny Utah community has been celebrating spring with maypoles, May Queens, dinners and dances since 1868. "It's been some stump to keep this thing the way it ought to be— keep out the commercialization and keep it simple, says T. Kay Sorensen. And he's worked at it. He has a vested interest in Mendon. His grandfather was the first one to plow a furrow there, plant a flower, and set aside a day to crow about it. May Day celebrations are, after all, fertility rites. And Mendon's version, like most authentic folk festivals, is a grab bag of lore and legend from around the world. May Day was the favorite holiday in medieval England. People gathered to sing about birds and bees, flowers and trees just as they do in Mendon today. A king and queen were chosen and villagers wound ribbons around a maypole. This year Mendon had two poles, and fifty-six young girls winding away. "What charms me is the beautiful combination of religious and pagan customs in Mendon's May Day," says John Mark Sorensen of Utah State University. "The two songs they sing at the beginning sing praises to animals, plants; I think you can trace that to Mendon's founders. They were fond of classical literature such as Virgil and Ovid, and they championed a love of nature." Isaac Sorensen penned the words to those opening songs over a hundred years ago, and grandson T. Kay has kept the custom of teaching them to the tots each year. "The Merry Maids a-Maying went. One morning bright and early, The flowers were blooming, grass was green, And dew drops bright and pearly;" After a serenade in the morning at the queen's house (the queen is a young girl usually between twelve and fourteen years-of-age) the Mendonites settle in for a full day of festivities. Hamburgers, hot dogs abound, baseball games, races, maypoles, a program and —at night— a dance. "Those who grew up in town probably look forward to it a little more than those who've moved in," says Mayor Max Baker. "But each year a few more new folks show up. This year we had the biggest crowd ever." The LDS wards take charge of the day now, which adds to the tradition religion and May Day share; a tradition going back to Old France. The Puritans in the United States frowned on the day, however, and therefore it's never been as popular in this country as in others. In Italy, for example, it's a time to serenade your sweetheart. German boys planted trees in front of the windows of favorite girls, but the Czechs often went them one better. They wound entire maypoles in front of the windows. But in every instance, there's always a Queen of May. And Mendon's go back to 1874 when Hannah L. Baker was crowned. This year, 106 years down the line, the honor fell to Marciea Barrett. Terrell Fletcher was her King. A list of May Queens dating back to the turn of the century was printed in this year's program. Mendonites keep track of important things like that. And important they are. After all, if you haven't the time to keep track of your history, you may discover you have a hard time keeping track of yourself. And that's one problem Mendon isn't about to have. Picture Caption: In Mendon they still celebrate Spring with a maypole or two. The children sing songs more than a hundred years old, a tradition destined to last.
Picture Caption: Dance of the Maypole— There could be no doubt. It was May Day in Mendon Saturday and time for the annual maypole dance by the children.
Veda Sorensen— Q: As far as the clothes that you wore, how many of them were homemade and how many were store-bought when you were young? A: Everything was [home] made except for my coat, and we didn't have very many either. We had a May Day dress, and a Christmas dress— special you know. Q: Regarding the condition of May Day. A: We are getting so many new people here, we don't have so many people left to follow the tradition that we have to fight to keep it. I hope they don't let it go.