Mendon May Day— 1978
Mendon To Crown May Queen Saturday— Mendon's annual May Day will be held Saturday on the town square. At 10:00 a.m. the May Queen will be crowned and forty-two little girls will wind two maypoles in this tradition which goes back over a 100 years. Mendon Sunday school presidency will be in charge, Max Baker, president; Dennis Kidman and Paul Murray, counselors. Tresa Quinlan, daughter of Wade and Afton Quinlan, will be Queen of May. Her consort will be Mark Kidman, son of Oriel and Melva Kidman. Tresa, seventeen, is a junior at Sky View High School. She is a member of the track team and last year took first in the region in the 100 yard dash. She is the second oldest in a family of eight. Members of the court will be Deanne Richards, daughter of Joseph and Joyce Richards; Dean Willie, son of Mervyn and Margene Willie; Lana Richards, daughter of Jay and Lila Richards; Craig Sorensen son of Allan and Carroll Sorensen; Wendy Yonk, daughter of Richard and Nancy Yonk; Brent Bennett, son of Dale and Elna Bennett; LeeAnn Cheney, daughter of Richard and Flora Mae Cheney; Jerry Skidmore, son of Henry and Doris Skidmore; Debbie Hilton, daughter of Phil and Evelyn Hilton; Nathan Cheney, son of Richard and Flora Mae Cheney; Susan Shelton, daughter of Ross and Kathryn Shelton; Cory Bird, son of Dale and Bertha Bird; Audrey Anderson, daughter of Justin and Doris Anderson; Steven Baker, son of Max and Carolyn Baker. The flower girl will be Kamilynne Hart, daughter of Wyand and Lindi Hart. The crown bearer will be Edward Quinlan, son of Wade and Afton Quinlan. A program will follow the maypole dance in the church. From 1:30 to 3:30 p.m. there will be games and races. Softball games will follow. Refreshments will be for sale during the day. A dance will begin at 8:30 p.m. The Night Riders will play. Judy Shelton, Carolyn Baker, Julie Kidman and Nola Murray are training the maypole dancers. Mothers of the forty-two dancers are making their red and blue dresses. T. Kay Sorensen will lead the singing of traditional songs which will be accompanied by Valerie Larsen.
Printed May Day Program: Mendon May Day, May 6th, 1978, 10:00 a.m. Queen's Court: May Queen, Tresa Quinlan; Consort Mark Kidman. Maids of Honor with Partners: Audrey Anderson with Steven Baker; LeeAnn Cheney with Jerry Skidmore; Deborah Hilton with Nathan Cheney; Deanne Richards with Dean Willie; Lana Richards with Craig Sorensen; Susan Shelton with Cory Bird; Wendy Yonk with Brendt Bennett. Flower Girl, Kamilynne Hart; Crown Bearer, Edward Quinlan. Dance and Song Directors: Judy Shelton, Julie Kidman, Carolyn Baker and Nola Murray. Maypole Dance Accompaniment: Valerie Larsen. Maypole Dresses: Nola Murray and Carolyn Baker. Traditional May Day songs led by T. Kay Sorensen. The 42 Maypole Dancers for 1978—

| | | | |
| --- | --- | --- | --- |
| Kelleen Hansen | Rosemarie Barrett | Anita Cheney | Jennifer Hansen |
| Monika Muir | Tamara Thompson | Jessa Watkins | Amy Watkins |
| Heather Barrett | Nancy Myers | Kelli James | Jill Fonnesbeck |
| Jennifer Lewis | Nanette Murray | Gay Lynn Hopkins | Jennilyn Quinlan |
| Leisa Thompson | Kristen Larsen | Heidi Doolittle | Janna Doolittle |
| Tresa Wursten | Anjanette Hart | Dawna Lyn Yates | Rebekah Cheney |
| Kristine Myers | Nancy Myers | Denise Muir | Anissa Buxton |
| Rebecca Whitney | Valerie Hudson | Jennifer Cheney | Kristi Bird |
| Gina Markey | Julie Thompson | Sandra Baker | Melissa Larsen |
| Heidi Whoolery | Lisa Whoolery | Shauna Bodrero | Angela Nelson |
| Velva Bennett | Teresa Groll | | |
May Day Program: We welcome you to our May Day festivities and especially welcome our former queens. We hope you will enjoy the day with us and have a good time. Introduction of Queen's Court, T. Kay Sorensen; May Day songs, congregation; prayer, Bishop Stanton Barrett; welcome and recognition of former queens, Dennis Kidman, presentation of trophy to 1978 queen; song, Jenae Baker; song, Kristy Kotter; song, Loni Bird and Angela Nelson; songs, Douglas Kidman; song, Ricky Maurer; reading, T. Kay Sorensen; songs, Steven Croshaw; songs, youth choir; song, Becky Hilton; Song, Kelleen Hansen, Heidi Whoolery and Jessa Watkins; speaker of the day, Larry Olsen; closing prayer, Richard Cheney. Afternoon Events: Games and races, 1:30–3:00 p.m., for young and old; Explorer softball game, 3:30–5:00 p.m., Mendon vs. Newton; commercial softball game, 5:00–6:30 p.m., Cache Country Carpets vs. Baker's Cabinet Shop; Mendon Dairy Princess Program, 6:30 p.m., in the cultural hall, refreshments will be served; May Day dance, 8:30 p.m., music for the dance will be by the Knight Riders. Following the program and throughout the afternoon home made food will be for sale at the refreshment stand. Program under the direction of the Sunday school officers and teachers. Thanks to all of you for making this a successful day. Max Baker, Dennis Kidman and Paul Murray.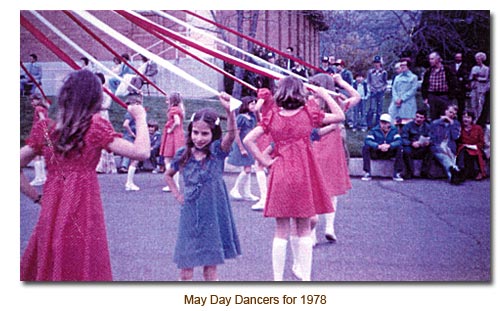 Picture Caption: Despite Cold Mendon Noted May Day— Folks in Mendon didn't let Saturday's winter-like weather deter them from their annual May Day celebration. A large crowd was on hand in the Mendon city square to watch the crowning of May Queen Tresa Quinlan, who is seventeen and a junior at Sky View High School. Doing the crowning honors is Mark Kidman, while the two youngsters in front, Kamilynne Hart and Edward Quinlan, anticipated the time they can do the same. Other activities included the traditional maypole dance in which Jill Fonnesbeck, eight, of Mendon participated. An abundance of determination was displayed by these two girls running the sack race.
Picture Caption: A Serious Tug-of-War— This youngster was confident enough of his strength to continue licking his ice cream cone during a tug-of-war at Mendon's May Day celebration Saturday. This contest was only part of many festivities which the unseasonably cold weather failed to stop.
Also see Charlotte Barrett's year, 1901