Mendon May Day— 1976
Mendon May Day Fete Reflects Old Traditions— Spring festivities will liven the town square in Mendon Saturday as the traditional May Day celebration is observed. Jenae Baker, sixteen, daughter of Mr. and Mrs. Max Baker, will be crowned Queen of the May during ceremonies which begin at 10:30 a.m. She will be crowned by Bruce Anderson, son of Mr. and Mrs. Justin Anderson. "This is one of the oldest celebrations in the valley," reported Merlin Yonk, president of the Mendon LDS ward Sunday school, which has charge of the day's events. "The early settlers of Mendon began celebrating May Day over 100 years ago, and we're still enjoying much the same celebration today," he commented. "We'll have the traditional braiding of the maypole in the morning, followed by a program and an afternoon of games on the town square and a dance in the evening," Yonk stated in announcing the activities planned for the celebration. "We'll also have a special children's play in the afternoon," he added. Members of the queen's court include: Sharon Hardman, daughter of Mr. and Mrs. Fred Hardman; Natalie Hardman, daughter of Mr. and Mrs. Joseph Hardman; Kaylene Jensen, daughter of Mr. and Mrs. Ronald Jensen; and Diana Jones, daughter of Mr. and Mrs. Tom Jones. They will be escorted by: Mark Kidman, son of Mr. and Mrs. Oriel Kidman; Scott Porath, son of Mr. and Mrs. Tom Jones; Grant Quinlan, son of Mr. and Mrs. Wade Quinlan; and LaMont Carter, son of Mr. and Mrs. Bill Carter. Taci Buxton, daughter of Mr. and Mrs. Stan Buxton will attend the queen as flower girl, while Rusty Myers, son of Mr. and Mrs. Thorton O. Myers will serve as crown bearer.
May Day Events— Both Logan and Mendon will celebrate May Day on Saturday. All Logan events except dedication of the new city park will take place on and around the tabernacle grounds downtown… Mendon events will take place on and around the town square and at the LDS chapel and cultural hall. Mendon— 10:30 a.m., braiding of maypole; 10:45 a.m., crowning of May Queen Jenae Baker; 11:15 a.m., May Day program, in the LDS chapel; 1:30 p.m., games, races and town tug-o-war; 2:00 p.m., softball, Mendon juniors vs. Newton juniors; 3:00 p.m., children's play, "Cinderella" in the LDS cultural hall; 4:00 p.m., softball, Barrett-Baker Construction vs. Morris Volkswagen; 9:00 p.m., dance, in the LDS cultural hall.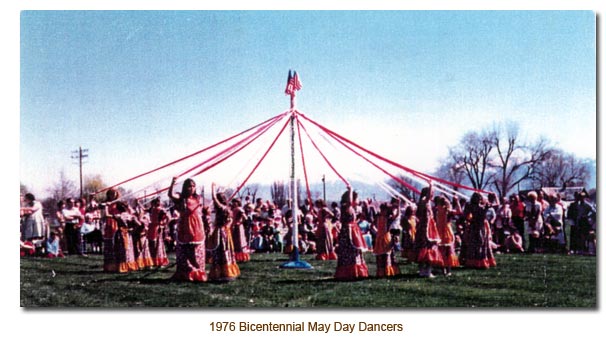 Printed May Day Program: Mendon May Day, May 1st, 1976, 10:30 a.m. Queen's Court: May Queen, Jenae Baker; Consort, Bruce Anderson; Flower Girl, Taci Buxton; Crown Bearer, Rusty Myers. Maids of Honor with Partners: Sharon Hardman with Mark Kidman; Kaylene Jensen with Grant Quinlan; Natalie Hardman with Scott Porath; Diana Jones with LaMont Carter. Dance and Song Directors: June Bowen, Judy Shelton, Julie Kidman and Carolyn Baker. Maypole Accompanist: Beth Muir. Maypole Dresses: Blanche Yonk and Judy Shelton. Traditional May Day songs led by T. Kay Sorensen. The 36 Maypole Dancers for 1976—

| | | | |
| --- | --- | --- | --- |
| Paula Anderson | Jennifer Lewis | Joann Brown | Leiloni Hyer |
| Michelle Taylor | Kristine Myers | Laurie Emrich | Kelli James |
| Stacey Carter | Jennifer Cheney | Lisa Jackson | Heidi Whoolery |
| LaNa Bodily | Gina Markey | Anita Cheney | Shauna Bodrero |
| Heidi Doolittle | Valarie Hudson | Kelly Kotter | Monika Muir |
| Marnie Freeman | Leisa Thompson | Kelleen Hansen | Jana Freeman |
| Kim Kidman | Heather Barrett | Jessa Watkins | Sandra Baker |
| Rachelle Kirby | Wendi Kirby | Camille Hardman | Kristen Larsen |
| Jody Helms | Jill Fonnesbeck | Denise Muir | Anissa Buxton |
Bicentennial May Day Program: Blanche Yonk and Melva Kidman. Under the direction of the Sunday school officers and teachers. Thanks to all of you for making this a successful day, Merlin Yonk, Max Baker and Dennis Kidman.
Coy Andersen, Featured May Day Speaker— Royalty, to all these young beautiful girls, Mendonites young, old and new, friends and neighbors I give you a very big Italian Benvenuto.
My heart throbs today because I am so excited to be home and be able to share once again with you the joys of Mendon May Day. Today is a particularly special day because it is a bicentennial, also because I can go back and remember thirteen years ago when I was Mendon May Day Queen. I remember at the time I felt a lot like maybe some of these young people feel, "Oh, how Silly." But let me say today I am very proud to say that I was a Mendon May Day Queen. Because I made a part of Mendon's history and I helped carry on a tradition that started long before I existed. Now I maybe an old fashioned person, but I believe greatly in tradition because it is through tradition that we are what we are, and we will yet become better than what we are. We have had a good platform laid for us, so let's take it and from this point on just begin to build and build and make our dreams become realities.
Today is a very special day in another sense because these young people here are in my Sunday school class and every Sunday I go to church they keep reminding me that I am getting to that point of being over the hill. And so I want to tell them a little story today.
There was a minister in the church and one Sunday he got up and made an announcement. He said, "Our Old Maid of the congregation has made a fantastic contribution, and so today we are going to let her select three hymns." The Old Maid being hard of hearing stood up in the audience and said, "I want him, and him, and him." So young people my day is coming.
Now I said thirteen years ago I was queen and I can remember how young I was at that time and how excited I was. I really never thought that today I would still be here in Mendon, because you know how you get feeling. You think when you are young, you are going to grow up and be rich and going to leave this little town, your not going to live here, this is terrible. I want to go to the big city. Well, try it for a couple of years and you will come back with your arms open to be home.
It's great, and I am glad to see tradition in Mendon still taking a hold. Now for just a few minutes I would like to talk to these young people in back of me. I would like to compare them to an oyster.
One day this oyster was down to the sea and he got a morsel of sand underneath his shell and oh how that bothered him. On it dug in his back and he just couldn't stand it. You know oysters are just like you and I, they have feelings. But he didn't curse the government and he didn't call out for a reelection and yell out to the city that should have given him protection. He said to himself, "Since I can't remove it I will improve upon it." The years rolled on as they usually do and this little oyster came to his ultimate destiny, a delicious stew… The small grain of sand that had bothered him so much became a beautiful pearl, all a glow and the tale has a moral to it. Isn't it grand what an oyster can do with a morsel of sand?
Young people today you have quested a piece, a morsel of sand, and I hope that even these young people down here one day, you will be here and I hope that you will take that morsel of sand and come back to Mendon all a glow and show us the beautiful gems that you have become.
Today is a beginning for many of you, and also for many of us older ones. Today is a special day also because we share a part of the centennial year, May Day in 1976, a bicentennial, I would like to share with you from "The ABC's of America," but first are we going to remember America as one little boy did?
He was asked to report on Ben Franklin and he wrote, "Ben Franklin was born in Boston but he soon got tired of that and moved to Philadelphia. When he got to Philadelphia he was hungry so he bought a loaf of bread. He put the bread under his arm. He walked up the street. He passed a woman. The woman smiled at him. He married the woman and discovered electricity," or are we going to remember John Hancock as he stood and addressed the chair, "It is true sir, nearly all the property I have in this world is in houses and other real-estate in the town of Boston, but if the liberties of our country, require their being burned to ashes— issue the order for that purpose immediately." and Boston was destroyed. These are our ancestors. People who set traditions for us.
It is a grand old world and may we today celebrate and carry on our traditions, because there are many people who would like to be here today who left many years ago, that wished they had stayed and feel that the best part of themselves and that their lives are very close to the hamlet where they grew up, but enjoy today, for tomorrow will be different…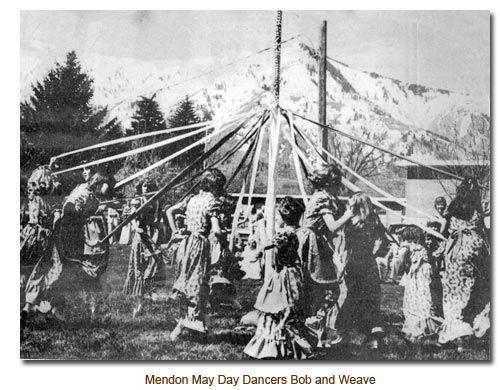 Picture Caption: May Day Brings 'Em Out— A maypole dance in Mendon and a Volkswagen stuff in Logan were but a fraction of the activities taking place Saturday as each community held its own May Day celebration. Perfect spring weather graced the occasion and crowds were large in both communities. Activities included the crowning of a queen in each community, folk dancing, numerous programs by elementary school children, a town tug-of-war, games and dancing in Mendon.
Picture Caption: Mendon, Logan Mark May Day With Town Celebrations, Fun— Mendon May Queen, Jenae Baker is escorted onto the town square by Bruce Anderson during the traditional Mendon celebration Saturday.