Mendon May Day— 1970
Picture Caption: Mendon May Day Will be Celebrated this Year on Saturday— Seated center front is this year's queen Karine Ladle. With her are former May Queens who are still residing in Mendon. Seated left is Mary Jean Willie Campbell; right, Becky Yonk; standing Margaret Rae Sorensen Leishman, Mozelle Barrett Sorensen, Hazel Muir Copen and Charlotte Barrett Richards.
Mendon Beautification Efforts Yield Results— Almost every citizen of Mendon participated in Saturday's successful clean up drive and the result is a thoroughly "spruced up" community. Residents are encouraged to continue their efforts until the May Day celebration this weekend. Saturday's activity saw twenty men haul forty truck loads of trash, trees and other debris. The chain saw crew cut down trees during the day. Some thirty-three young people were assigned under the twenty men and chairman Wayne Hiibner noted that "A great deal of mowing and cleaning was done." "Everyone seemed to catch the spirit," he said, and to climax the event, lunch was served by Beryl Barrett and Shirley Jensen. A 4:00 p.m. drawing climaxed the day's schedule. Sleeping bags were won in the drawing by Barbara DeBruin and Kenneth Buist.
Picture Caption: Mendon May Day will be held Saturday under the direction of Sunday school superintendent Merlin Yonk, assisted by Fred Bowen, second counselor, and Lemuel Earl, Sr., first counselor who was absent. Mrs. Margene Willie, Junior Sunday school coordinator, is in charge of the maypole dance. Crowning of the queen will be at 10:30 a.m. The dancing of the maypole and a program will follow. At 2:30 p.m. there will be sports, races and two ball games. At 9:00 p.m. there will be a dance with Owen Ridges' orchestra playing.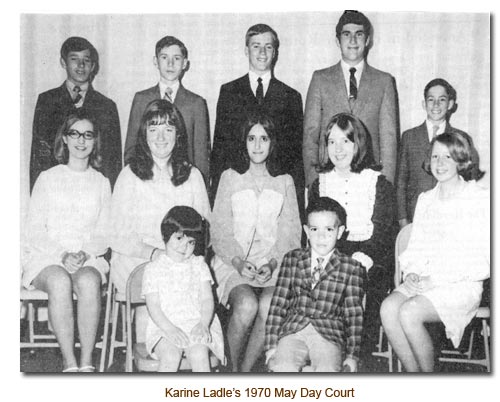 Picture Caption: Mendon May Queen Karine Ladle, is surrounded by members of her court, little Shelley Kirby, flower girl, and Todd Shelton, crown bearer; her maids, Karen Bird, Susanne Jensen, Carolyn Barrett and Jean DeGasser; and their escorts, Blaine Andersen, Lynn Richards, Richard Peterson, Nephi DeBruin and Kay Andersen. The event will be held Saturday at the Mendon church. The queen will be crowned at 10:30 a.m. The maypole dance will follow.
Picture Caption: Mendon May Day Will be Held Saturday— Karine Ladle, daughter of Mr. and Mrs. Rulen Ladle, seated, will be crowned May Queen at 10:30 a.m. The dancing of the maypole will follow and there will be a program. May attendants are Karen Bird, daughter of Mr. and Mrs. Karl Bird; Susanne Jensen, daughter of Mr. and Mrs. Ronald Jensen; Carolyn Barrett, daughter of Mr. and Mrs. Stanton Barrett and Jean DeGasser, daughter of Mr. and Mrs. Edmond DeGasser.
Printed May Day Program: Mendon May Day, May 2nd, 1970, 10:30 a.m. Queens Court: May Queen, Karine Ladle; Consort, Richard Peterson; Flower Girl, Shelley Kirby; Crown Bearer, Todd Shelton. Maids of Honor with Partners: Karen Bird with Blaine Andersen; Susanne Jensen with Lynn Richards; Carolyn Barrett with Nephi DeBruin; Jean DeGasser with Kay Andersen. Dance Directors: Margene Willie, Lorna Ladle and June Bowen. Maypole Dance Accompanist: Mozelle Sorensen. Maypole Dresses: Nan Earl and Blanche Yonk. May Day Chorister: T. Kay Sorensen. The 26 Maypole Dancers for 1970—
| | | | |
| --- | --- | --- | --- |
| Angela Cheney | Tresa Quinlan | Karla James | ReNae Anderson |
| Denise Bird | Lana Richards | Annette Yonk | Audrey Anderson |
| Nicole Bowen | Suzette Quinlan | Kaylene Jensen | Deanne Richards |
| Mary Jean Barrett | Stephanie Muir | Darlene Anderson | Michele Bird |
| Jenae Baker | Angela Blanchard | Natalie Hardman | Cindy Kidman |
| Sharon Hardman | Paula Anderson | Jolene Bodily | Marcia Barrett |
| Julie Muir | Kim Gibbs | | |
May Day Program: We welcome all former queens and residents and hope you will enjoy May Day with us. Queen and court will be introduced by T. Kay Sorensen. Program to be announced, featured speaker, Calvin Hiibner. Afternoon Events: Children's dance; children's races; ball games; tug-of-war, north and south; public dance in the evening. Following the program and through the afternoon home cooked food will be for sale. Bar-B-Que, Pronto Pups, Hot Dogs, Salad, Pie, Cake, Cookies, Candy, Soda Water. Proceeds go to the Mendon library project. We want to thank all those who helped in any way to make this a successful day. The mothers who sewed long hours to make the pretty dresses, the dance directors, the cooks and kitchen help, to everyone— Thank you. Merlin Yonk, Lemuel Earl, Sr. and Fred Bowen. Under the direction of the Sunday school officers and teachers.