Mendon May Day— 1963
Mendon's May Day Celebration Is Saturday— The traditional maypole ceremony consisting of dance, braiding of strings around the pole and crowning of the queen, will launch Mendon's annual May Day celebration on Saturday, May 4th. Coy Andersen, daughter of Mr. and Mrs. Zeno Andersen, will reign as queen of the day's events. Her attendants are Dixie Larsen, daughter of Mr. and Mrs. Leland Larsen, and Nancy Larsen daughter of Mr. and Mrs. Joseph Larsen. Following the crowning, a program will be held in the ward chapel with Mervyn Willie as the featured speaker. Although events are geared to youth, the afternoon activities will actually be of interest to everyone. At 2:00 p.m. there is a children's dance followed by children's races. At 3:00 p.m. Mendon boys and girls will host ball teams from Paradise and North Logan. Other afternoon activities include volley ball, sack fights, rooster chases and horse rides for the children. An adult dance at 9:00 p.m. will conclude the days entertainment. Picture Caption: On Mendon's traditional May Day, Saturday, May 4th, Coy Andersen, center, daughter of Mr. and Mrs. Zeno Andersen will be crowned queen. Her attendants are Dixie Larsen, daughter of Mr. and Mrs. Leland Larsen, and Nancy Larsen, daughter of Mr. and Mrs. Joseph Larsen. The celebration will begin at 10:00 a.m. on the lawn near the church.
Beautiful Day For May Festival— It was a perfect spring morning Saturday for Mendon's annual May Day. A warm sun shown down on the Queen of May and her court as they circled the two maypoles set up on the grass near the church to the applause of the crowd. Coy Andersen, daughter of Mr. and Mrs. Zeno Andersen, was crowned queen by her consort, Bruce Gittens. Her attendants were Nancy Larsen and Dixie Larsen and their escorts, Bobby Richards and Martin Peterson. Little Kari Edlund, daughter of Mr. and Mrs. David Edlund, was flower girl, and Reed Yonk, son of Mr. and Mrs. Merlin Yonk, crown bearer. All of the girls in the town between the ages of five and twelve dance the maypole each year. This year there were thirty-two, the largest group to date, and two maypoles were set up for the first time. Ned J. Bodily, superintendent of the Sunday school, announced the program, and Nola Anderson led the singing. Owen Sorensen and Martin Anderson, counselors in the Sunday school, and the officers and teachers assisted with arrangements. Mervyn Willie was speaker at the 11:00 a.m. program held in the chapel. A children's dance, races, ball games, and pony rides were events of the afternoon. At 9:00 p.m. a public dance with the Mendon Orchestra playing, concluded the celebration. This is always a time of home coming for former residents and this year's celebration was no exception as old friends and relatives greeted each other on Mendon square.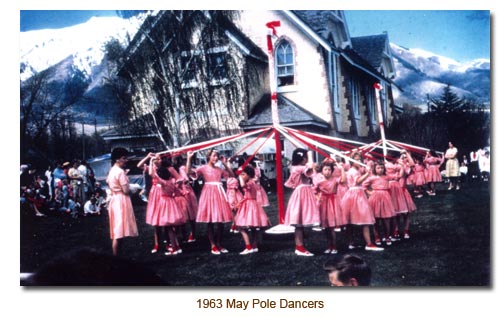 Picture Caption: Two maypoles and thirty-two little dancers in red and white dresses highlighted Mendon's traditional May Day celebration Saturday morning. Coy Andersen was crowned Queen.
Picture Caption: Bruce Gittens places a crown of flowers on Coy Andersen's head, proclaiming her Queen of Mendon's annual May Day. Members of the court are Dixie Larsen, Martin Peterson, Nancy Larsen, Bobby Richards and seated in front Kari Edlund and Reed Yonk, flower girl and crown bearer. There were thirty-two maypole dancers.
Cache Archers Show Skills At Mendon May Day Fest— The Cache Archery club exhibition team took part in the recent May Day festival in Mendon. Club president, Lee Bradley, explained the sport and all team members popped balloons. Gary Shauffer shot out candle flames and Larry Higgins split cigarettes in two. Al Hiltenbrand, normally a right handed shooter, popped a small balloon while shooting left-handed and Stauffer hit a hanging Ping-Pong ball while not using a sight. Mike Krambule and Randy Walton, two youngsters attending the festival, played a game of tic-tac-toe, assisted by the archers. The program closed with a demonstration of the penetrating power of the bow and arrow. The club has invited the public to attend the movie, "Bow-hunting in the Yukon" this Friday evening in the club rooms above Al's Bike, 46 West 1st North. The film will start right after a practice session at the National Guard Armory, which would be about 9:20 p.m. Picture Caption: These people participated in the Mendon May day Festival by putting on a archery exhibition. The back row is composed of Ed Hoyle, Al Hiltenbrand, Larry Higgins, Bill Gipson and Gary Stauffer while along the front row are Randy Walton, Mike and Dave Gipson and Mike Krambule. The archers have invited the public to a free movie Friday night about 9:20 p.m. in the club rooms over Al's Bike on First North.
May Day— Each year Mendon sponsors a May Day celebration under the direction of the Sunday school. There is also an annual Christmas program including a dance at night. For these celebrations, former residents return to participate. These are the highlights of the year for citizens of Mendon. Picture Caption: As long as Mendon has been a town it has had a May Day celebration. Every Spring residents and former residents gather for queen crowning and winding of the maypole.