Mendon May Day— 194
7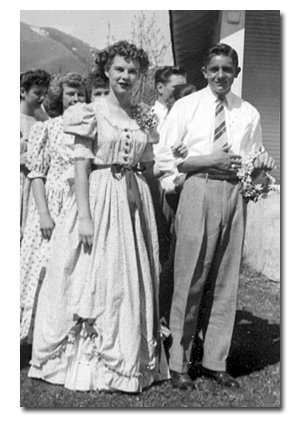 Mendon's Traditional May Day Celebration Dated Saturday— Mendon's traditional May Day celebration will be held Saturday, May 3rd, with the ward Sunday school superintendency in general charge of events. Second oldest community in the valley, Mendon has celebrated May Day since its settlement in 1859. Several of the original pioneers are still living in Mendon, and will be honored during Saturday's program— which will also observe Utah's Centennial. It is believed that Mendon is the only community in northern Utah which has sponsored a May Day celebration continuously since 1859. At 9:30 a.m. the crowd will assemble on the public square where Queen of the May —Naomi Walker, daughter of Mayor and Mrs. Vance D. Walker— will be crowned by Consort Clark Muir. The maypole dance presented by small girls in centennial costumes, will be a feature of the coronation ceremonies. The public program, in the chapel, will feature an address and special musical numbers. The afternoon activities include a children's dance at 1:00 p.m., followed by various kinds of sports. At 4:00 p.m., a softball game will be played; grand finale will be the May Day ball at 9:00 p.m. Cache citizens are invited to join Mendon in the Saturday celebration.

Professor A. N. Sorensen To Address May Day Fete— Alma N. Sorensen, professor emeritus of English at Utah State Agriculture College, and native son of Mendon, will be principal speaker at the traditional Mendon May Day celebration, which will be held Saturday. Professor Sorensen is recognized as one of the foremost scholars to come from the west Cache community— second oldest settlement in the valley. He will address the public meeting at 10:30 a.m. which will follow the maypole dance, scheduled at 9:30 a.m. Address of welcome will be given by Earl Buist of the ward Sunday school superintendency. Other selections include a boys' glee club, directed by Parley Hall; poem by Catherine Sorensen; piano solo by Gilbert Wood; French horn solo by Lee Copen; vocal solo by Brigham Olsen, and community singing. The celebration will include the crowning of Queen Naomi Walker, daughter of Mayor and Mrs. Vance D. Walker. She will be crowned by Consort Clark Muir, son of Mr. and Mrs. Gilbert Muir. Afternoon festivities will include sports, a children's dance and a softball game. Climaxing the day will be a grand ball at 9:00 p.m.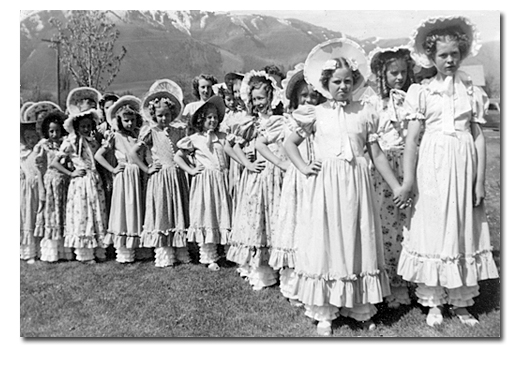 John O. Hughes— One of the happy traditions of Mendon is their annual May Day celebration with the beautifully costumed young girls dancing around the Maypole.