Mendon May Day— 1936
Mendon— The Mendon superintendency are planning for a big May Day celebration, Saturday, May 23rd. Miss Marie Stauffer, has been chosen Queen of May. The maypole dance will be given by twenty little girls dressed in pretty May colors. Mrs. Waite and her daughter, Virginia of Smithfield will give a dance revue with their class in the afternoon. An interesting program will be given after the maypole dance and the crowning of the queen. Games of all kinds and races will be staged in the afternoon after the children's dance. A May Day ball in the evening will conclude the day's festivities.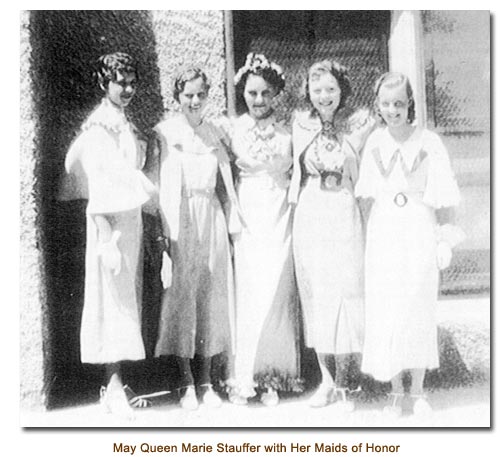 Mendon— The crowning of the Queen, Miss Marie Stauffer by consort, Glenn Hiibner, commenced the May Day festivities here Saturday. The maypole dance of twenty little girls dressed in lavender and yellow, made a colorful picture. Miss Mozelle Barrett, Miss Inez Barrett and Miss Hazel Muir were in charge of the dance. The Sunday school directed by chorister William I. Sorensen sang, "Marie is Queen Of May," as the opening number of the program in the ward chapel, Following the outdoor exercises. Superintendent Claud A. Sorensen was in charge: prayers were by chaplain Arthur Kidman; dramatic sketch by Ivan J. Barrett; vocal solo, T. Kay Sorensen; mellophone solo, Lee Copen; cornet solo, James Lamont; flute solo, Norman Whitney; Miss Mozelle Barrett was the accompanist to the above musical numbers; story, Clara Larsen; poem Darlene Bird; solo, LaDonna Hardman, accompanied at the piano by her mother, Mrs. Gwen Hardman; Junior girls chorus directed by Mrs. Theo Whitney. In the afternoon a children's dance and a dance revue by Miss Virginia Waite and her students, special solo tap dances were given by Betty Lowe, Elaine Waite and Trenna Nelson of Smithfield; a band concert was given by director William H. Terry and his South Cache Band. Games and races and other sports and a baseball game between the Elders and Priests. Durrell Hughes, Joseph Larsen and Owen Sorensen were in charge of the afternoon sports. A big dance at night ended the day's activities. The Mendon Orchestra furnished the music for the dances. Miss Fawn Stauffer, entertained at a pretty arranged dinner, Saturday in honor of the queen and consort and maids The table decorations and appointments were carried out in the May Day colors. Pretty place cards were marked for Miss Marie Stauffer, Glenn Hiibner, Miss Lois Hardman, Vernon Bird, Miss Elaine Longstroth, Rulon Ahrens, Ruth Shelton, Norman Whitney, Alma Lamont and John Sorensen.