A Salute To L. K. Wood
There are many kinds of success in life, but perhaps the greatest is to live to see the fulfillment of a dream. L. K. Wood had such success. He grew up in what Prof. A. N. Sorensen used to call "The Golden Age," a rare and peaceful time in the small town of Mendon in the late 19th century.
Always he loved the excitement and glamour of threshing time when crews often would move a fine snorting steam engine onto a farm and stay there until crop was in. The annual accompaniment to threshing time was the preparation of hearty meals which required the assistance of aunts, cousins, daughters and neighbors to feed the hungry men three times a day and often carry lemonade and cold milk to the threshing site mid-morning and mid-afternoon.
Mr. Wood wrote of these days in his recollections of Rocky Knoll Farm. The big engines, the complicated meshing of gears, fascinated him, too. He began collection old threshers, steam engines and separators. He repaired them and kept them in running order and then to carry his hobby further, fabricated exact one-half scale replicas that worked as well as the full-scale ones. He made his own dies and built the machines in a workshop at his home.
Sixteen years ago he got the idea of showing off his prize collection at a Threshing Bee.
Enough time had gone by that people were curious about the "old time" way of harvesting. Men who had done the strenuous work wanted to show their children how it was when they were young and to talk over old times with friends and on the spot acquaintances.
L. K. had no trouble in recruiting crews for his exhibitions. Men, who loved the old machines as much as he came from miles around to fire up the old engines, adjust the belts and pulleys. The last three or four threshing bees dew crowds of thousands and created traffic problems on the quiet streets of Mendon. People had a wonderful time.
And now L. K. is gone. We hope that his devotion to the "good old days" will be continued and that in memory of L. K. Wood who found great joy in the site and sound of steam engines, his friends will carry on his threshing bees.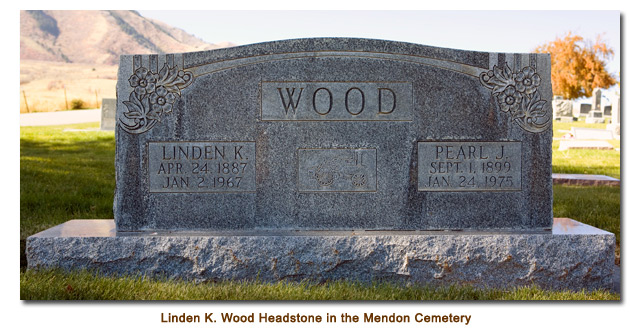 Linden Kimball Wood— Noted Thresher Pioneer, 79, Dies — Linden Kimball Wood, 79, whose annual Four-State Threshing Bee drew thousands each late summer to his home in Mendon, died January 2, (1967) of natural causes at a Logan hospital. Mr. Wood devoted his life to the preservation of equipment man fashioned to thresh grain. Each year for the past 16 years, he "treated" all who would come to a day out of the past— an old fashioned threshing bee. From a small start, interest grew until the past few years thousands gathered at his lot to see horse-powered threshing— Mr. Wood owned one of the three or four still existent in the United States and had made a half scale model which was operated by Shetland ponies— to see complete outfits of steam threshers, operated by friends and neighbors, thresh grain harvested the old way and pitched in bundles from stacks, to see a tug of war between steam and manpower, and a hill climbing demonstration with both model and original steam engines. L. K. Wood is going to be missed.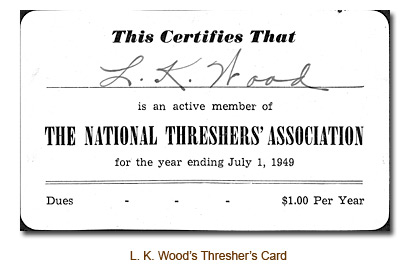 He was born April 24, 1887 in Mendon, a son of Joseph T. and Julia Kimball Wood. He grew up in Mendon, attended school there and was active all of his life in the LDS Ward. He fulfilled an LDS mission to the Western States from 1912 to 1914. In World War I, he served two years in France as mechanic for an infantry company. He was a consultant at the museum of "Man and His Bread" at Utah State University and had charge of the display models of threshing equipment at the State Capitol Building for 19 years. He was a member of the Threshermen's Association of the Intermountain States and was author of a number of articles on threshing. He had been president of the Mendon Historical Society and was instrumental in erecting the pioneer monument there.
On September 3, 1919, he married Pearl V. Jensen in the Salt Lake LDS Temple. Surviving are his widow of Mendon; a daughter, Mrs. Alan (Audrey) Maynard, Clarkston, Washington; two grandsons; a twin brother, Alonzo Wood, Mendon. Funeral services will be conducted Friday at 1 p.m. in the Mendon LDS Ward Chapel by Bishop Fred Sorensen. Friends may call at Hall Mortuary Thursday from 7 to 9 p.m. and Friday prior to services. Burial will be in Mendon City Cemetery.