Pioneer Medicine and Apothecary
Henry Hughes was born on 25th December 1825 at Mold, Flintshire, Wales. He helped with the early settlement of Mendon, Utah in 1859 but did not permanently settle here until sometime later in 1862. He seemed to have served as a natural doctor in Utah, as was the common custom of the time. I believe that he is the doctor that administered to John Richards, Mendon's first person buried in the cemetery, while yet living in Great Salt Lake City. After he came to Mendon he was later called to be the Bishop of the local Mendon Ward, from 1869 to 1900. He served as mayor from 1876 until 1882. As a child he worked in the under ground coal mines of England and escaped from at least one deadly cave-in, being trapped several days underground. He passed away on 28th May 1904, at his home in Mendon, Utah. Henry is interred in the Mendon, Utah Cemetery near his four of his five wives. His Apothecary as I have found it, is included here for a look at early pioneer medicine and herbs. He was attached to one of the Cache Valley "Minute Men" groups as its surgeon or doctor.
Henry has a headstone and monument in the Mendon, Utah Cemetery that befits his stature and importance to Mendon. He is buried near his wives, the youngest of them, Rebecca Bassett Hughes, living to the last day of 1951.
The Hughes Apothecary
Herbs as Medicine
Instructions: Boiling spoils herbs. Submerge them in cold water, then steep them slowly.
Aloes: Tea made from leaves of the aloes plant was taken in small doses as a laxative and remedy for hemorrhoids.
Asafetida: A small amount of asafetida tied in a cloth bag and hung around a child's neck kept communicable diseases away. Asafetida could also be rolled into pills and given for to relieve nervousness and spasms or convulsions.
Beets: Juice from red beets was drunk as a cure for kidney stones.
Brookline: Tea made from brookline was taken in the spring to help enrich the blood.
Camphor and Olive Oil: To relieve croup, a child's chest was rubbed with a mixture of these ingredients (Camphor and Olive Oil) then the salve covered with a square of flannel.
Carrots: A poultice of carrots was applied to boils to draw out the infection.
Catnip: Tea made from catnip was given to babies with colic or colds.
Clover Blossoms: Tea made from clover blossoms enriched the blood.
Composition Tea: This mixture of herbs was applicable for almost allailments. [Older, comprehensive dictionaries refer to this medication as "Brigham Young Tea."]
Dogwood or Boxwood: Tea made from the bark of these bushes (dogwood and boxwood) was drunk as a tonic and stimulant.
Elm Bark: Combined with yeast, crushed elm bark was used as an antiseptic and a poultice for ulcers, especially when there was danger of gangrene.
Flaxseed: Tea steeped from flaxseed was drunk for colds. If the patient was suffering from pneumonia, flaxseed could be made into a poultice and applied to the chest.
Ginger: A half teaspoonful of ginger in warm water was given to relieve colds or stomach pains.
Gravel Root: Tea made from gravel root was a remedy for kidney ailments.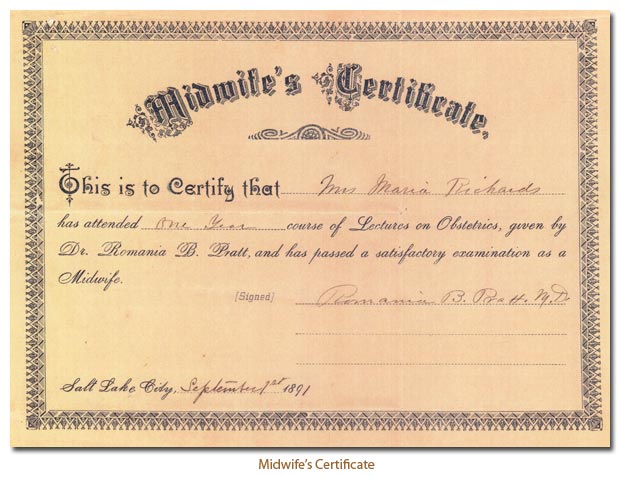 Hope: This herb was mixed with whiskey and stuffed into a small, cloth bag, which was then placed under a patient's pillow to induce sleep.
Horehound: Tea made from horehound was drunk to relieve the symptoms of a cold.
Lobelia: This was used to induce vomiting. When lobelia is mixed with egg, vinegar, and sugar, the concoction could be given to a child as an expectorant.
Marshmallow Weed: A poultice made of this weed was heated before applying it to skin infections. A tea steeped from marshmallow weed was drunk for urinary complaints.
Mustard: One or two teaspoons of powdered mustard mixed in a glass of warm water was used as an emetic in case of poisoning.
Olive Oil: This oil was applied to poison-ivy rash or bee stings.
Onions: Chopped onions placed in a sick room prevented smallpox or other contagious disease fromspreading to other members of the household.
Peach Tree Leaves: Tea made of these leaves was used as a sedative, thus controlling nausea and vomiting.
Peppermint: Peppermint tea was given to babies with colic or colds.
Rabbit Brush or Tea Weed: A tea made of this herb was drunk to relieve the pain of rheumatism.
Rhubarb: Stewed and sweetened, this (rhubarb) was eaten to relieve constipation.
Sage: Tea made from this herb (sage) was used to relieve an upset stomach. It could also be mashed in a tea- spoonful of olive oil and swallowed as a cure for intestinal worms.
Sagebrush: With a bit of whisky added as a preservative, tea made of wild sagebrush was drunk as a tonic. Made into hot packs, it was applied to bruises and abrasions.
Salt: One-fourth to one-half a teaspoon of salt was dissolved in a cup of water. This mixture was to be taken in the morning, before breakfast, to eliminate intestinal worms.
Sulfur: When sulfer is mixed with lard or butter, this salve was used for "the itch" or ringworm.
Sulfur and Molasses: This mixture (sulfer and molasses) was taken as a spring tonic.
Tansy: Tea made of this plant (tansy) was drunk by women with irregular menstruation.
Verbine: Teas made from this herb was used to cause the patient to perspire.
Wormwood: The wormwood was steeped in a large amount of water, then simmered for an extended period of time. A small amount of brandy was added to a cup of this tea before giving it to the patient as a treatment for mountain fever.
Yarrow: Tea made from the yarrow plant was a remedy for colds.1

1. Henry Hughes, The Hughes Apothecary, Herbs as Medicine, unpublished manuscript.