Hyrum Thomas Hill Richards
Hyrum Thomas Hill Richards was the eighth child and fourth son of John Kenny Richards and Agnes Hill, grandson of Sergeant-Major John Richards of the British Royal Artillery at Quebec, and Marie Kenney; great grandson of John Richards, landed proprietor, and Margaret Wilson of Glasgow; great great grandson of James Wilson, writer, of Glasgow; great great grandnephew of John Wilson, writer and founder of Glasgow Infirmary. His parents joined the Church in April 1840, living in Canada at that time. In September 1842, they came to the United States, arriving in Nauvoo Illinois, September 30, 1842, and his father helped in building the Temple and Nauvoo House. His father and Daniel Hill left Nauvoo with the first camp of pioneers, crossing the Mississippi River on ice a mile wide, February 4, 1846. He returned to Nauvoo for his family; crossed the Mississippi River into Iowa, July 27, 1846; wended their way westward over Iowa, crossing the Missouri River into Indian Territory, settling at Winter Quarters (now Florence, Nebraska). His father loosing part of his team, and not having the required quota of provisions, was unable to proceed westward with the pioneers of 1847. After eking out a miserable existence here until the spring of 1848, they were requested by the United States Government to abandon their homes and vacate these lands for the benefit of Nebraska Indians. They then moved back into the western borders of Iowa, and settled at Honey Creek; in Pottawatomie County and started tilling the soil anew.
On the 23rd of March 1849, Hyrum Thomas was born. At the age of three months he weighed 23 and 1/2 pounds. The family resided here until about the 22nd of April, 1851, when they resumed their journey westward with Lyman A Shirtliff's Company of fifty teams, constituting the Third division of Captain John G. Smith's Company of one hundred fifty ox and cow teams, destined for the Utah Territory.
Too numerous to mention and too great for the power of speech to express were the trials and hardships endured by these courageous refugees in crossing the trackless plains, bridging or swimming the rivers, wallowing through swamps and mires, in their flight from religious persecution, to seek a haven of rest in the wilderness and deserts of the "wilds of the west."
They arrived in Salt Lake City, September 22, 1851 and went immediately to Mill Creek, Salt Lake County to live; settled on a twenty-acre tract of land near Mill Creek stream, and located another twenty acres of land nearby. How they all remembered with pleasure, intermingled with sorrowful tears of regret, the two so-called "bottomless springs," teeming with beautiful fish, almost ready for the frying pan in those days of scarcity.
The summer of 1857, the whole family of children caught the small pox. This malady did not prove serious; though they were placed under quarantine. The malady proved less serious than the quarantine.
In the spring of 1857, or at the time when Johnson's Army was coming to Utah to exterminate the Mormons, Governor Young ordered the citizens of Salt Lake City and residents living north of Salt Lake City to leave their homes and move farther south, to avoid trouble with the approaching army.
The Richards family moved to Santaquin for the summer. Through the benign interposition of the Honorable Thomas L. Kane between the people of Utah and the United Stated officials at Washington, what might have been very serious troubles, were averted. In the autumn of 1858, when peace was restored, the people who left their homes returned to them. The Richards family returned to their old home at Mill Creek in the fall of 1858.
In the early part of June 1859, at the age of ten years Hyrum Thomas and his older brother John Hill Richards started for Cache Valley, where they arrived June 10. They squatted upon some land near where Mendon now stands, and began farming. They cut quaken-aspen logs from the banks of the "Big Sec." the largest stream, which enters Mendon as it emerges from the foothills on the west, from which they built and finished the first dwelling house in the Old Fort (now Mendon). He wore homespun clothing and never had shoes on his feet until he was ten years of age. His mother and his older sisters, with the aid of a hired girl, washed, picked carded, spun, and dyed the yarn for weaving into cloth. From this cloth they make apparel for themselves and the male members of the family.
As a boy and young man, Hyrum worked at farming as was then carried on, herding and caring for horses, cattle and sheep; hauling wood and timber for fuel and building purposes.
In person Hyrum was tall and slender and of unusual physical strength, generally doing with ease, work that required the efforts of two ordinary men. He attended a commercial school in Salt Lake City in the winter of 1871-1872, taught by John Morgan, where likely he acquired a liking for mathematics, in which he was well educated. He was also called the walking dictionary.
He married Agnes Muir Finley, April 18, 1876, in the Endowment House, Salt lake City, Utah. Nine children, seven daughters and two sons were born to this couple.
Hyrum started a store in 1888 dealing in general merchandise, and buying grain, butter, eggs, hay, and whatever the farmers had to sell, for which he found a market. He purchased a steam engine and threshing machine in 1892 that did most of the grain threshing in Mendon for many years. He did not operate the threshing outfit personally by working on it, as his other business would not permit, but hired men to do this work.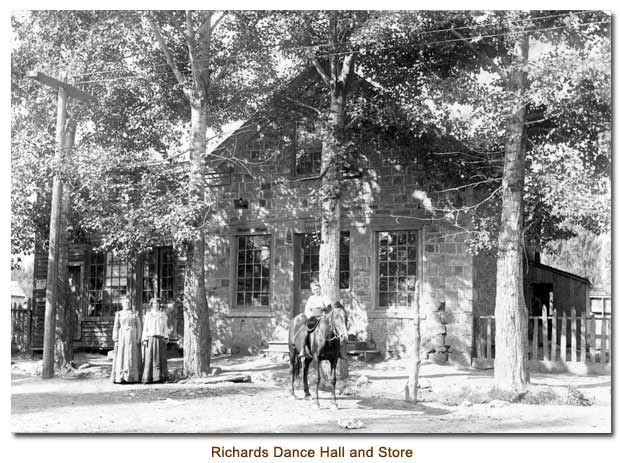 He also operated a meat market, and while the railroad was being built in 1890 he furnished and delivered meat to camps from Mendon to Collinston. He also bought and loaded grain at Corrine. People buying farm machinery in many instances were helped by Mr. Richards, he paying cash to the implement houses for their binders, plows, and other machinery used, and they paying him in grain and other produce as they wee able. He was liberal in giving credit to those buying goods and no doubt some bills were never paid, but he seemingly was unable to say no to those in need.
Among other lines of business, he carried the United States mail from the Mendon Post Office to the Railroad Station from about 1890 until the time of his death, and for some years carried the mail from Mendon railroad station to Wellsville by team also hauling the merchandise to Wellsville stores. This was prior to 1907 when the railroad was built to Wellsville.
So in a business way, Mr. Richards was certainly the most prominent citizen that has lived in Mendon to date, (1934). And this can be said without in the least detracting the efforts of any of our worthy citizens. He lived a temperate life using neither tea, coffee, tobacco, or liquor.
He was a kind and affectionate father, a good provider for his family, strove to educate his children, and kept one of his sons in the Missionary field. He was not a man seeking profit and courting favor among the civil officials and churchmen, yet a man who lived above the law, believing in the Gospel of Christ, and the ordinances of the Priesthood.
He was a High Priest in the church and tried to magnify his duties as such. He served for many years as secretary of the Elders Quorum.
He was awarded an Indian War Veteran Medal by the State department, as an award for his services in suppressing the Indian hostilities in Utah perpetuated before the year 1872.
Governor Blood, who spoke at his funeral, and who had business transactions with him, said he was known throughout the county and state for his honesty, integrity and fair dealings in all his business transactions. Honorable Joseph Howell had known him as a competitor in the grain and mercantile business some twenty or thirty years for is honesty, industry, and frugality, which, he said, stood out in bold relief. He said also Mr. Richards had built up a reputation for honesty and fair dealing which was known for good throughout the state.
After an illness of about two weeks, he died on the 18th of October 1915 and is laid to rest in the Mendon Cemetery.