1899 Red Brick School

This early springtime view, looking west at the 1898, Mendon District, red brick school house, was taken about 1930. Photographs of this building seldom show the whole bell tower. The bell contained within this tower called the children of Mendon to school at 9:00 a.m. and was rung for many years by John Ladle and later his daughter, Clella, who were the school custodians for many years. Does anyone know what happened to the bell?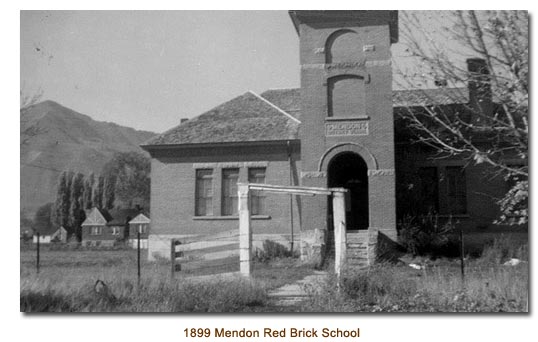 This photo of the old Mendon red brick school, was taken after the windows were boarded up and the building was no longer in use. This building and the older rock school directly behind it, that the red brick school was built onto, and the city office building and jail (just to the left and out of this picture) were all destroyed in the spring of 1968 during the annual spring clean up. The Mendon Relief Society used this building for meetings after this building was replaced by the yellow brick school about 1936. Each class room had it's own pot bellied stove which was the responsibility of each teacher to keep stoked, as well as teach mixed age classes. The slate black boards were a treat to make shrill sound from.